CI named one of seven universities nationwide to become a GRAMMY Museum® affiliate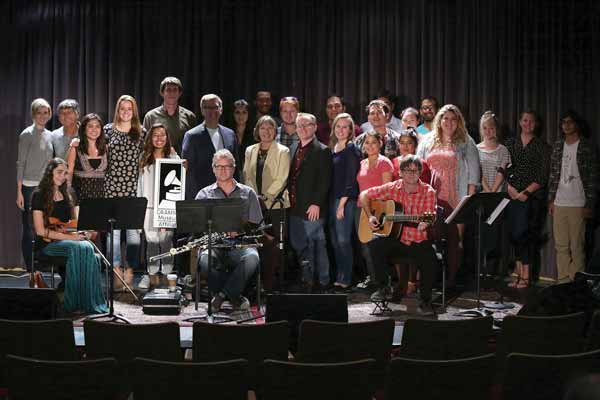 CI recently cemented an ongoing relationship with The GRAMMY Museum® in Los Angeles that began five years ago when CI launched an interdisciplinary class called "The Music Museum." The University became one of just seven universities nationwide to be named an affiliate, which means CI "Music Museum" students will continue to have access to The GRAMMY Museum's® exhibitions, research programs, internship programs, collaborative marketing and a number of other immersive educational experiences. Although CI is the seventh to be invited to become an official GRAMMY Museum® affiliate, The GRAMMY Museum® Executive Director Bob Santelli said the University was actually the inspiration for the Educational Affiliates program. The museum staff and CI's "Music Museum" students collaborated so well, the experience inspired Santelli and his staff to create a GRAMMY Museum® affiliates program that would create connections with music-minded universities all over the country.
Read the full story at: go.csuci.edu/grammyaf
VC STEM network spearheaded by CI earns national recognition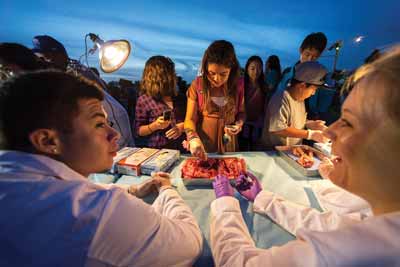 Ventura County will be one of 27 regions to pilot a national effort known as a "STEM Learning Ecosystems Initiative." A local network called VC STEM has just been named as a "STEM Ecosystem" by the STEM Funders Network, a nationwide initiative devoted to creating STEM (science, technology, engineering and math) learning opportunities for students from pre-school to college. VC STEM is a network of companies, universities, government agencies, museums and a host of other local organizations that includes CI. The network is aimed at developing ways to enhance STEM education for students from pre-school through college with input from all cooperating schools, agencies, businesses, parks and universities. VC STEM Planning Director Philip Hampton, Ph.D., a Professor of Chemistry at CI, said Amgen nominated VC STEM for the honor. Nominations were by invitation only and there were more than 70 nominees from all over the U.S.
Read the full story at go.csuci.edu/vcstemnet
CI will use $2.6 million grant to launch "Project OLAS"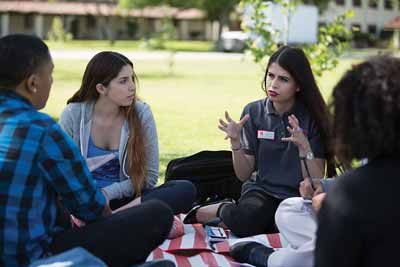 The more than $2.6 million grant CI received from the U.S. Department of Education will enable the University to start a program called Project OLAS (Optimizing Learning, Achievement and Success), an initiative designed to help students navigate the first two years of college. The five-year grant, which will equal about $525,000 a year, was available to Hispanic-Serving Institutions, which is why CI was able to compete for the funding. CI was given the HSI designation because more than 25 percent of its students are Latino. Among those who will benefit from Project OLAS include Ventura County high school students who are first in their families to pursue a college education. Many families in Ventura County are not familiar with the college-going experience so the project will also involve families.
Read the full story at go.csuci.edu/olasgrant
Nursing alumnus/MBA candidate wins prestigious Trustee Scholarship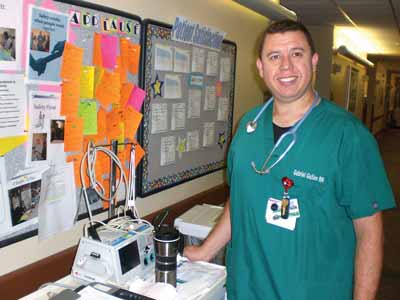 Registered nurse Gabriel Guillén was thrilled and relieved to learn he is one of the recipients of the CSU Trustees' Award, the CSU system's highest for student achievement. The married father of four is attending CI with plans to graduate in May 2016 with a Master's in Business Administration. Guillén graduated from CI in 2011 with a Nursing degree and now works full time at St. John's Regional Medical Center as a Community Health Supervisor. He thought pursuing an MBA would help him be a more effective supervisor. Guillén is one of 23 students in the CSU system selected for the 2015 CSU Trustees' Award for Outstanding Achievement based on each student's superior academic and personal accomplishments. One student is chosen from each of the CSU campuses. Each award comes with a scholarship of $6,000 to $12,000. Guillén will receive $6,000.
Read the full story at go.csuci.edu/csuguillen
National sustainability award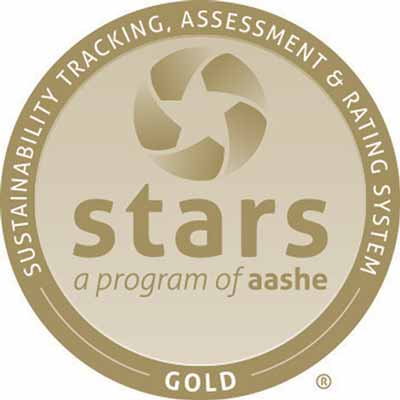 CI is now one of only three CSU campuses to have been named a STARS Gold Institution by the Association for the Advancement of Sustainability in Higher Education (AASHE). STARS, which stands for Sustainability, Tracking, Assessment and Rating System, has four levels of achievement: Bronze, Silver, Gold and Platinum. CI was one of the charter participating campuses in STARS when it received its first rating, Silver, in 2011. The ratings are valid for three years so this is the second rating for CI. The only other CSU campuses with a Gold rating are CSU Chico and Cal Poly Pomona.
Read the full story at go.csuci.edu/goldstar
School of Education Ed.D. online approved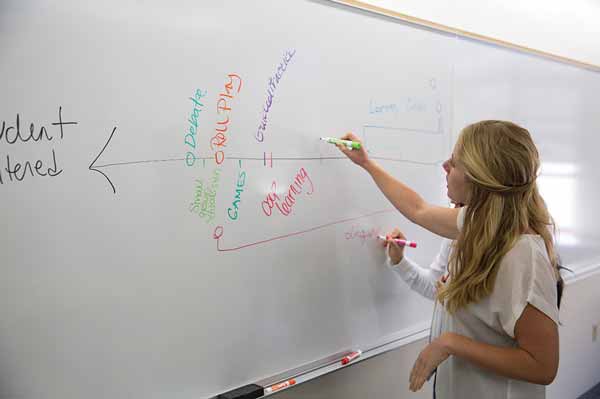 CI's School of Education received approval from the Western Association for Schools and Colleges (WASC) for its first doctoral program, a Doctorate of Education or Ed.D. WASC is one of six regional college and university accrediting associations in the United States. CI developed the Collaborative Online Doctorate in Educational Leadership (CODEL) program in partnership with CSU Fresno. Students wishing to pursue an Ed.D. through the CODEL program, which includes the options of P-12 or higher education leadership, can begin in summer of 2016. The 60-unit program will take three years and include a dissertation.
Read the full story at go.csuci.edu/codelac
For information on other University news stories visit https://www.csuci.edu/news/newsreleasesarchive.htm
Return to the Table of Contents
© Fall 2015 / Volume 19 / Number 02 / Bi-annual