By Zoe Lance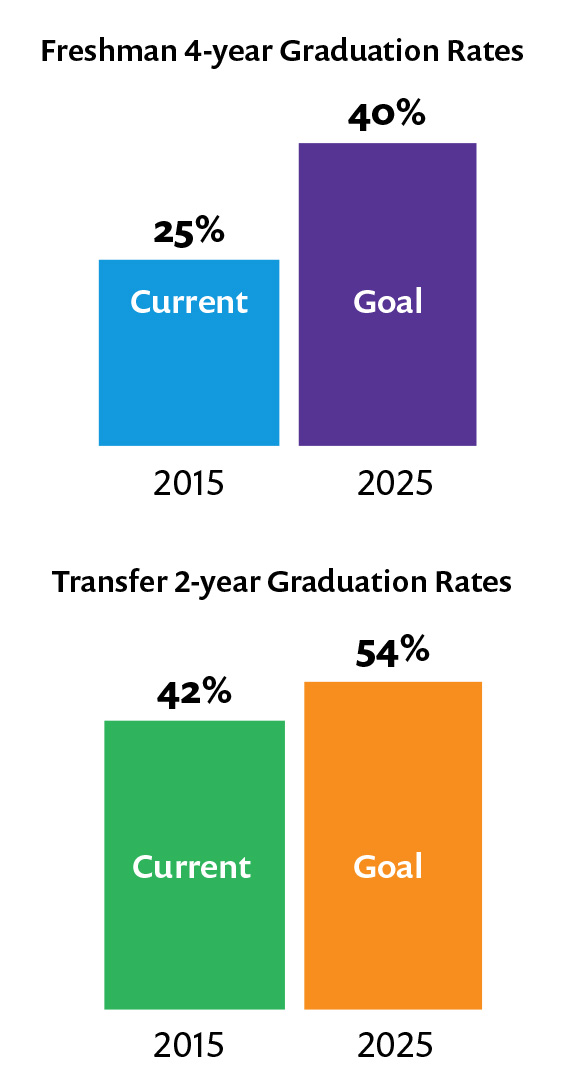 The California State University has launched a systemwide effort to increase graduation rates and strengthen its commitment to student success.
Announced in January 2015, the Graduation Initiative 2025 aims to increase freshman and transfer graduation rates for the 475,000 students across the CSU's 23 campuses. Students often face many obstacles on the road to earning a bachelor's degree, and each campus is charged with the tasks of boosting support programs and widening the educational pipeline.
The initiative will add 100,000 more baccalaureate degree-educated citizens to California over the next 10 years, bringing the total number of expected CSU graduates between 2015 and 2025 alone to more than 1 million. The state legislature has allocated $35 million in one-time funding spread across the campuses, enabling them to begin the initiative's efforts.
In fall 2016, each campus drafted a Student Success Plan to meet the initiative's objectives. In the coming months, CI will refine a long-term plan to guide campus efforts. The graduation rate goal across the system is to raise the freshman 4-year rate to 40 percent, and the 6-year rate to 70 percent. For transfer students, the goal is to raise the 2-year graduation rate to 45 percent, and the 4-year rate to 85 percent.
Daniel Wakelee, CI's Interim Provost and Vice President for Academic Affairs, says that the University already has some of the highest graduation rates in the CSU. CI currently has a freshman 4-year graduation rate of 25 percent, and is looking to increase that rate to the CSU goal of 40 percent by 2025. CI's transfer 2-year graduation rate is 42 percent, with a goal to increase that number to 54 percent, above the system goal.
"We still have work to do in increasing the retention of students in their second year," he says.
"Improving our student success efforts will help retain and graduate students while improving the quality of their educational experience at CI."
CI's long-term goals include fortifying the University's professional advising staff and support services, as well as expanding classroom space and creating new facilities for enrollment services and undergraduate research. The plan also consists of developing new student intervention strategies and increasing tenure track faculty hiring.
University leadership also crafted a short-term plan for the 2016-17 academic year. Over the next few months, University leadership will work to target graduating students, identifying the bottleneck courses that prevent them from graduating on time and offering more class seats.
Meeting the goals of the Graduation Initiative 2025 will require participation by all campus community members, including faculty, staff and student government. Wakelee is confident that it will strengthen CI's student-centered culture.
"This effort will allow the campus to maintain academic quality and preserve our commitment to educational access, while focusing and concentrating our efforts to better support students."

Return to the Table of Contents
© Fall 2016 / Volume 20 / Number 02 / Bi-annual