Sister and brother duo Maggie ('14 Liberal Studies) and Michael ('10 Business) Donahue are making a mark in their respective industries.
By Marya Jones Barlow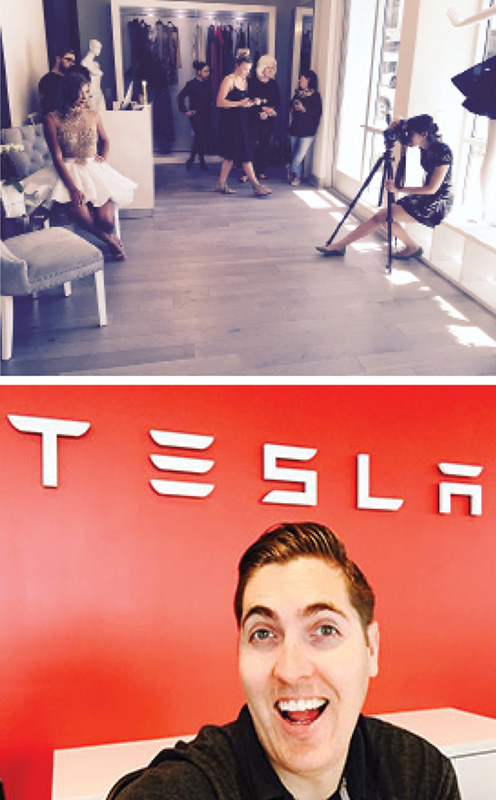 You never know where a CI degree might take you. For Margaret "Maggie" Donahue ('14 Liberal Studies), creative director and photographer at Fashion Forms, it's the pages of fashion magazines, billboards in Times Square and catalogs and websites for retailers like Macy's and Bloomingdale's.
For her younger brother Michael Donahue ('10 Business), it's life in the fast lane. As sales manager at Tesla Motors in Santa Barbara, he heads a six-person sales team, organizes marketing events and hits ambitious sales targets for the luxury electric car maker. He also rubs elbows with a few celebrity clients, including Oprah Winfrey.
Both siblings say CI helped them connect their passions and talents to find fulfilling careers.
"I had an epiphany at CI," Michael said. "I noticed I would try harder in classes that I was legitimately interested in, and would only focus on passing grades in others. It revealed to me that my career had to be focused around something I loved. I left CI knowing that incorporating my love for automotive/technology was the right choice."
Maggie spends her days bringing her creative visions to life in photo shoots, ads and marketing campaigns for Fashion Forms, a leading producer of specialty bras and accessories. The company, founded by longtime CI supporter Ann Deal, is known worldwide for its problem-solving undergarments worn by celebrities on the Red Carpet.
"Working at a small company means wearing many hats, and I've been given many opportunities to create at a high level and see those results translate into beautiful, stunning marketing campaigns," Maggie said. "I have an aesthetic eye, and it's just so fun for me. I think that comes through for the viewer. I feel a strong sense of belonging and purpose here."
She landed the job during her last semester, thanks to CI connections. When Fashion Forms' Design Director Heather Switaj ('14 Art) contacted Photography Lecturer Larry Lytle looking for a photographer, he recommended Maggie.
"I was in the right place at the right time, and that place was CI," she said. 
Return to the Table of Contents
© Fall 2016 / Volume 20 / Number 02 / Bi-annual