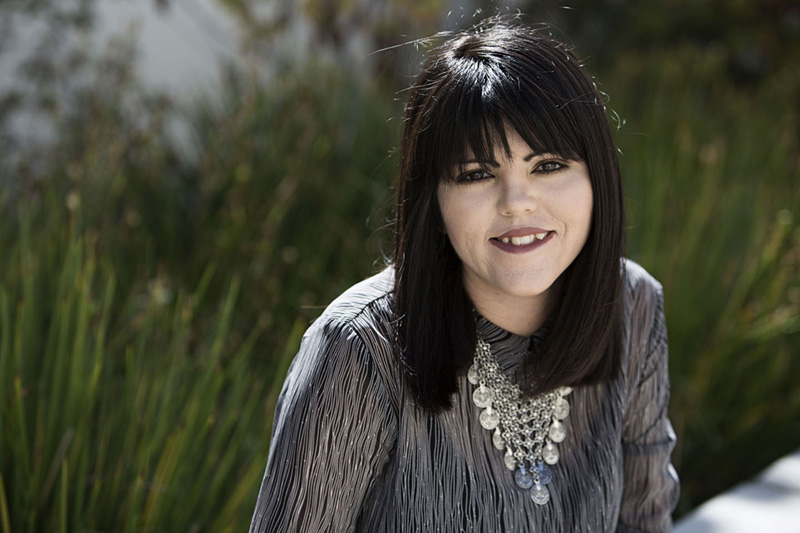 By Kim Lamb Gregory
CI Business major Ruby Ortega can't wait for her next overseas adventure, which she is planning for summer of 2017, right after she graduates. "I want to go to the United Kingdom. I've always loved London, but I've never been there," Ortega, 22, said. "The pictures! The culture, the fashion!" A scholarship she earned based on her newfound passion for travel will make the trip possible.
In June, Ortega was presented with a Hostelling International USA 2016 Explore the World Scholarship for the Los Angeles area. Ortega, who also is a student employee in CI's Information Technology Services, is one of six college students from the Los Angeles/Ventura County region who won out of more than 200 applicants. Ortega and the other honorees received $2,000 to help them broaden their horizons with travel.
At the scholarship awards ceremony, Ortega spoke about discovering the joy of travel after applying for the two-and-a-half week study abroad program at the Baden-Wuerttemberg Cooperative State University in Karlsruhe, Germany, which is offered through CI's Martin V. Smith School of Business & Economics. "We often dislike what we don't understand," she said. "Traveling opens up your mind." It was a big step for Ortega, whose family rarely left her hometown of Oxnard. "I lived a sheltered lifestyle," Ortega said.
"We did minimal traveling when I was younger — just inside California and Mexico, to Rosarito Beach and Ensenada."
Ortega grew up with two older sisters, two older brothers and one younger sister. Her brothers opted not to attend college, but the eldest sister, Angelina, now 35, blazed a trail for her younger siblings by enrolling in CI.
"She was the first woman in my family to go to college," Ortega said. "I saw Angelina work full time and go to school full time and still take care of us and the house because my parents worked."
Angelina graduated from CI with a degree in Liberal Arts, followed by Christina, now 29, who graduated with a degree in Psychology.
After high school, Ruby and Isabel "Bella," now 19, also became CI undergraduates. Bella carries a double major in Business and Health Science. "Their dedication inspired me," Ruby said. "Angelina didn't know the process of applying to the university. She had to find the resources to do that herself. She passed that knowledge onto Christina, me and Bella."
Just as her older sisters inspired Ruby to venture outside her comfort zone, Ruby is now sharing her love of travel with Bella with plans to take her along on her trip to the United Kingdom.
Ruby sometimes thinks about how close she came to backing out of her first trip overseas, and how grateful she is that she shared her trepidation with Professor of Management and Chair of the Business program Andrew Morris, and Associate Professor of Business Susan Andrzejewski. Both encouraged her to go.
"Travel may push students out of their comfort zone, yet some of the most meaningful educational moments occur when students are pushed out of their comfort zone and learn things that expand far beyond what could be covered in any college textbook or classroom," Morris said.
Morris shared a quote from author T.S. Elliot that reads: "The end of all our exploring will be to arrive where we started and know the place for the first time."
"I suspect I said something to the effect of 'Go. Not only will you see something of Germany, but when you get back you will see Oxnard for the first time,'" Morris said.
Return to the Table of Contents
© Fall 2016 / Volume 20 / Number 02 / Bi-annual