Everyday encounters inspire President Beck's vision

By Zoe Lance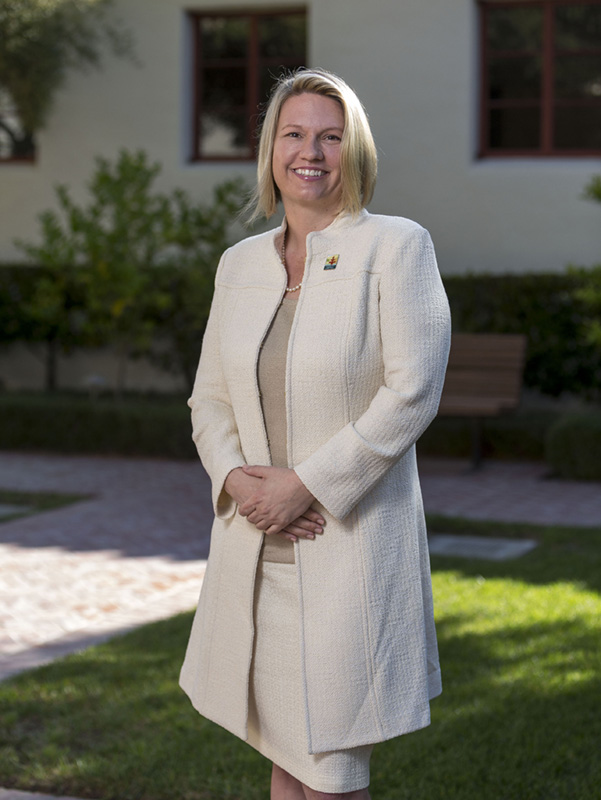 A student hurries his way down South Quad, noticing a woman in the distance. As they near one another, the student stops her. "Do you know where Solano Hall is?" he said. "I'm late to my class, and I can't find the building."
"I know exactly where that is," she replied. "Let's walk there together."
On the way, they talk about what it's like to be a CI student and how exciting a new school year is. They find the classroom and the student thanks the woman. "What do you do here?" he asked.
She smiles. "My name is Dr. Beck," she said. "I'm CI's President."
Erika Beck, who became the University's President in August, loves this kind of interaction. She knows that the only way to understand a university is to know its heart and soul — the people who live, work and study here.
"I genuinely love what I do," she said. "It's such a privilege to support students, faculty and staff all working to achieve their highest academic aspirations."
A Transformational Experience
Beck's higher education career began in adolescence. When she was in the sixth grade, she picked up an introduction to psychology textbook. It wasn't a complete surprise — her grandfather was actively engaged in research involving psychology and the brain. She decided on becoming a psychologist herself and never looked back.
"I've always been curious about people and how the world works," she said. "I'm definitely a scientist at heart."

As a psychology undergraduate at the University of California, San Diego (UCSD), Beck found the exposure to new scientific ideas and the academic setting thrilling. She went on to get her master's in psychology from San Diego State and returned to UCSD to earn her doctorate in experimental psychology, focusing her research on social behavior, emotion and the brain.
"I loved being a part of a university campus, where you have the opportunity to think about societal and world problems," she said. "I still love that. My kids tease me that I went to college and never left."
I loved being a part of a university campus, where you have the opportunity to think about societal and world problems. I still love that. My kids tease me that I went to college and never left.

 Erika Beck
The opportunity to be at the front of the classroom also gave her invaluable perspective on the student experience.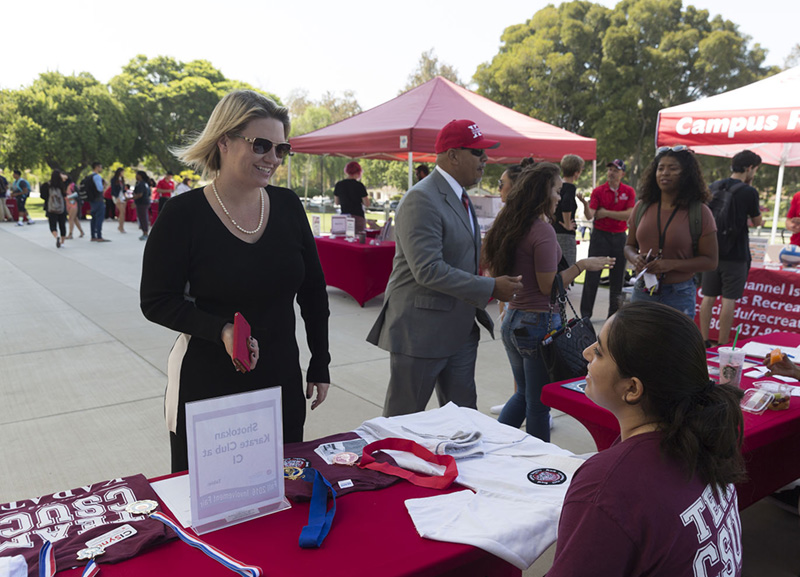 "The minute I walked into the classroom, I fell in love with teaching," she said. "I understood the transformational power of education in a whole new way because I saw it happen firsthand. My scholarly background and my experiences in the classroom always frame my perspective about our students and their needs."
Reimagining Higher Education
Wanting to continue impacting students, but seeking a way to reach more of them, Beck moved into leadership positions. She shaped her educational philosophy through tackling university-wide issues and using her psychologist's training.
"Data really matters to me, especially from the student's perspective," she said. "We need to know if what we're doing has a positive impact on students. I often ask myself, 'If I were a first-generation college student and I just got here, would I be able to navigate these processes?'
"There are a lot of complexities to being a college student in 2016. At the institutional level, we can examine new ways of helping students so that they can become more successful. We can't take anything for granted."
While serving as provost and executive vice president at Nevada State College in Henderson, Nevada, Beck heard about CSU Channel Islands President Emeritus Richard Rush's retirement and the presidential search. When she learned more about the CI ethos, she was captivated.
"It is absolutely clear that our faculty and staff are dedicated to our students," she said. "I was excited about the idea of joining a young and growing university that is so connected to our surrounding community. We have a forward-thinking culture and we're well-positioned to reimagine higher education in a way that genuinely serves our student population and our state."
Extraordinary Opportunities
In her first 100 days as president, beck embarked on a listening tour of the campus. Her main priority has been to understand CI's challenges, values and goals. She started with the biggest campus constituency: the more than 6,000 undergraduate and graduate students.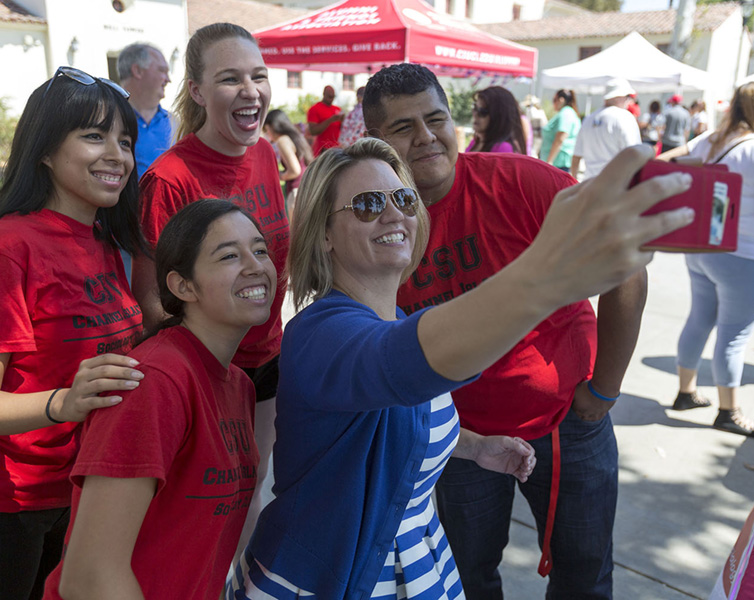 Through conversation, she learned more about their top-of-mind issues: financial and food insecurity, transportation and campus involvement. She says she has been impressed by the diverse student body's deep investment in CI, and notes that there's a collective sense of building for future generations — a significant strength for the university.
"Our students have spent a lot of time thinking about how to solve local community challenges, which is pretty extraordinary," she said. "The Central Coast is their home and they want to build their lives here."
She's also met with faculty and staff to learn about their scholarly work and interdisciplinary initiatives.
When she eats lunch at Islands Café, people from around the campus stop by her table to chat about their mutual aspirations for CI.
Her listening tour also has blossomed into an online presence. She vlogs (video blogs) about her week and shares snapshots from CI events on Twitter under the handle, @CIPresBeck. Student leaders from CI's Associated Students Inc. encouraged her to get on Instagram and post photos with students and the hashtag #SelfieswithBeck was born.
"Every day, I have students come up to me and ask to take selfies," she said. "When we're taking the selfie, I ask them about their experiences with the University and their hopes for the future. It opens a dialogue that wouldn't have been there without social media."
Beck sees a bright future in CI's horizon. Her vision includes strengthening ties with community leaders and organizations, cultivating even more innovative undergraduate research and continuing to provide access to higher education for students in the region. It's a tall order, but she's confident it's possible.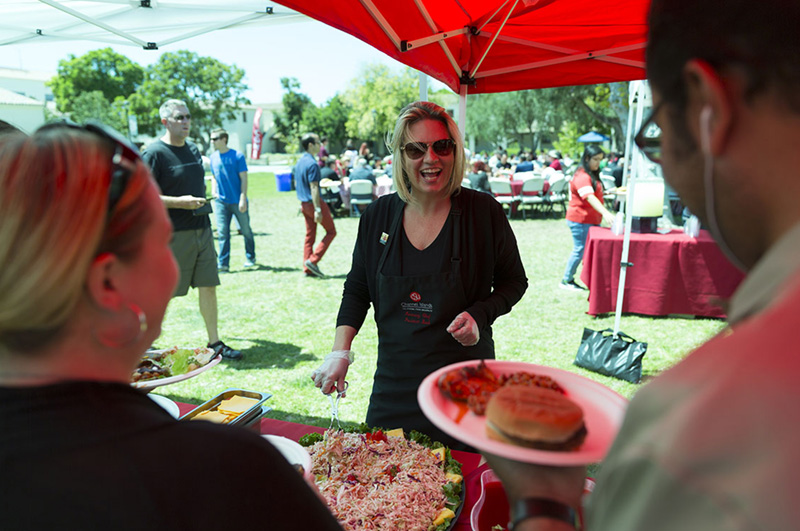 "I know that our future is very bright — we are in such a unique and special community," she said. "The past couple of months have only reinforced my perceptions of a vibrant campus community. We have experienced tremendous success in the first 14 years and we have a once in a lifetime opportunity to continue to soar to even greater heights."
Return to the Table of Contents
© Fall 2016 / Volume 20 / Number 02 / Bi-annual