By Marya Jones Barlow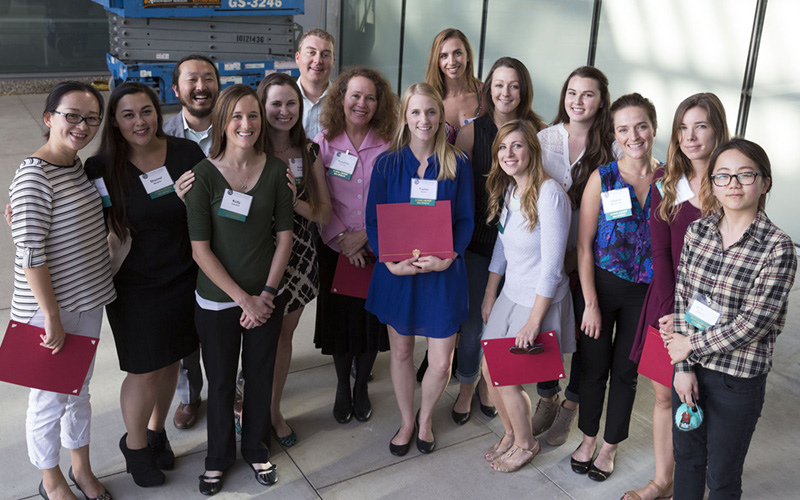 When Deja Simon, a senior from Victorville, California, graduates with a bachelor's degree in psychology in the spring, she wants to share her accomplishment with the scholarship donors who helped make it possible.
"I would like to say thank you, thank you so much," she said. "Scholarships have eased the financial burden on my family and helped me achieve my educational goals. I would not be the person I am today if I had not attended college, or even if I had attended a university other than CI. I am eternally grateful for the opportunities and memories that donors made possible."
Simon is one of the 185 students awarded scholarships totaling more than $464,000 for the academic year. On Sept. 9, she and fellow awardees met and thanked donors at a reception at CI's John Spoor Broome Library. More than 250 guests were on hand to celebrate the students and their benefactors.
"Without scholarship funds, many of the students would not be able to attend CI on their own," said Eva Gomez, Director of Annual Giving & Special Gifts. "For some students, scholarships cover the expense of books and fees. For others it means the difference between taking jobs to pay their way and being free to focus entirely on their studies. And for many, a scholarship can mean the difference between attending college and not going at all."
More than 80 percent of students at CI receive financial aid. CI offers more than 180 scholarships based on need and merit considerations, funded through donors like the family of Sonja Corwin.
When Corwin passed away in 2015, her son, Tyler, set up a scholarship honoring her impact as an English as a Second Language (ESL) teacher in the Pleasant Valley School District for 30 years. A passionate educator and speaker of many languages, Sonja Corwin believed that all students deserved equal access to a quality education and an opportunity to thrive. The Sonja M. Corwin Memorial Scholarship, made possible by donations from friends and family, has helped ESL students with a financial need attend college.
During the fall reception on CI's campus, Corwin's husband and daughter met the three students who received the Sonja M. Corwin scholarship.
"The reception was a memorable, personally rewarding experience," said Stacey Johnson, Corwin's daughter. "It gave us the opportunity to learn more about the educational journeys and goals of the recipients. We wish them all continued success."
For additional information, visit www.csuci.edu/giving

Return to the Table of Contents
© Fall 2016 / Volume 20 / Number 02 / Bi-annual