Santa Rosa Village and Islands Café up the 'wow' factor

By Marya Jones Barlow

When it comes to campus living, first-year CI student Madison Harman admits she feels a bit "spoiled."

"As far as college dorms go, I think I hit the jackpot," said Harman, from Moorpark, California. "Friends at other schools have up to five roommates in rooms the same size as mine. At Santa Rosa Village, I have a good-sized room with one roommate, plus we have game rooms, study rooms, community rooms, and a kitchen. I've made so many friends here. Santa Rosa makes us feel like a family."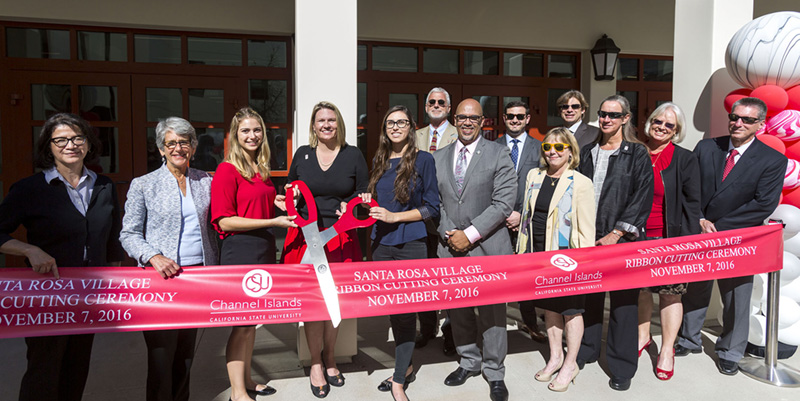 Standing four stories high and accommodating more than 600 students, Santa Rosa Village is CI's newest and largest residence hall. The building skillfully blends classic California Mission-style architecture with the amenities coveted by the 21st century college student, making it a model community to meet the enrollment influx on the nation's fastest-growing campus.
The residences are designed to foster community and interaction, with student suites centered around spacious, modern living rooms and communal kitchens. Living areas connect to an outdoor courtyard and common laundry area. The building meets California Green Building Standards Code — a high state rating certification for energy and resource-efficient buildings.
"The focus is on the freshman experience, where social engagement is a key element in the design concept," said John Gormley, CI's Campus Architect and Assistant Vice President for Facilities Services.
"I always see my residents with their doors open, having friends and other residents over," said Resident Assistant Maximilian Seligman. "In my opinion, the communal design enables them to easily meet new people and enjoy the first-year experience. It's always nice to walk down the hall, join in on conversations, and say 'hi' to everyone on my way to class."
CI's Islands Café also received an extensive makeover, doubling its service, indoor and outdoor seating capacity, and expanding its menu to include a broad array of healthy, diverse, mouth-watering fare.
Among the changes, patrons now can enjoy regional Asian dishes at the Pan Asian station; visit the gas-fired deck pizza oven for thin-crust artisan pizzas; find organic, vegan and allergy-friendly options and local produce at the Farmers Market station; gobble freshly-made rolls from the Suzumo sushi-rolling machine; or enjoy the all-day breakfast menu.
For a one-time $5 fee, diners get a reusable lidded container that allows them to take meals to-go. Each time they return, they can exchange their dirty container for a clean one.
"The response to the expanded facility has been overwhelmingly positive," said Dave Nirenberg, Senior Director of University Auxiliary Services. "Our intention was to provide the 'wow' factor for our customers and that was the comment most heard as students, faculty, staff and visitors entered the facility during the opening weeks."
"I love the Islands Café!" Harman said. "There are endless options to satisfy any mood or food preference. I'm gluten-free and that usually means I can't eat out easily, but Islands Café has gluten-free bread, pizza, pasta, and even cookies, so I never feel deprived."
Peter Maher, Executive Chef and Director of Food Services, said the changes have even attracted off-campus visitors and return customers. Islands Café is open seven days a week to the public and charges $9.25 for all-you-can-eat lunch and $11.25 for all-you-can-eat dinner.
For weekly menus and hours, visit go.csuci.edu/dining
Return to the Table of Contents
© Fall 2016 / Volume 20 / Number 02 / Bi-annual