By Kim Lamb Gregory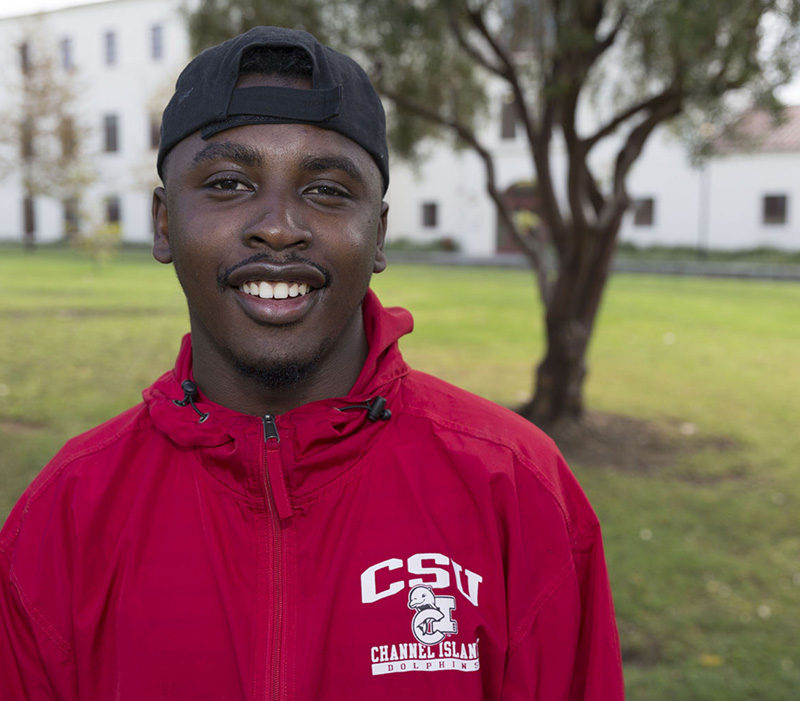 CI junior Eugene "Swanzy" Hammond has gone from living in a West African village with unpaved roads and no indoor plumbing to a career as a crowd-pleasing deejay with a photography team, a manager, a clothing sponsorship and a loyal following on and off campus.
"He's really awesome," said friend and fan Selwa "SueSue" Eldanaf, 21, a CI psychology major. "He has a lot of energy. He's super into it and you can tell.'
Hammond, whose African name is "Swanzy," grew up in modest circumstances in the West Coast African country of Ghana.
"When I needed water to take a shower, I had to go to the well and get water," said Hammond, 20. "If I wanted a hot shower, I had to get water and put it on the stove."
Ten years later, Hammond has mastered English, excelled at CI as a Health Science major with a Communication minor and has a steady stream of gigs as "DJ Swanzy."
During the week, Hammond carries a full academic load, works in CI's student housing as a resident assistant, is a CI orientation leader and works with the Black Student Union. But on weekends, he's off to Los Angeles to work as "DJ Swanzy."
Hammond has done the opening show for such artists as DJ Earworm, 2 Chainz and Tyga, to name a few. He finally had to get a manager to coordinate all of the work he was getting. Hammond then hired a professional photography team to help his brand, and was pleasantly surprised when he was offered a clothing sponsorship.
"They said 'We'll make Swanzy clothes and Swanzy merchandise and I said 'That's pretty dope!'" Hammond said.
It's a long way from his native Ghana, where he and his friends had very little, but they improvised. If the boys wanted to play soccer, for example, Hammond and his friends would bind two shoes together or wad up a trash bag to create a makeshift soccer ball.
When Hammond was in the fourth grade, his parents relocated to Corona, California, to find a better life. He was overwhelmed with culture shock.
"I was fascinated by freeways," Hammond said. "I didn't like American food and I still had an accent. My grades weren't that good."
But Hammond persisted, learned English, made friends and during his sophomore year in high school, discovered he had a knack for playing music and working the crowd. He was a natural disc jockey.
One day, a friend asked Hammond to act as deejay for a party he was holding in a barnyard. Hammond used some speakers, his laptop and a deejay software he bought from a friend for $150.
"That party was so much fun. After the party was over, people were talking about it," Hammond said. "They were saying, 'When is there going to be a Part II?' I started doing every party in Corona."
It wasn't long before DJ Swanzy was the go-to mixmaster. He set up a website, his own business and began doing weddings, parties and events around CI.
"Eugene, or 'Swanzy,' as he is known at CI, exhibits an entrepreneurial and can-do attitude," said Vice President for Student Affairs Wm. Gregory Sawyer, one of the faculty and staff members Hammond considers a valuable mentor.
"I could go to him for anything," Hammond said of Sawyer. "He taught me a lot about African culture."
Another mentor valuable to Hammond is Jeremy Booker, Assistant Coordinator of Residential Education in CI's Housing & Residential Education, where Hammond worked as a Resident Assistant in Santa Cruz Village.
"Swanzy does not visualize himself through the lens that many youth do," Booker said. "He believes in himself and humbles himself to ask questions when necessary."
After he graduates in 2018, Hammond plans to work as a physical therapist during the week, while on the weekends, it's "DJ Swanzy."
Return to the Table of Contents
© Fall 2016 / Volume 20 / Number 02 / Bi-annual