Bringing Home the Win
By Zoe Lance

When Donny Warrecker steps out onto the baseball diamond, he sees it as more than just the ballfield. To the Santa Barbara High School (SBHS) teacher, it's also an outdoor classroom.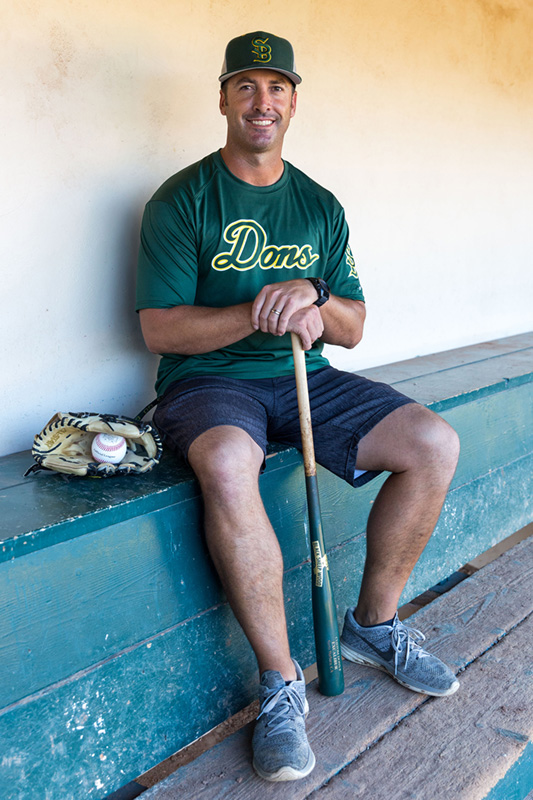 "Baseball is certainly a metaphor for life," he said. "You have to persevere, be a good teammate and do your part. I really care about my students, and I do my best to teach them skills to be successful."
Warrecker is in his ninth academic year at the high school, teaching biology and marine biology. Two years ago, he succeeded his father as the Santa Barbara Dons varsity baseball coach. SBHS has a special place in Warrecker family history.
"I'm a third-generation Don," Warrecker said. "My dad taught there for 31 years and coached for 43 years. My grandmother, mother, five older brothers and I graduated from here. My nephew is a freshman."
The path from being a SBHS student to a teacher wasn't an easy pitch. Warrecker played collegiate baseball at University of California, Santa Barbara, and studied biological sciences. He wasn't sure where he wanted to take his career, but knew he had always loved school and sports.
After graduation, Warrecker traveled to Sweden to play professional baseball. A chance to coach a Swedish youth team gave Warrecker an idea about the rewards of teaching.
"It was a natural fit for me," he said. "I said to myself, 'This is really satisfying to work with these kids and see the results.' I felt like being a high school teacher and a coach was an opportunity I could take advantage of."
I felt like being a high school teacher and a coach was an opportunity I could take advantage of.

 Donny Warrecker
After returning to Santa Barbara and a few years of working in the hospitality industry, he decided to get serious about teaching. When researching science credential programs, Warrecker chose CSU Channel Islands for its flexibility and small class sizes. After completing the program in 2007, he returned to his alma mater to teach and assist his father.
"I thought CI would be the best option, and I'm really glad I did it," he said. "I really enjoyed the program. I felt as prepared as you could be going into teaching."
His roles in and out of the classroom go hand in hand, he says. "I'm a better coach because I teach," said Warrecker, "and I'm a better teacher because I coach."
Return to the Table of Contents
© Fall 2016 / Volume 20 / Number 02 / Bi-annual