Professor of Math Cindy Wyels is identified by students as 'a driving force in my life'
By Marya Jones Barlow

Though she's won numerous awards and prestigious grants for her work as a professor of mathematics, Cindy Wyels is not driven by a passion for numbers.

Instead, she's found her calling in the "unexpected students" —the students who aren't expected to go to college, let alone become scientists, mathematicians or professors. They might be underrepresented minorities, low-income, first-generation students, non-native English speakers, community college transfers or the shy students sitting in the back row. These are the students that Wyels has dedicated herself to helping.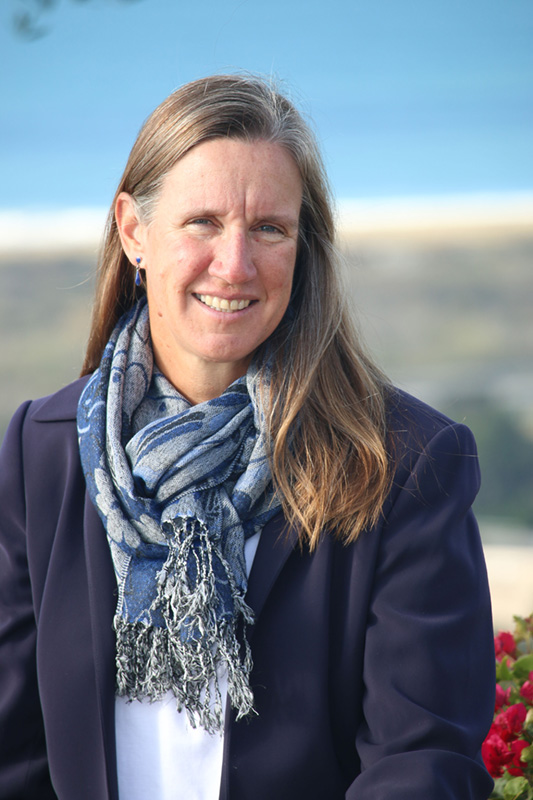 "The simple act of showing faith in a student can lead to a life-changing relationship," Wyels said. "I deliberately cultivate an attitude of anytime, anywhere mentoring. You never know which encounter will provide the spark that helps students realize their full potential."
Just ask Victor Moreno ('04 B.S. Mathematics, '09 M.S. Mathematics), one in a long line of CI alumni who credits Wyels with his transformation from an overlooked student on a vocational track to a high-achieving academic role model.
"Dr. Wyels has been the single most influential person in my life," Moreno said. "Before meeting her, I never envisioned myself as someone who could be a graduate student, a mathematician or 'Dr. Moreno.' Because she cared and believed in me, I am becoming all of those things."
Now a Ph.D. student in Applied Mathematics for Life and Social Sciences at Arizona State University, Moreno uses mathematical modeling to assess risks and trends in areas ranging from global health and epidemiology to voting.
"My plan is to get a job in academia so that I can continue mentoring students through research," he said. "I want to be to other students what Dr. Wyels was to me: a light of hope, guidance and trust."
That's precisely what Wyels aims to accomplish. Though mentoring can be a round-the-clock endeavor, she sees it as an investment with infinite returns. Each of the programs Wyels leads is purposefully designed to create peer-mentoring relationships, so that students are not only receiving support but also "paying it forward."
"I tell them: 'We need all of you; your diversity and individual talents are treasures that make an organization stronger," she said. "As you go up a rung on your career ladder, your responsibility is to reach back and pull someone else up."
Wyels is Co-Director of Student Success for Project ACCESO, a $6-million Hispanic-Serving Institution federal grant that she co-leads with Professor of Chemistry Phil Hampton. Since implementing the program, CI has doubled the number of students majoring and graduating in STEM disciplines, going on to graduate school, and entering scientific careers.
The simple act of showing faith in a student can lead to a life-changing relationship.

 Cindy Wyels
As faculty director of the Louis Stokes Alliance for Minority Participation, Wyels has mentored many underrepresented students in STEM to help them achieve their full potential.
Wyels uses her own story to illustrate to students that STEM success is not a byproduct of natural ability. Initially drawn to study languages, history and the humanities as an undergraduate at Pomona College, Wyels found the challenge of mathematics intriguing. With a professor's encouragement, she pursued graduate study in math at a large, Midwestern university. However, as a female student with no department funding, she found herself set adrift and unsupported in an unwelcoming environment. Wyels earned her master's and went on to get her Ph.D. at University of California, Santa Barbara, where she found a better network for disenfranchised students.
Ever since, Wyels' priority has been to make academia a welcoming place for students, faculty and staff of all backgrounds. She carries that principle forward as CI's newest Academic Senate Chair, where she sees her role as "leading a thoughtful discussion around our priorities and values," which include hiring more diverse, tenure-track faculty to support CI's rapid growth and CSU systemwide goals of higher graduation rates and zero achievement gaps.
"The job of Academic Senate Chair is not to have an agenda or take sides," she said. "It's about facilitating the faculty role in shared governance through informed discussion and debate and fostering strong collective decision-making. We have all come to CI because we believe higher education can be a transformative power for social and economic good. My role is to help shepherd that process."
Return to the Table of Contents
© Fall 2016 / Volume 20 / Number 02 / Bi-annual