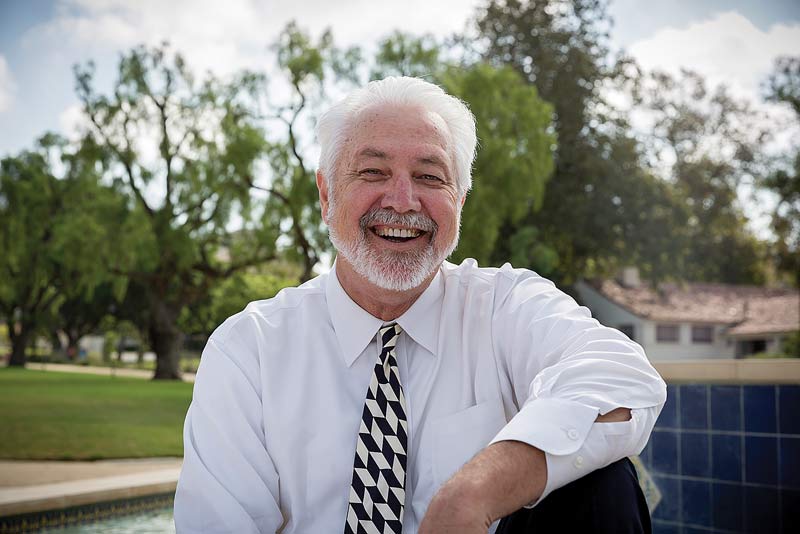 Gary Berg Retires from CSUCI
By Zoe Lance
After more than 30 years working in continuing education, Gary Berg has retired as CSUCI's Associate Vice President for Academic Affairs and Dean of Extended University. In the roles he held since 2002, he spearheaded establishing the University's self-supported academic programs.
Berg's career started outside of the university setting. After receiving his Master of Fine Art from UCLA, Berg worked for the Directors Guild of America (DGA) and administered continuing education for film and television directors. This sparked an interest in returning to academia, which led Berg to earn his doctorate in higher education administration from Claremont Graduate University.
His research focus has been in distance learning and public policy in higher education, and he authored many articles and six books on these topics. He also co-edited two encyclopedias of distance learning.
"I was especially interested in working with adults and professionals, since the courses at the DGA were often taught by people who didn't have degrees but had extensive knowledge," he said. "I believe in the power of public education to transform people and society."
Before arriving at CSUCI, Berg led extended education at the California School of Professional Psychology and Chapman University. When he joined CSUCI, he knew that building extension programs from the ground up was a once-in-a-lifetime occurrence. He saw the challenge of the region's geography and worked to make the University accessible to Santa Barbara and Ventura County residents.
"It was an incredible opportunity to help with the creation of a public university in California, which is an increasingly rare thing," he said. "It was a lot of work, but it was very exciting. There was a really remarkable latitude in the CSU to create a university that specifically serves its region. That's what we've done."
Berg reached out to community partners and sought contracts and grants. Creating public-private partnerships was very important to him, since Extended University responds to a community need.
"The master's in biotechnology, for example, became a real signature program for the University because it's an excellent example of working closely with local industry," he said. "It developed through connections with Amgen and Baxter. The satellite campus in Goleta is a public-private program funded by Cottage Health. These are two programs I'm particularly proud of."
In his retirement, Berg is planning to continue writing and researching. He says he'll miss the people at CSUCI the most.
"The people are what really set CSUCI apart. There's a strong commitment and belief in the institution, and you don't see that much in larger universities," he said. "It's an important institution that does good work every day, and I'm happy to have been a part of it."