Introducing Geoffrey Chase, CSUCI's New Provost
By Zoe Lance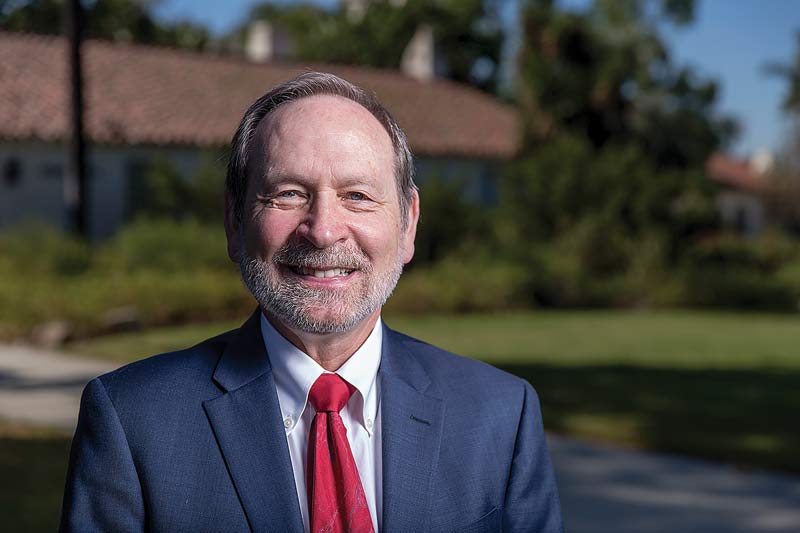 A few months after he arrived at CSUCI, Geoffrey Chase walked into the hallway of the Bell Tower building to find two students looking for a faculty member's office. In helping them find their way, Chase struck up a conversation with them about their majors and what they wanted to do after college.
"The energy they exuded about what they were studying and what careers they wanted to pursue was incredible," he said. "I'm very impressed with CSUCI students' commitments to their own education. They're excited about what they're doing, and they're willing to work hard."
Chase, who became CSUCI's Provost in July, thrives on these interactions with students, faculty and staff. It's his job to make strategic decisions about the University's academic growth, and in his first months as Provost, he's held office hours to learn about University values, goals and challenges.
"The level of engagement CSUCI students are expected to exhibit contributes to the University's intellectual and academic integrity," Chase said. "Every day, I'm reminded by how many people love this institution and how attached to it they are."
Chase is no stranger to the CSU system. He spent 14 years of his illustrious career in education at San Diego State and has known about Ventura County's public university since its inception. He appreciates CSUCI's interdisciplinary focus.
"I have always been drawn to integrated approaches to learning and knowledge," he said. "I want to reinforce an institution that has already done great things, and it's a privilege to be here at a time when CSUCI is ready to take the next steps."
Chase began his career as a high school English teacher. He felt a pull back to higher education, and received two master's degrees before a doctorate in 20th-century American and British literature from the University of Wisconsin-Madison.
After a decade in the classroom, he took on administrative positions that gave him a chance to work in a planning role. At several different institutions, he's served as a director, dean and associate provost. Before coming to CSUCI, he was vice president of the Western Association of Schools and Colleges Senior College and University Commission.
"I love being around students and get a lot of energy from them," he said. "At the same time, I like strategizing how an institution can support faculty, students and staff and working across disciplines."
The idea that a university should help its students gain the knowledge and critical thinking skills to excel past the classroom is at the heart of his educational philosophy.
"We need to make sure that students have the skillset to be successful in their field, but that they are also able to deal with the challenges that are inevitably going to rise in their careers and communities," Chase said. "Learning how to work in teams to solve problems that no one person can solve is critical, and when students find the solution that doesn't work we want them to try again."
He also deeply values the faculty and staff's diverse strengths and talents, especially when it's time to solve complicated issues.
"I like to sit down and work with a group of people and say, 'Let's figure this problem out. I need your strengths as a faculty member from your discipline, and I need this staff member's perspective,'" he said. "I want to learn as much as I can from the people who have been here, and who have helped build this University to the great place where it is."
Chase sees an exciting and fruitful future for CSUCI. His vision includes finding more ways to boost graduation rates and developing a strategic planning culture for instructional space and academic programming, while remaining student-centered and committed to the University's Four Pillars of service-learning, intercultural, multicultural and integrative studies.
"Everyone is asking really good questions about what's next and how to build on our strengths," he said. "That level of commitment is really extraordinary and needs to be celebrated."