Karina Hinojosa's Journey to Student Government
by Zoe Lance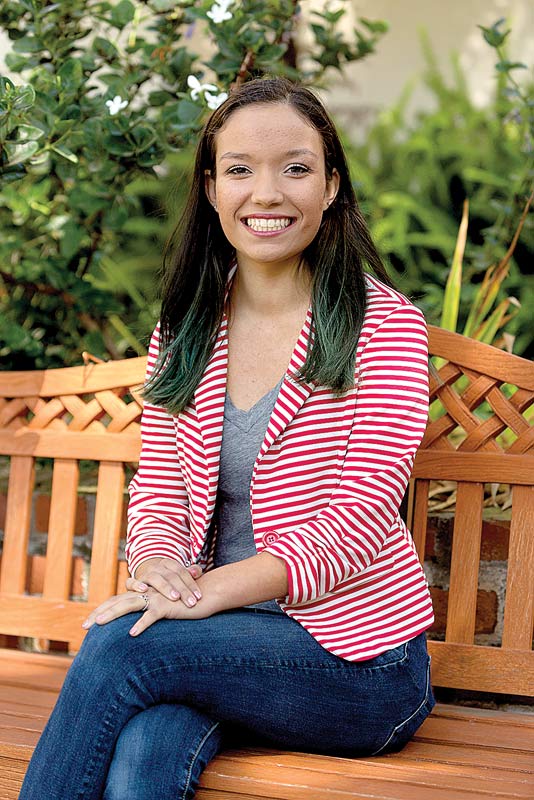 When Karina Hinojosa '18 attended her first Cal State Student Association meeting in October 2016, so much of what she already felt about student leadership crystallized for her. She met like-minded peers from both CSUCI and other CSU campuses who also were serious about working hard to improve student experience.
"Being able to speak on behalf of those who can't speak for themselves has always motivated me," the senior Liberal Studies student said. "I want to do it to the best of my abilities and the way to do that is to get involved."
Encouraged by this experience and the fulfillment she found in being CSUCI Student Government's director of operations, Hinojosa decided to run for 2017-18 Student Government president and won. Alongside Vice President Alexis Mumford and other senate members, she coordinates programming and advocacy efforts. Bethany Bañuelos, Associated Students Inc.'s student programs coordinator, says that Hinojosa is a collaborative and inspirational leader.
"She leads with excellence and integrity in all she does," Bañuelos said. "Her positivity and desire to build community are demonstrated through her commitment to the Student Government team and the student body."
Hinojosa wants to strengthen student communication efforts and help more of her peers get involved in the Lobby Corps, an advocacy group that works with CSSA. She also is working on safety, campus climate and mental-health initiatives.
"We need to let students know Student Government exists and make sure they understand that they have resources," she said.
The aspiring special education teacher came to CSUCI from San Diego knowing that her campus involvement was inevitable. As a teenager, she spent much of her time in the hospital because of chronic illness. Hinojosa found energy in volunteering with special-needs students, which pushed her to finish high school and enroll at CSUCI.
Being involved in things that are higher than yourself makes you want to be a lifelong learner.

 Karina Hinojosa

In addition to Student Government, she's participated in Island View Orientation, the Leaders in Education Awareness Program, the Residence Hall Association, Rotaract and the Latina Leadership Coalition.
"Being involved in things that are higher than yourself makes you want to be a lifelong learner," Hinojosa said. "CSUCI's student-centered atmosphere was just so special. I wanted to be a part of this community."
And now that she's had a taste of state-level advocacy efforts, she wants to help pass legislation that affects students farther than her own future classroom.
"Student leadership keeps me running," she said. "I'm so proud to say I'm student government president at one of 23 campuses in the biggest public-university system."