Katherine Crook's Experience with Student Life
By Zoe Lance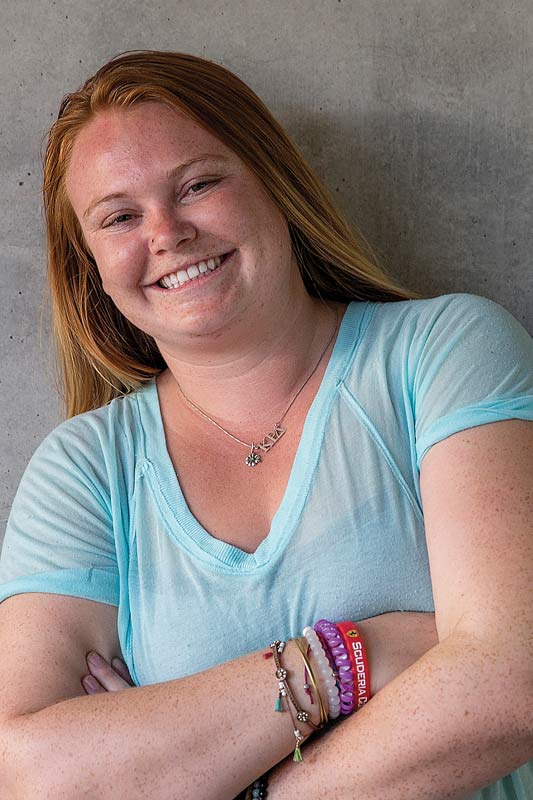 Katherine Crook '19 runs her life by the triple-win method.
"I like everything I do to have multiple reasons to do it and help multiple people," the senior Communication student said. "If we're not winning on three sides, I want something better."
Crook ascribes to this when she's working on a sorority philanthropy project, cleaning up her local beach or giving advice to her peers on how to run a successful student organization. Making connections across the University to better overall student life is very important to her. 
"It's so cool how everyone knows everyone at CSUCI," she said. "It's what I really like about it — everyone's always trying to support each other. It helps everyone be more successful and it's such a good environment to be in."
After growing up in Santa Barbara, Crook attended multiple colleges and universities. Her parents, who own Milpas Motors, encouraged her to go to school closer to home. When she started at CSUCI in the 2016-17 academic year, she was immediately drawn to joining clubs and organizations in a way she hadn't felt at her previous campuses. She also found that the Communication program was the place to have meaningful conversations with faculty and develop interpersonal skills.
CSUCI makes it easy— there's always something going on, and the community is always inviting everyone.

 Katherine Crook

"CSUCI makes it easy — there's always something going on, and the community is always inviting everyone," Crook said. This year, she's serving as vice president of the Green Generation Club and the treasurer for Pokémon Club.
She also met other students who were interested in starting a new sorority chapter. In just one week they co-founded the University's chapter of Kappa Rho Delta and centered their philanthropic efforts on children, animals and the environment.
"We want to provide a space for every type of person and personality, but still come together to foster friendship and women empowerment," said Crook, who is serving as the chapter's president this year.
After she graduates, Crook plans to go to graduate school to become a veterinarian. She feels ready to start working in the animal sciences field, which is something both her degree and campus involvement has prepared her for.
"Being a part of so many clubs gives you so many life skills," she said. "You learn how to manage your time, be in charge of something, put on an event, and talk to other people. CSUCI does a really good job of creating a well-rounded person."