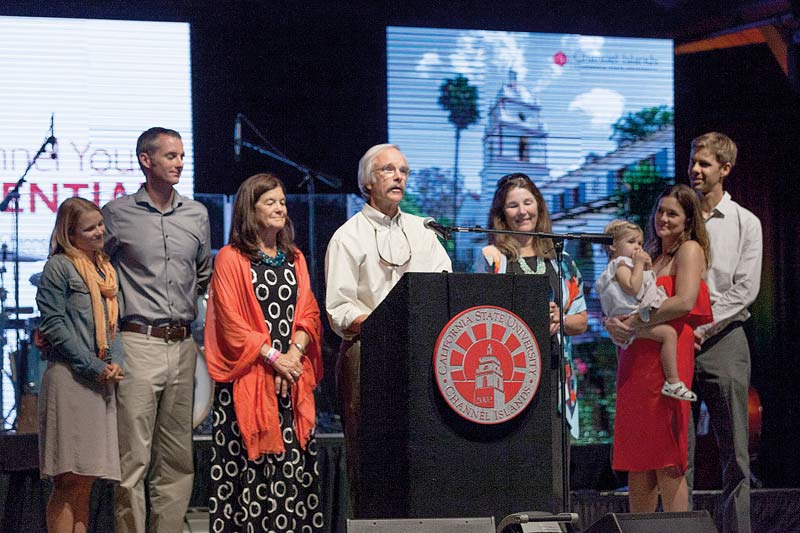 By Kim Lamb Gregory
One of the highlights of the President's Dinner and Concert held Oct. 14 was the moment when CSUCI President Erika D. Beck awarded one of the University's highest honors to the family of John S. "Jack" Broome, longtime supporters of the University.
President Beck called members of the Broome family on stage at Libbey Bowl in Ojai just before the night's entertainment began to present them with the Robert J. Lagomarsino Award in appreciation for their generous support of CSUCI.
The award is named for the Honorable Robert J. Lagomarsino, a former United States Congressman and State Senator who is also a longtime supporter of the University. The award is presented each year to an individual, individuals or an organization that has contributed to and supported CSU Channel Islands.
John Spoor Broome is perhaps best known for the University Library that bears his name.  His son John S. Broome Jr. along with his wife, Cheryl, and his sister Elizabeth "Betsy" Grether, and her husband, John, have continued the family's legacy of supporting the University.
John Broome Jr. said, "In addition to the clear benefit of a university education, CSUCI is very important because a portion of the region's population is now able to achieve a college degree by having a campus nearby."
Betsy Grether agrees, and said she appreciates how the University formed and grew with input from local residents about community needs.  She added, "It's really important to support a public university in our community."
Broome Jr. and Grether said they appreciate the many aspects of CSUCI that make a difference in the area, especially serving the advanced educational needs of thousands of students.  Broome Jr. said, "You could probably go to each department and program and see how the research and education benefits the students and correspondingly our world."
President Beck and her team are identifying existing as well as future needs for CSUCI noted Broome Jr. "This endeavor will create the path forward in developing curriculum, studies, and opportunities for students," he said.
Broome Jr. served on the CSUCI Advisory Board, and Grether is currently a member of the University's Foundation Board.
As she presented the Broomes with the Lagomarsino Award, President Beck expressed gratitude for all that the family has given and continues to give to the campus.
"Thank you to the entire Broome family for channeling your passion into establishing this remarkable University and helping us to transform lives every day," Beck said.