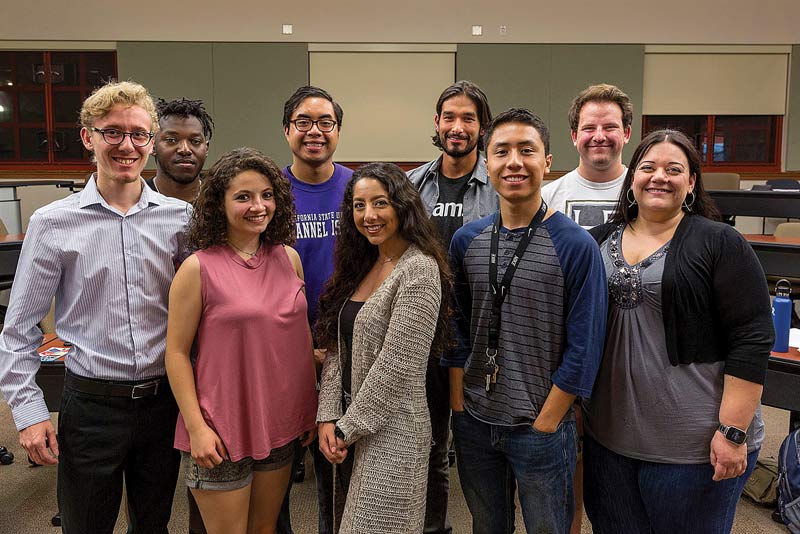 By Zoe Lance
Ask the students involved in CSUCI's chapter of the American Medical Student Association (AMSA) why they joined the organization, and they'll tell you that the decision was easy. It gives them a network of peers who are all interested in the deep satisfaction of becoming a medical professional.
Established in spring 2016, CSUCI's AMSA chapter provides resources for all students who are working towards careers in dentistry or medicine. Its diverse event calendar consists of professional lectures, mock interviews and exam study sessions with Kaplan, an international test preparation company. The roster for CSUCI's chapter of the national association lists more than 90 members.
Brandon Eckert, the chapter's president and a senior Biochemistry and Biology student, wanted a cocurricular experience in his pathway to becoming a medical doctor. He noticed that many of his peers were either reticent to say that they were interested in medical school or that they didn't know how to prepare for applying. The University does not currently offer a specific pre-med emphasis for its science degrees.
"Another student mentioned starting an AMSA chapter and he asked me: 'Is there even another university you could do this at?' The answer was no," Eckert said. "It's been hard work, but it's exactly what I wanted to do and the University offered me that opportunity."
Now, AMSA gives them hands-on learning opportunities.
"We talk about how we're going to get to medical school beyond doing paperwork and applications," he said. "They have to think outside of that and stay motivated."
Eva Palomares, a senior Biology student, enjoys how AMSA gives her exposure to different medical professions through these events.
"What compelled me to join was to surround myself with people who are motivated to get into the medical field so that I could learn from them and be part of a community with the same goals," she said.
Avery Peavy, a senior Biochemistry student who co-founded the chapter with Eckert, says that establishing the organization's presence on campus made him think about how a student organization could help the community.
"What I enjoy about being a part of AMSA is the aspect of knowing I am around like-minded individuals who genuinely have taken an interest in selfless work," he said. "I have seen nothing but happy faces thus far."
In the spring, CSUCI's AMSA members plan to attend regional and national conferences, organize an annual suture clinic and host medical school outreach representatives.