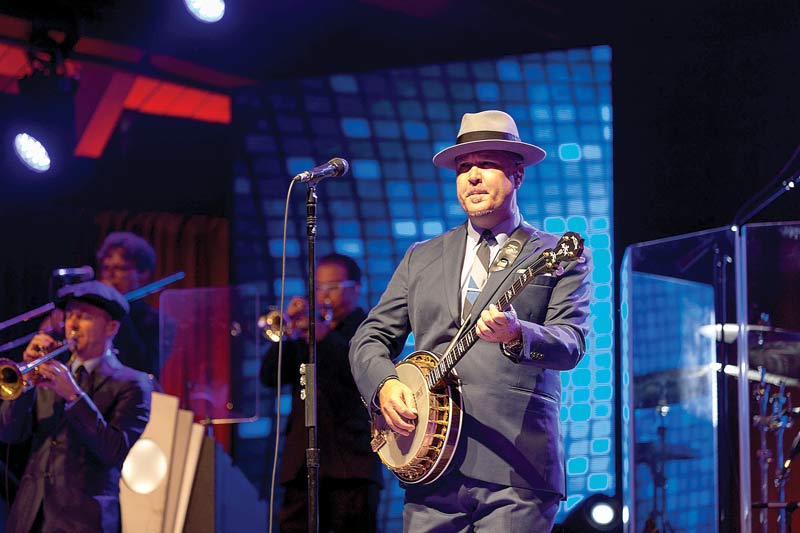 By Joanna Murphy
CSUCI supporters and community attendees were treated to the electrifying sounds of Big Bad Voodoo Daddy - the homegrown swing band that played their way to international fame — at the President's Dinner & Concert at Libbey Bowl on Oct. 14.

Also, honored for their longtime support of the University, the John S. "Jack" Broome Family received the Robert J. Lagomarsino award with three generations of family members on hand (see article pg 26).
Jack's son, John S. Broome Jr. and his wife, Cheryl have continued Jack's legacy of supporting the University along with Jack's daughter, Betsy Grether, who has joined CSUCI's Foundation Board (see article pg 27).
CSUCI President and event host Erika Beck explained before the concert "The funds raised by the dinner and concert have supported scholarships and new academic programs, giving our students a chance to channel their potential and transform their lives."
The event, presented by the CSUCI Foundation and Rabobank, featured VIP cocktails, appetizers and a four-course dinner crafted by Seasons Catering and an alumni mixer before the event at Casa Barranca Organic Winery & Tasting Room.
CSUCI thanks the sponsors of the President's Dinner & Concert: Rabobank; Gene Haas Foundation; SAGE Publishing; Union Bank; Wells Fargo; Montecito Bank and Trust; Elise and Bill Kearney; Harrison Industries; Pacific Western Bank; TOLD Corporation; Canteen of Coastal California; Cohen Begun & Deck LLP; Leavens Ranches; Musick Peeler; Northern Trust; PCL Construction; Airborne Technologies; Ventura County Credit Union; bkm office environments; Booz Allen Hamilton; California Resources Corporation; CBIZ+MHM,LLC; Julie and Doug Kays; Staples Construction; Ventura Rental Party Center; Darvik Productions; Jordano's Inc.; 95.1 KBBY; Pacific Coast Business Times; Seasons Catering; Sysco; V3 and Westlake Village Inn/Stonehaus; and Summerland Winery.