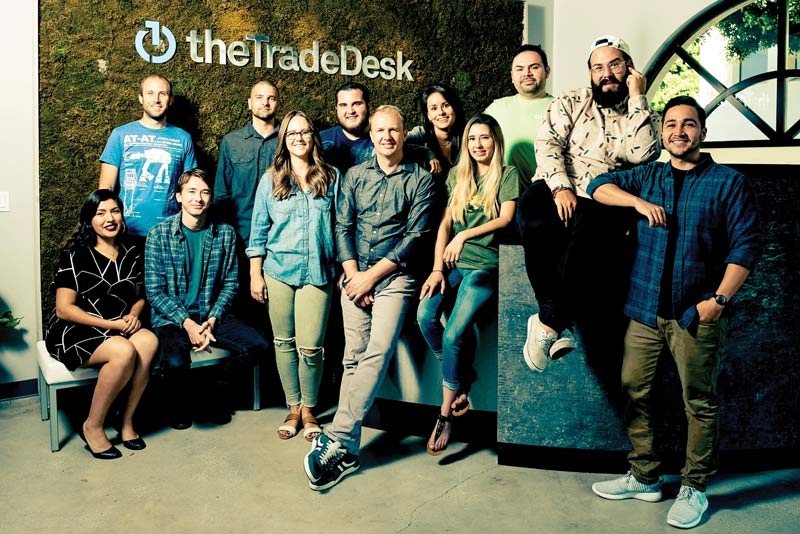 Jeff Green's Support of Students
By Zoe Lance
If you ask Jeff Green what determines a person's success, The Trade Desk founder and CEO will tell you that it's all about two things: grit and perseverance.
"I would never bet against the students of CSUCI because they have these two qualities," he said. "I hire more alumni from CSUCI than any other university that we recruit from."
Green can't remember a time where the University wasn't on his radar. For several years, his Ventura-based company has actively sought out the University's alumni to help run its digital advertising platform. CSUCI graduates at The Trade Desk work in 20 worldwide offices and in many roles, including support management, software engineering and operations.
"After we hired a few people, we wondered how we could get more," Green said. "Both the Trade Desk and CSUCI were so interested in making it work that we quickly started a dialogue. The first hires are now managers who now have a bunch of CSUCI alumni on their own teams. It's been cool to watch."
In talking to President Erika Beck about the partnership, Green started to think about how he could help more CSUCI students access a quality education. The Trade Desk has now established scholarships for rising students, some of which Green is personally sponsoring.
His ongoing commitment inspired CSUCI's Business & Technology Partnership, a consortium of community business leaders that fosters collaborations with the University, to name Green as the 2017 Technology Leader of the Year.
"There's nothing more important to us than having a deeper tie to the community," Green said, who has been a Ventura County resident for more than 20 years. "CSUCI is within reach for so many amazing people, some of which work at The Trade Desk. I'm inspired by them and I wanted to help. Funding, supporting and promoting the University is crucial."
Green also thinks that it's vital for the technology sector to invest in higher education. He sees it as a very clear return on investment to support those who help funnel high-caliber people into local businesses and organizations.
"I believe deeply that we are better off as a community, a county, a state and a country when the people around us are educated," he said. "CSUCI has been a really important connection to the community, and we're investing in our collective future when we make investments in education. I don't think there's anything more important than doing that."