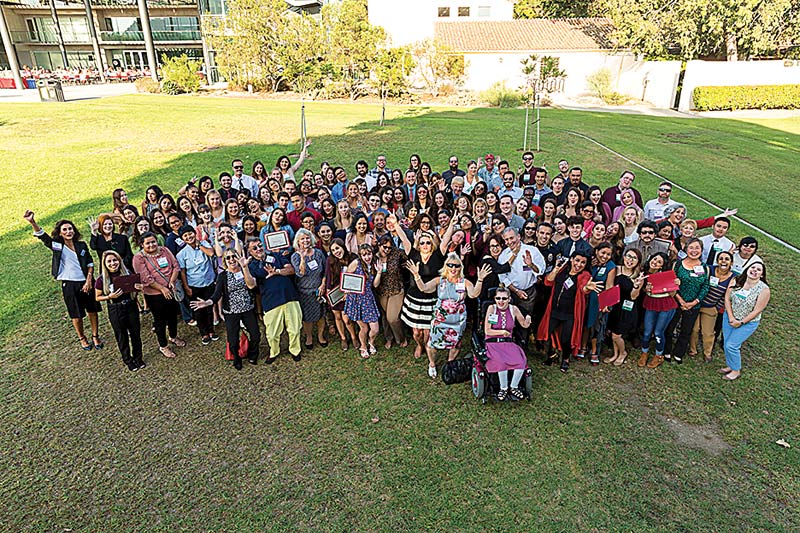 By Kim Lamb Gregory
Nursing and Psychology double major Annabelle Alward always knew she wanted to attend college, but with a drug-addicted mother and a transient father, Alward didn't know how she would get there, or how she would afford it.
Because of her hard work and the generosity of scholarship donors, Alward is now in the second year of her Bachelor of Science Nursing (BSN) degree at CSUCI.
"I can go to class and not worry about where I am going to live, how I am going to get to class, or how I'll ever make it," she said to a crowd of scholars and donors who attended CSUCI's Scholarship Awards Reception on Sept. 8. The annual scholarship awards reception is a chance for scholarship recipients to meet with the donors who are investing in their futures.
"It's really amazing to watch what happens when our donors have the opportunity to interact with our students and to see our students eyes light up when they meet donors who have invested in them," said President Erika Beck when she spoke at the John Spoor Broome Library Plaza, where the reception was held. This year, donors awarded a total of $465,608 in scholarships to 210 CSUCI students.
Alward was awarded the Margaret E. Garlock Nursing Scholarship, which goes to a student in the CSUCI Nursing program. Garlock was the executive secretary of philanthropist Martin V. Smith, for whom the School of Business & Economics is named. Garlock was grateful for the care she received during the last years of her life and wanted to support CSUCI's Nursing program.
Alward expressed her thanks as she stood at the podium and told her story to the audience of about 300. "My father suffered from anger issues and depression," she said. "My mother was a drug abuser who I never really knew." She and her older brother were in foster care until Alward turned 16 and was returned to her father.
"My father lost his job and we became homeless, staying in family shelters and surviving off state aid," she said. "We did not have a car, so I took online classes and studied for my SATs wherever I could; at a coffee shop, at the library, at church and the shelter."
Her determination paid off and she was accepted to several universities, but chose CSUCI's Nursing program. Alward will graduate in spring 2019.
"I can't thank CSUCI or the scholarship programs enough for allowing me to live my dream and break the cycle of being a first-generation former foster youth," she said.