By Marya Jones Barlow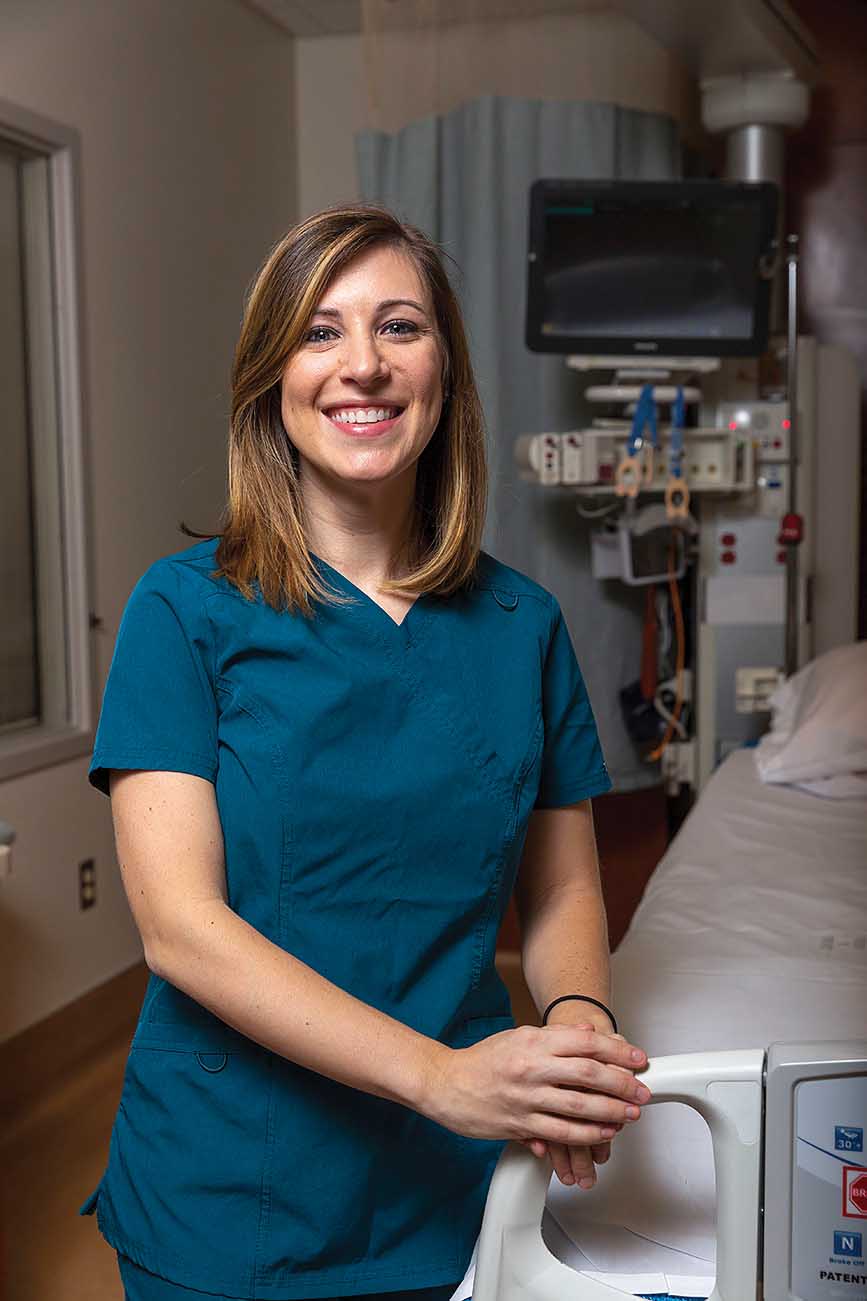 Hollie-Ann McKiel was 16 when she discovered the power nurses can have. Her mother was diagnosed with breast cancer and immediately sent into surgery. Both mother and daughter were "terrified," she recalls.
The surgery saved her mother's life — today she's 15-years cancer-free — but it's the hospital's nurses that McKiel remembers with the most reverence and gratitude.
"The patience and compassion the nursing staff had when dealing with my mother was extraordinary," she said. "They were so calming, caring, and unbelievably comforting that it brought me to tears. It was during this time that I knew I needed to be a nurse. I wanted to be that calming presence for someone during their most trying times."
Today, McKiel is a registered nurse working in the Surgical Intensive Care Unit at Cottage Health in Santa Barbara. She spends her days helping surgery and trauma patients and their families in the Central Coast's only Level One Trauma Center.
She landed her job straight out of CSUCI's Nursing program. McKiel says Cottage Health felt like home because it was where she completed her clinical training.
"I feel so lucky to have transitioned from being a student to a nurse here," she said. "I knew that their employee satisfaction was good, the environment was great, and all the equipment was first-rate and familiar."
Raised in Massachusetts, McKiel moved to the West Coast after high school (and her mother's recovery from breast cancer) to pursue her dream of becoming a nurse. But she struggled to manage the expense of going to school full-time in Orange County while working as a Certified Nursing Assistant. To pay the bills, she took a job in an interior design firm, which led to an enjoyable nine-year detour as an interior designer. During those years, McKiel met and married her husband, Ryan, earned a bachelor's degree in Earth Systems Science at UC Irvine, and moved to Oxnard.
At age 25, McKiel decided to pursue her deferred dream of becoming a nurse. She completed the prerequisites and was admitted to CSUCI's Track I Generic BSN pre-licensure Nursing program in Goleta.
"I wanted to go to the best program around and get the best training possible, and CSUCI's Nursing program is rated #12 in California," she said. "From the outstanding professors to the amazing simulation lab, it was the best choice I ever made."
At CSUCI, McKiel served in leadership roles for the Student Nurses' Association and Red Cross Club — performing over 200 hours of volunteer service; earning critical care, EKG, ventilator/tracheostomy, and American Red Cross Disaster Health & Sheltering Course certifications; and helping organize community health clinics and global health symposia.
She worked on research and outreach projects with long-term value. A group project on community disaster preparedness won an award from the National Student Nurses' Association and will soon be published in a research paper in its journal, "Imprint." She also helped organize the Health Literacy Station at the annual Care Harbor LA event, a pop-up clinic providing free medical, dental and vision care to uninsured patients.
McKiel also earned the honor of being named Pinning Ceremony speaker, along with a DAISY in Training Award, recognizing nursing students who exemplify the delivery of clinical care in an extraordinary and compassionate way.
Now at Cottage Health, McKiel is helping patients and their families with the same compassion she experienced when the tables were turned 15 years ago.
"It's truly a rewarding career," she said. "You feel the difference you're making by being there, not only to care for the patient but also for their loved ones. The most powerful part of my job is we are changing lives and making a difference."
Return to the Table of Contents
© Fall 2018 / Volume 22 /Number 02 / Bi-annual