By Zoe Lance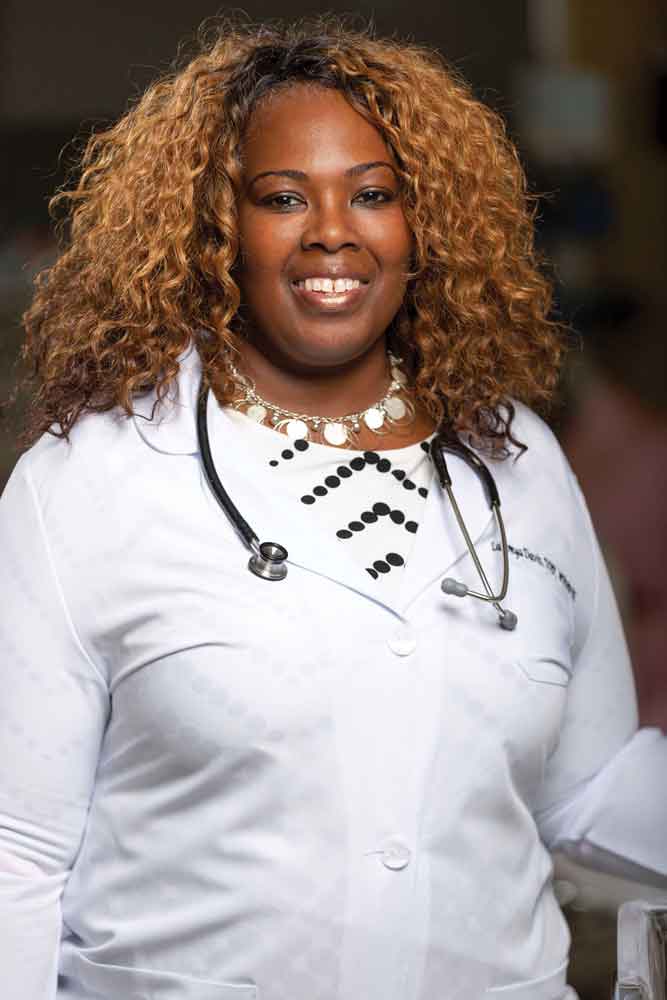 Not everyone can look at a dilapidated trailer and envision a flourishing mobile health clinic that will provide free screenings, immunizations and health education to underserved families and communities.
But LaSonya Davis, Associate Professor of Nursing, could and did. In 2015, she partnered with St. Paul Baptist Church in Oxnard to transform the trailer into the Frances Huggins Community Health Clinic. Today, students from all disciplines help run the clinic and its annual fairs, making a real difference in the community they hope to serve in the future. A new partnership with Bethel AME Church in Oxnard will allow the clinic to one day include ambulatory care, as the University works to develop a graduate program in Nursing.
"The community has something to rely on and something that says, 'We care about your health,'" Davis said. "Working with community members helps the students foster a sense of leadership and responsibility."
When Davis joined the faculty in 2012, she brought over 20 years of nursing experience into her classroom. In addition to holding a Doctor of Nursing Practice, she is a Family Nurse Practitioner and a women's health nurse practitioner. She encourages her students to consider the myriad career paths within the field of nursing and believes that community service enhances their educational experiences.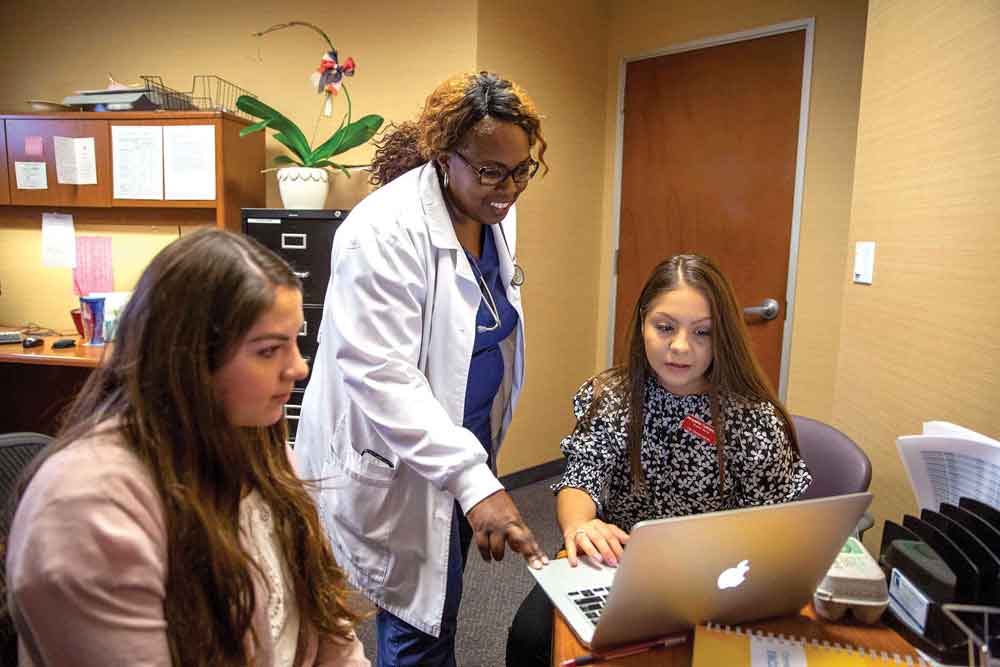 "I tell my students, 'If you leave CSUCI the way you came in, I didn't do my job. You should be transformed,'" Davis said. "I try to help them develop a sense of lifelong learning."
In teaching courses like Vulnerable Populations and Nursing Care of Mothers, Infants, and Women, Davis strives to help her students develop new perspectives about their work and practice the "art of caring."
Working with community members helps the students foster a sense of
leadership and responsibility.

LaSonya Davis

"I have a sense of pride when I look at my students, and they've been able to develop community engagement skills and a sense of accomplishment," Davis said.
Nursing graduate Dallas Lawry '14, remembers Davis leading her women's health rotation, and was struck by her approachability and passion for nursing. Lawry also remembers a moment of encouragement that has stuck with her as she's worked in a residency program in the oncology department at UCLA, and on a doctoral program at Loyola University New Orleans.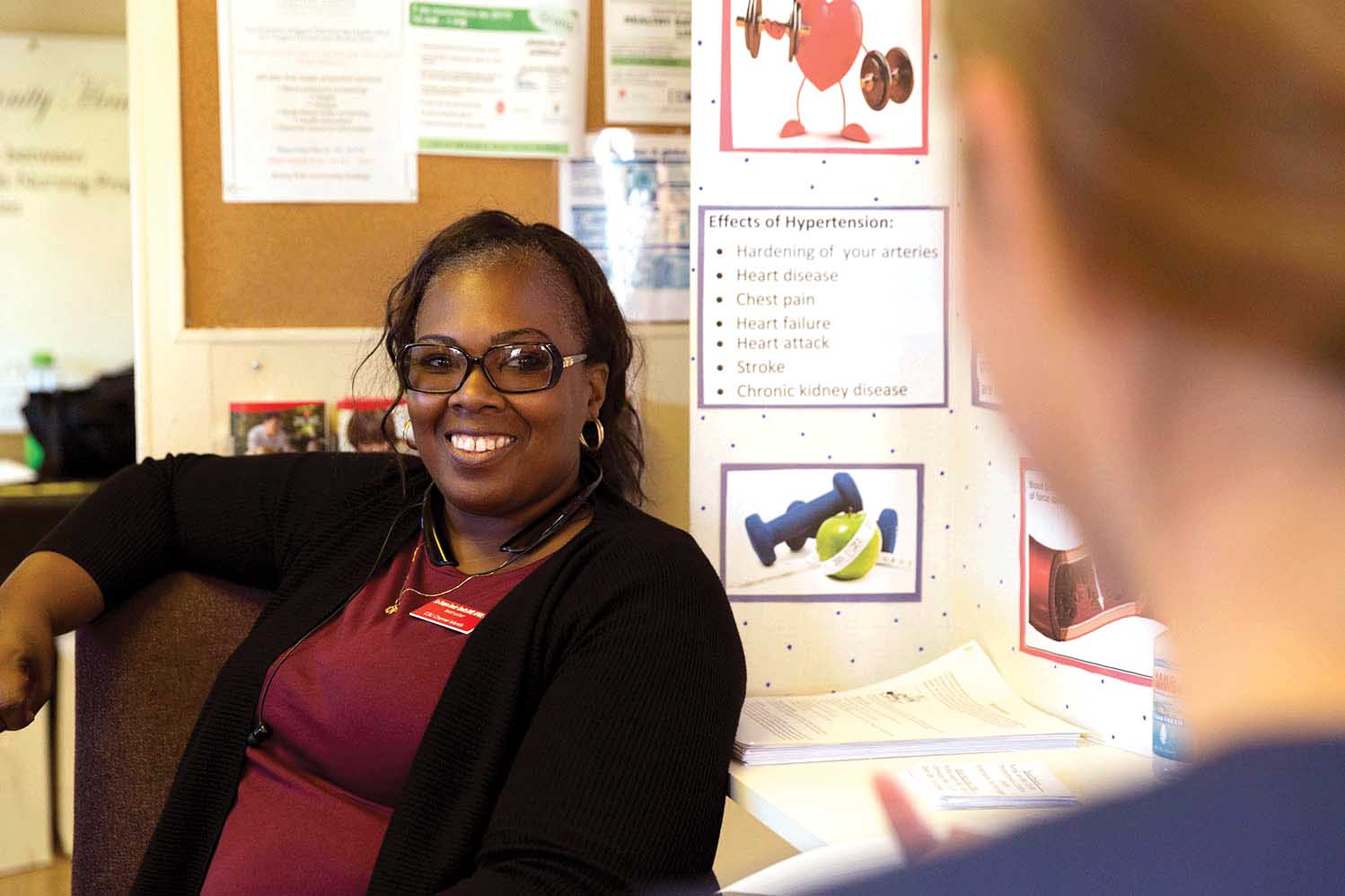 "In the second-to-last semester of my program, she told me, 'I expect that you will be one of the students that gets a higher degree,'" Lawry said. "I always come back to that, that she saw that in me. Throughout the process of applying to graduate school and getting scholarships, Professor Davis has always been a professor that has supported me, even after graduation."
To Davis, her students and colleagues are an extension of her family. She says that CSUCI is a place where everything is possible.
"It's a place where dreams are made," she said. "If you think it, it can happen. I can't think of anywhere else I'd rather be."
Return to the Table of Contents
© Fall 2018 / Volume 22 /Number 02 / Bi-annual