Seth Gibson, '06 B.S. Business Administration
By Marya Jones Barlow
In almost three years since MadeWest Brewing Company opened its doors, the Ventura-based microbrewery has enjoyed steady growth, national awards for its beers, and a distribution partnership to over 600 locations with Escondido's venerable Stone Brewing.
But for co-founder and CEO Seth Gibson, the most gratifying signs of success are the company's 22 employees and the growing number of new patrons he sees each week in MadeWest's taproom.
"The first couple months we opened, it was our friends and family coming and hanging out," he said. "Now if I go into the tasting room, there are more new faces than familiar ones. People visit from all over California because they've heard about our beer."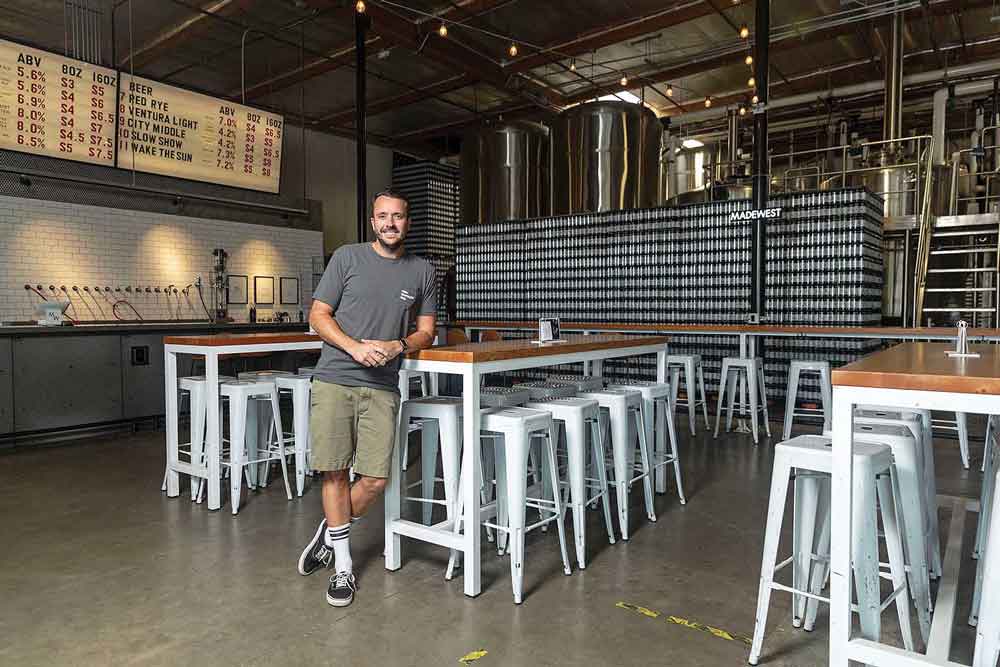 Ventura was the natural home for MadeWest. Gibson and co-founder/head brewer Mike Morrison met and grew up there as best friends. After graduating from high school in 2001, they headed off to college together at San Diego State University (SDSU). Gibson missed his hometown and ultimately left to complete his degree at the new CSUCI campus closer to home, while Morrison stayed at SDSU.
Over the next decade, Gibson worked at a real estate development firm, rising from accountant to chief financial officer and cultivating the expertise to run a profitable business, attract investors, and raise capital.
Meanwhile, back in San Diego, Morrison's home-brewing hobby had escalated into a talent worth sharing. After sampling his best friend's beers, Gibson saw an opportunity to realize a lifelong dream.
"Ever since high school I dreamed of creating a company and helping to add jobs in Ventura," he said. "I've seen firsthand how so many of my peers moved away from the area after high school and very few were able to move back home for the lack of jobs available."
In 2013, the two friends launched MadeWest and started on the path to commercial production. By 2015, they had raised enough money to break ground on a 14,000-square-foot building in a midtown Ventura industrial park. The following year, MadeWest Brewing Company made its public debut, opening a sleek, modern brewery and spacious family- and dog-friendly tasting room at 1744 Donlon Street to rave reviews.
Along with 12 varieties of core and rotating beers on tap, patrons can enjoy food trucks, live music, and patio views of the Channel Islands seven days a week. They can take beers home in cans, crowlers, or growlers.
While Gibson says MadeWest "isn't trying to dominate the U.S.," it is establishing an impressive foothold in Southern California. This year, the company will brew 6,000 barrels — up from 2,000 in 2016 and 4,000 in 2017. Its beers are sold in over 600 locations throughout Southern California, thanks to a distribution partnership with Stone Brewing, the nation's eighth-largest craft brewer. For those who can't find its beer locally, MadeWest recently launched an online shipping service that delivers cold brews directly to California customers' doors.
Two MadeWest beers recently claimed prestigious industry awards. The company's Standard, a signature pilsner-like ale, won a gold medal at the Great American Beer Festival in Denver in September. Its Donlon Double IPA took bronze in the May 2018 World Beer Cup — affectionately known as "the Olympics of Beer."
Still, the acclaim can't beat the satisfaction of seeing a homegrown business he co-founded thriving and giving back to Ventura. The brewery and its 22 employees recently won a "Spirit of Small Business" award from the Pacific Coast Business Times. The tasting room attracts over 2,000 guests a week — and regularly hosts community and private events from school fundraisers to weddings.
Gibson has also taken pride in seeing MadeWest connect with his alma mater. The company's beers have appeared at CSUCI alumni events, campus restaurants, and even been the subject of a senior capstone project.
"It's a compliment to see MadeWest become a staple of the community and the county," Gibson said. "I definitely can't complain. Life is good."
Gibson lives in Ventura with his wife, CSUCI alumna Allison (Weingardt) Gibson ('07 B.A. Art and USC '12 master's in creative writing), and their two children, Jude, 5, and Sage, 2.
Return to the Table of Contents
© Fall 2018 / Volume 22 /Number 02 / Bi-annual