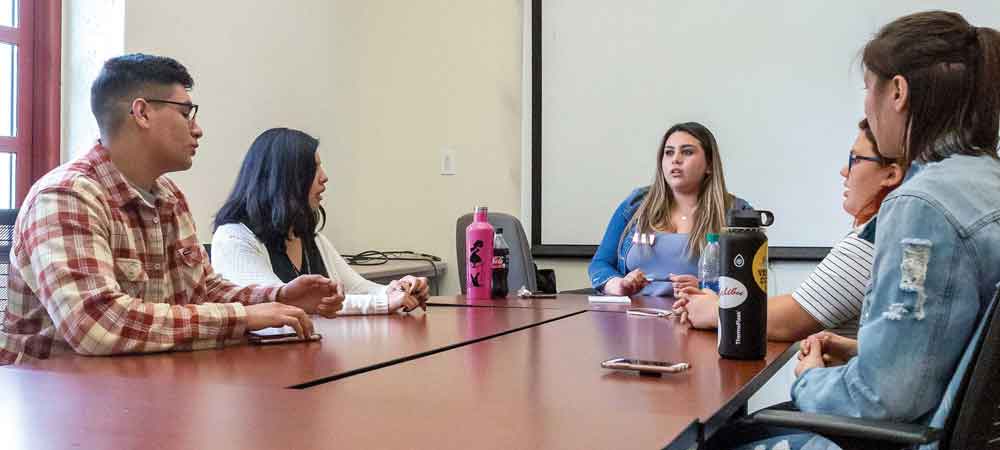 By Zoe Lance
A peer mentor at CSUCI is someone who serves in the spirit of community-building, during a formative time in people's lives. They're someone who has learned a thing or two about being a student and wants to share their newfound wisdom with those who might need a spark of it. And most importantly, they're a friend — someone you can lean on when you need some help, who makes you feel like you belong.
Across the University, a network of peer mentoring roles in the Divisions of Academic and Student Affairs helps students navigate the "hidden curriculum" of being a college student — how to find resources, understand procedures and ask for help. There are hundreds of students serving in these roles, and the largest part of the network lies in Peer Education and Equity Programs (PEEP).
"Peer mentors provide a support structure. They are able to connect with their peers on a completely different level," said  Associate Vice Provost for Student Success & Community Engagement Amanda Quintero, Ph.D. "The magic sauce of peer mentoring at CSUCI is the incredible training and investment in the leadership capacity of our students. Our mentors have the skills and confidence to facilitate group activities inside and outside of the classroom, which promotes student success strategies and engages everyone in a successful pathway to graduation."
Vice President for Student Affairs, Richard Yao, Ph.D., echoes that sentiment.
Peer mentors provide a support structure. They are able to connect with their peers on a completely different level.

 Amanda Quintero
"One of the most beautiful things about peer mentorship is that mentors touch the lives of potentially 15 to 25 students. And if we have 50 or more mentors who interact with 15 or 25 students, it has a ripple effect," he said. "I truly believe that our peer mentors fully grasp the magnitude of that task and the opportunity."
Sally Fernandez, Angela Christopher and Katherine Martinez have all participated in one of CSUCI's peer mentoring programs — as a mentor, mentee and sometimes both. All three students count the programs as powerful, transformative experiences.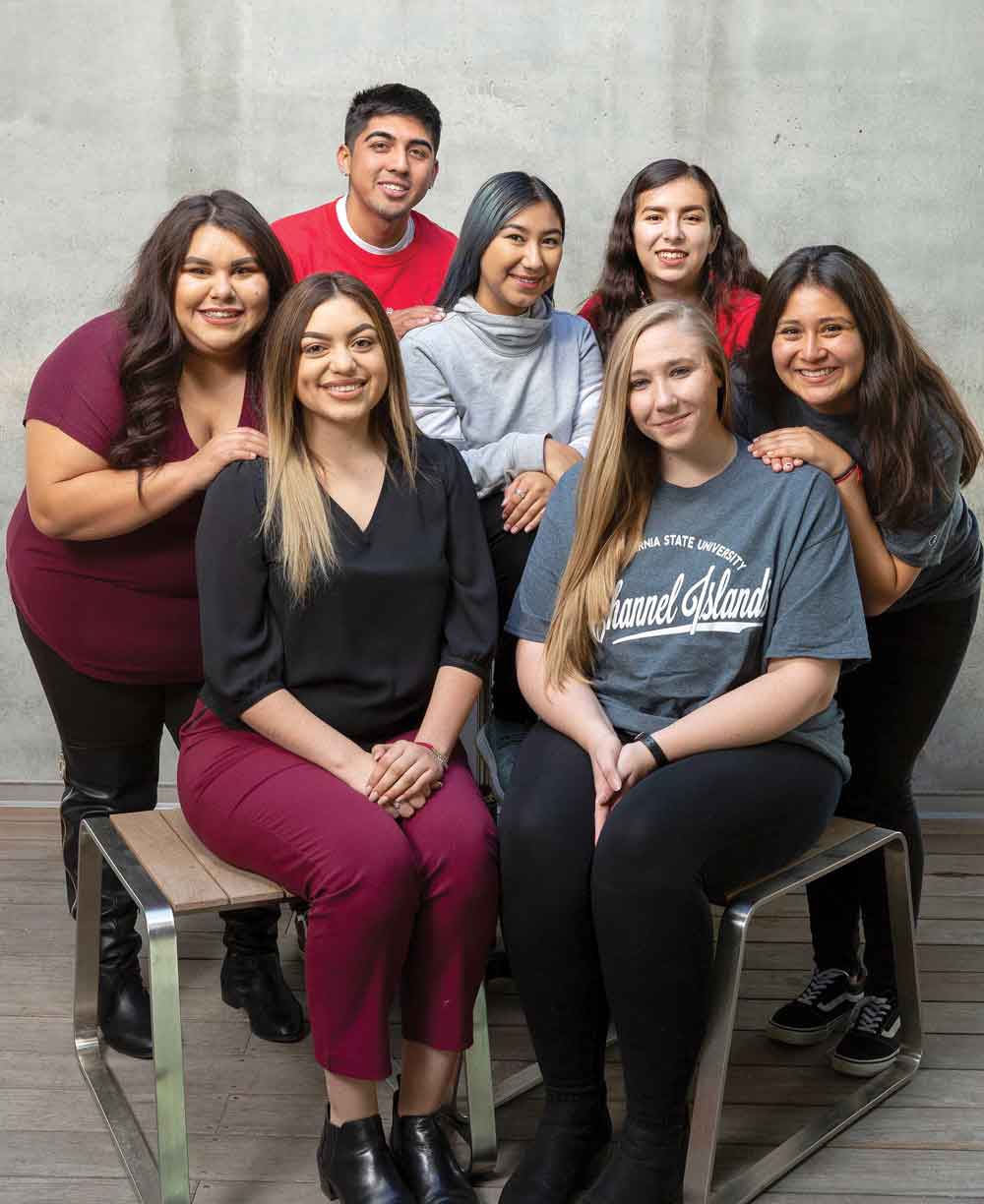 Finding a voice
Fernandez, a third-year Sociology student, learned about PEEP in her first semester. In a first-year seminar course, a peer mentor helped her work through a rough transition. His dedication inspired her to become a mentor herself.
"PEEP definitely shaped my experience at CSUCI for the better because I have been able to use my voice to help others," Fernandez said. "One day, my mentees can find their own voice in the way that I was able to find mine through this experience."
University Experience Associates like Fernandez focus on first-year students and their transition from high school to university life. When their mentees need some extra help that a campus service can provide, mentors make references. Through PEEP, Fernandez has felt empowered in her own education.
"The main thing I learned about myself through being a mentor was that I, too, could be a leader and example for first-year students — that if I, as a Latina, first-generation college student can make it, they can too," Fernandez said.
Finding a place
Throughout her time at CSUCI, Christopher has participated in several peer mentoring programs across campus. She remembers being welcomed by Housing & Residential Education's POD Squad, a team of students who assist new residents during move-in weekend. That connection made her feel
at home.
The fourth-year psychology student found another mentoring program later in her time at CSUCI. As a Wellness Promotion & Education peer educator, Christopher presents at a variety of educational presentations and workshops, on topics like healthy eating and stress management. This work, coupled with a term as Student Government's Senator of Wellness and Recreation, helped her find her niche.
"Peer mentoring programs are so important to have, because it helps students find their place," she said. "I really needed to find my place, and if I hadn't found the POD Squad, Student Government, or Wellness Promotion & Education, I don't think I would have stayed at CSUCI."
After being both a mentor and mentee, Christopher is now considering extending her educational path.
"The peer educator position helped me crystallize what educational leadership was, and how majoring in psychology would help me find a career in higher education," Christopher said. "Being able to interact with students that have different perspectives and backgrounds has been really helpful."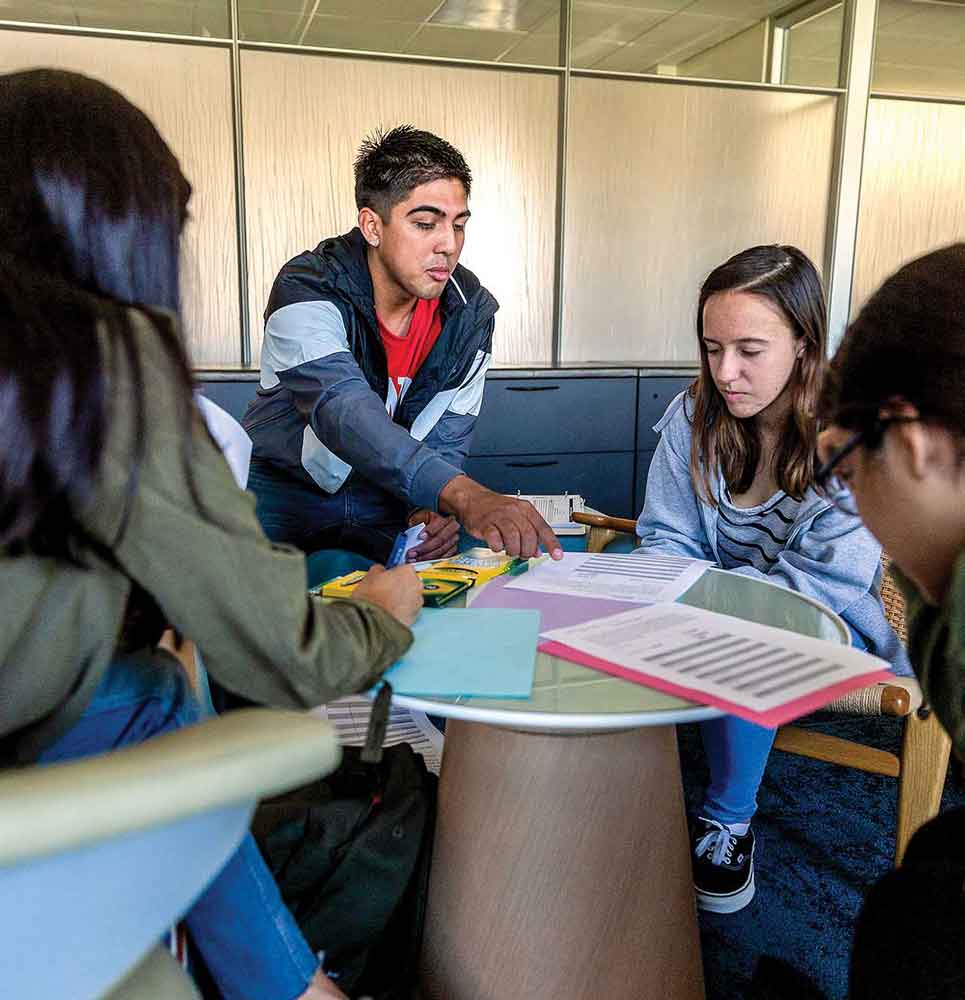 Finding a dream

As a University Culture Student Engagement and Outreach Mentor with PEEP, Martinez has both on and off-campus roles. She could be hosting a self-care workshop for current students one day and giving a presentation on college applications at a local high school the next.
"One thing that I learned about myself through my role is my love for presenting and engaging with community members," the fourth-year sociology student said. "I have realized that I want to continue working in higher education. I am a first-generation college student, so being able to help other students is a dream come true."
In 2017, Martinez took a Peer-To-Peer Effectiveness seminar, which taught her about the theories of student development, active learning and lesson planning. In the course, she learned about student jobs with PEEP. Through helping her peers, she's been able to take advantage of the breadth of University resources.
"This position has allowed me to be aware of the amazing things offered on campus," she said. "I have attended more events, utilized the library more, and used my knowledge to help other students navigate their way around our campus." 
Return to the Table of Contents
© Fall 2018 / Volume 22 /Number 02 / Bi-annual