By Kim Lamb Gregory
Helping to establish the CSUCI Santa Rosa Island Research Station (SRIRS) is among Russell Galipeau's numerous achievements during his 15 years as the Channel Islands National Park Superintendent.
For his work on the SRIRS and because of the hundreds of CSUCI students he introduced to the wonder of the Channel Islands, President Erika Beck presented Galipeau with the Robert J. Lagomarsino Award during the President's Dinner & Concert on Oct. 13 at the Commemorative Air Force Museum at the Camarillo Airport.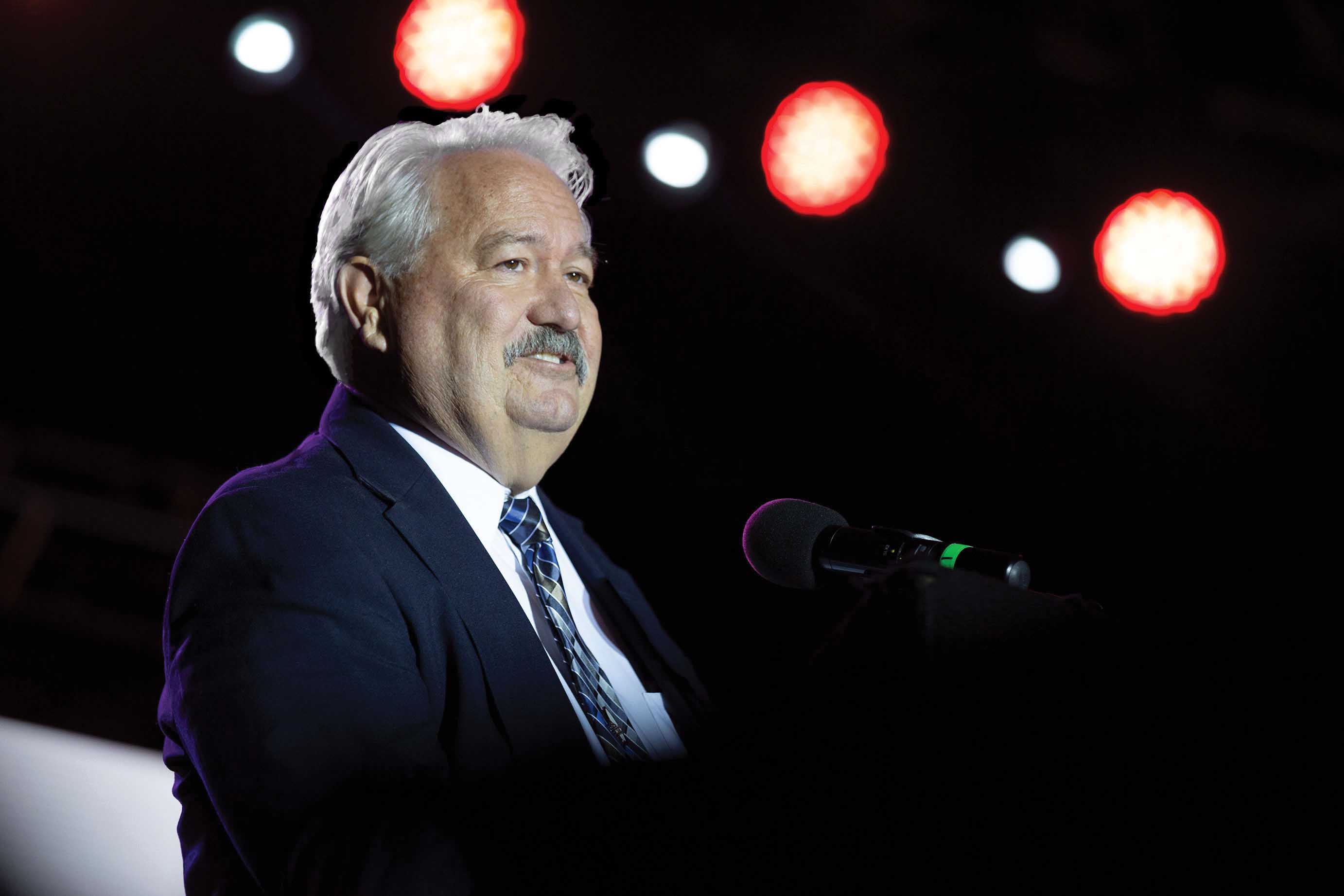 Each year, the award goes to an organization or individual who has contributed to or supported CSUCI.
"Russell Galipeau was truly instrumental in helping CSUCI establish its Santa Rosa Island Research Station, one of only a handful of university-led research stations located in a national park and focused on undergraduate research," Beck said. "The station enables CSUCI faculty to conduct significant research projects and provides thousands of students with hands-on research experience and learning opportunities that many have described as life-changing."
Before retiring in June, Galipeau introduced hundreds of students to the raw beauty of the islands, an experience some had never had before.
"I invite any of you to go out there when the students are there and see how it changes their lives," he said. "Many of your students from Channel Islands — they've never been to the beach, they've never been on a boat, let alone an island."
You can't just learn with books, you have to go out and learn about the environment.

 Russell Galipeau

From the beginning, Galipeau recognized that CSUCI's emphasis on innovative, hands-on learning aligned perfectly with the goals of the park. Plus, the SRIRS would be a rich resource for local schools as well as for researchers, educators and students from across the nation. 
"You can't just learn with books, you have to go out and learn about the environment," he said.
Galipeau attended the University of Florida in Gainesville as a wildlife ecology major, and later joined the National Park Service, where he would enjoy a 40-year career.
Because the island is a relatively isolated environmental system, Santa Rosa Island is an ideal outdoor laboratory for researching, learning and performing conservation, such as the successful recovery of the endangered island fox.
Galipeau hopes this story of conservation impresses itself upon the next generation to be good stewards of natural wonders like the Channel Islands.
"The Channel Islands gives us a story of hope," Galipeau said. "They show us that if you cherish and want to restore something, you can do that, but you have to value it, love it, and believe it can be done." 
Return to the Table of Contents
© Fall 2018 / Volume 22 /Number 02 / Bi-annual