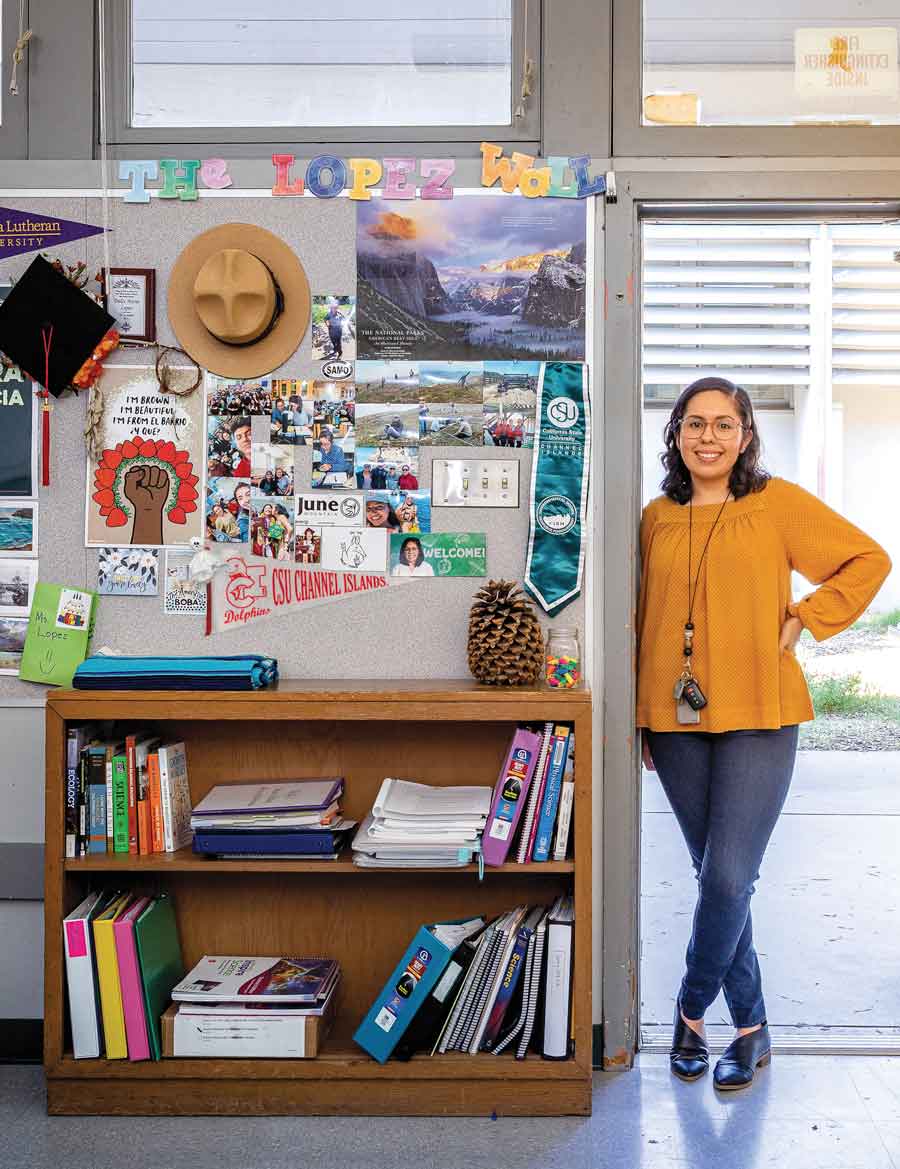 by Marya Barlow
Each morning Dulce Lopez greets her eighth-grade students at the classroom door with a friendly handshake. The gesture clearly conveys Lopez's enthusiasm for teaching science and serving as a role model for future generations.
In Anacapa Middle School's dual-language science program, Lopez teaches three classes a day in Spanish and three in English. In her first year of teaching, she's also helping develop and pilot the school's Spanish-language science curriculum.
"That's what really drew me to my position­—to be able to teach science in my native language," she said. "I want to be the science teacher I didn't have. Going through my education, I never saw many people like myself represented in science. I want students in my classroom to know they can grow up to be anything."
A first-generation college student from Oxnard, Lopez enrolled at CSUCI in 2013 as an Environmental Science & Resource Management (ESRM) major and quickly "fell in love" with environmental science education.
"What I loved about ESRM is how hands-on it was," she said. "I had opportunities to do undergraduate research and service-learning projects on the Channel Islands, in New Orleans, and in Costa Rica. Those experiences really helped me set myself apart from others and stand out when interviewing."
While attending CSUCI full-time, Lopez seized opportunities to work, teach, and conduct research. Among them, she held jobs as a park ranger in the Santa Monica Mountains National Recreation Area and was a student assistant and STEM educator in the "Crossing the Channel" program, a federal grant-funded initiative providing classroom education, mentoring, and outdoor experiences on the Channel Islands for Oxnard middle and high school students.
"My students inspire me each day to be a better teacher," she said. "I want to provide a lot of hands-on opportunities for them to learn science by experiencing it."
Lopez recently completed a summer research fellowship with the STEM Teacher and Researcher (STAR)
Program, where she worked on a large-scale ecological restoration project on the Channel Islands with scientists from the National Park Service and the U.S. Geological Survey.
Return to the Table of Contents
© Fall 2019 / Volume 24 / Number 2 / Biannual