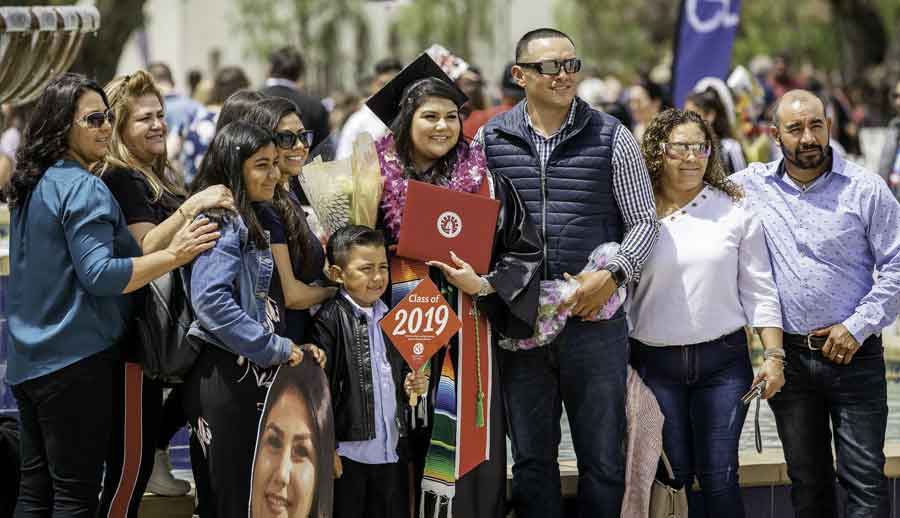 by Kim Lamb Gregory
CSUCI's Early Childhood Studies major Adrian Uribe and 2019 Nursing graduate Diana Xicotencatl remember the anxiety they felt as the first in their families to enroll in college.
"My first month here at school was definitely fun, but as soon I got homesick, it hit me like a train," said Uribe, of Santa Fe Springs.
Xicotencatl, of Santa Paula, struggled to pay for college and do well in school.
"It was hard for me to balance work and school because I was trying to help provide for my family," she said.
Both students are now thriving, thanks to numerous programs CSUCI has in place to assist Latinx students, with particular focus on first-generation college students.
CSUCI's commitment to supporting Latinx students during their journey through higher education this year earned the University the Seal of Excelencia from the Washington, D.C.-based organization Excelencia in Education.
CSUCI is one of only nine institutions of higher learning in the nation and the only university in California to receive the designation.
"At CSUCI we are reimagining higher education to serve a largely first-generation, historically underserved student population. We have benefitted greatly from the diverse perspectives of our Latinx students and their communities in ways that enrich the academic culture for all students," said President Beck.
"If institutions aren't effectively serving our Latinx students, we lose a vital source of talent for our workforce and civic leadership," said Deborah Santiago, CEO of Excelencia.
The Educational Opportunity Program (EOP) for first-generation students was among the programs that helped Xicotencatl, who is now doing a nurse residency at Children's Hospital Los Angeles.
"It's always been a dream for me to work at Children's Hospital, so to get in right after I graduated is so exciting," Xicotencatl said.
Uribe gained his academic and social footing with the help of a peer mentor from CSUCI's Peer Education and Equity Programs (PEEP). He became a mentor himself and will graduate in spring of 2021 with plans to teach high school history and coach basketball.
"This program allowed me achieve things I never thought were possible," Uribe said.
Return to the Table of Contents
© Fall 2019 / Volume 24 / Number 2 / Biannual