The President's Innovation Awards recognize the significant innovation and contributions of faculty, students and staff in advancing the University's mission and impact.
by Zoe Lance
J. Jacob Jenkins
President's Award for Innovations in Teaching and Learning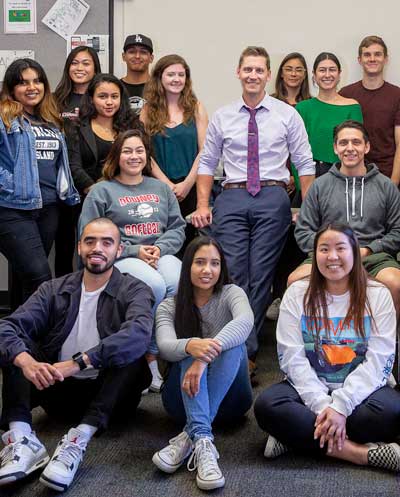 Associate Professor of Communication J. Jacob Jenkins, Ph.D., understands how high-impact practices help students meet their full potential. For his commitment to putting students at the center of the educational experience, Jenkins received the 2019 President's Award for Innovations in Teaching and Learning.
The students in his service-learning courses have partnered with the Moorpark Chamber of Commerce on community initiatives, while the collaborative classwork model in his courses has given them a taste of what it's like to be part of a consulting firm. Jenkins has also personally mentored more than 40 students in writing and submitting original research for publication and presentation.
His leadership role in openCI, the University's affordable learning solutions program, has enabled the first three zero-cost course material majors, or "Z-majors," in the CSU and saved students millions of dollars in textbook costs.
Kiki Patsch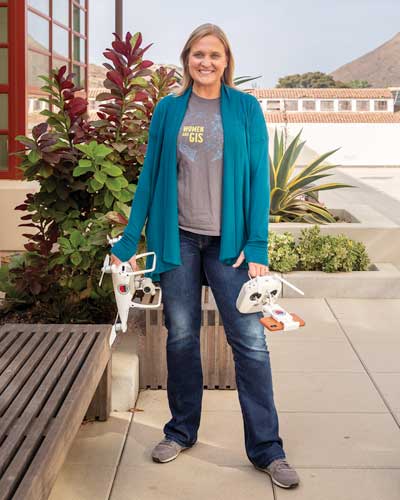 President's Award for Innovations in Teaching and Learning
Assistant Professor of Environmental Science & Resource Management, Kiki Patsch, Ph.D., instills in her students the importance of community engagement and the relationships between geography and the world around us. For her work in enhancing the geospatial program beyond the program and into the wider CSUCI community, she received the 2019 President's Award for Innovations in Teaching and Learning. 
Patsch's classes have worked with both on-campus partners implementing new plans for campus trash collection and on off-campus projects with the Surfrider Foundation, the National Audubon Society and the Ventura Land Trust.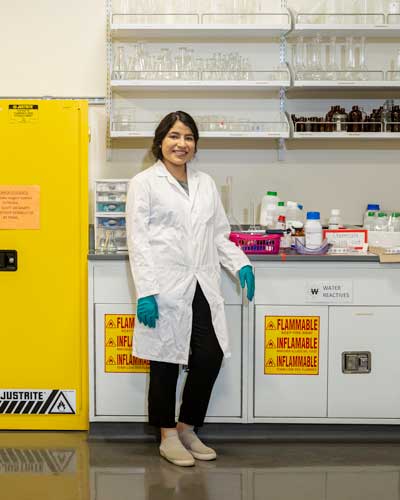 Melissa Soriano
President's Award for Student Innovation
Melissa Soriano has worked hard to help her peers succeed in and out of the classroom. Soriano was instrumental in organizing the 2019 STEM Social, an evening where hundreds of students connected with faculty and alumni to learn about potential career paths, co-curricular activities and graduate school opportunities. The chemistry student's commitment to building community amongst CSUCI's STEM students has earned her the inaugural President's Award for Student Innovation, which recognizes students for developing unique programs that contribute to the University community. Soriano will pursue a Ph.D. in materials chemistry.
Ricky Medrano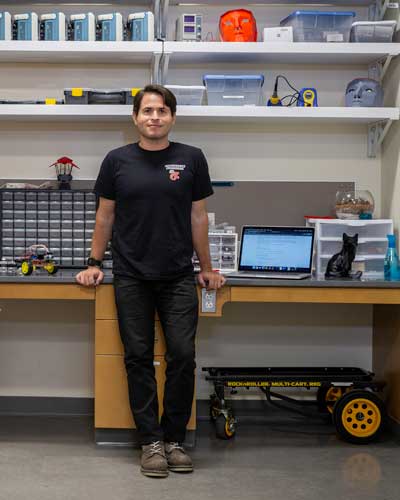 Staff Excellence Award
For his unparalleled work ethic and dedication to CSUCI, Ricky Medrano is the 2019 recipient of the Staff Excellence Award. As the science lab technician for mechatronics and computer science, Medrano keeps the program's labs in top shape: the equipment is clean, organized and available to students and faculty when they need it. He has also been instrumental in implementing and maintaining safety procedures in the computer science labs. His approachability, attention to detail and quick learning abilities have made him an invaluable member of the program and campus community.
Return to the Table of Contents
© Fall 2019 / Volume 24 / Number 2 / Biannual