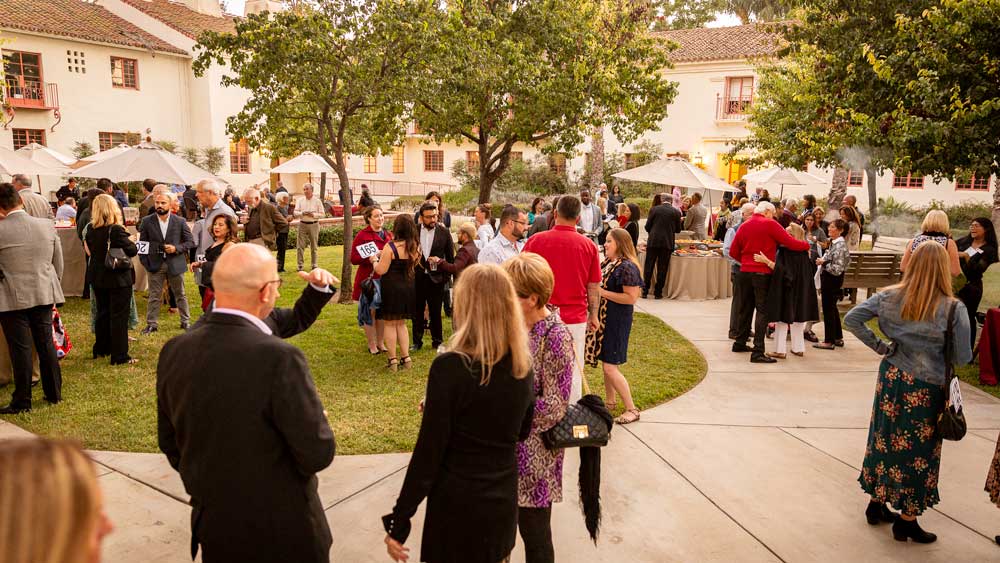 by Kim Lamb Gregory
Farm-To-Table Feast and Innovative Projects
Student and faculty research displays of bees, robots, moon jellies, dancers, and an electric pickle wowed guests who attended the 19th Annual President's Dinner held October 5 and hosted by the CSU Channel Islands Foundation and Mechanics Bank. This year's dinner, held under the stars at the South Quad of the campus, celebrated the area's agricultural bounty with a custom three-course farm-to-table  dinner prepared by CSUCI's award-winning chefs.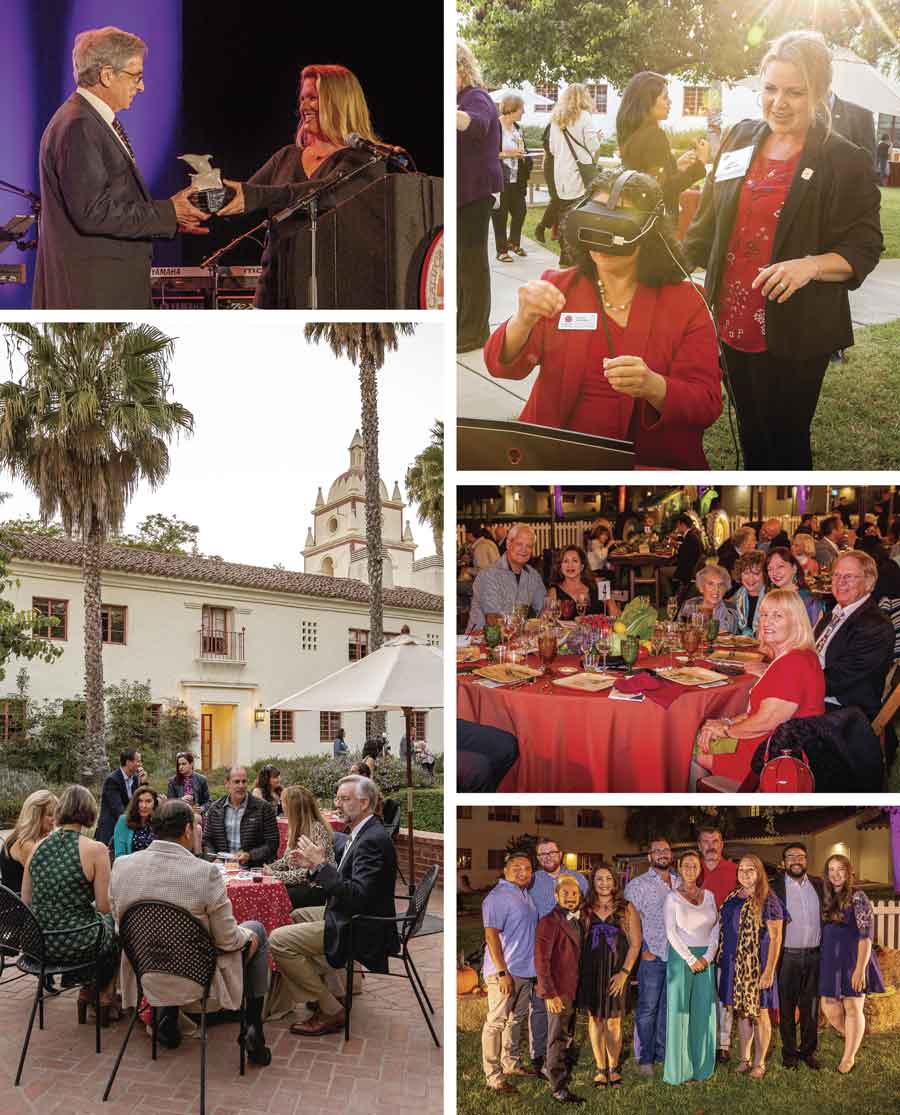 Photo Caption Clockwise: Neil Kreisel accepting the Lagomarsino Award from President Beck; Nursing students show guests what it would be like for a person living with glaucoma by using a virtual reality simulation program; Haas Automation guests; SAGE Publishing guests; Mechanics Bank guests.
Lagomarsino Award Winner
A highlight of the 19th Annual President's Dinner held on October 5 was the presentation of the 2019 Robert J. Lagomarsino award to former Wall Street executive turned Santa Barbara radio host Neil Kreisel.
The award, named in honor of the Honorable Robert J. Lagomarsino, a former United States congressman and state senator who is also a longtime supporter of the University, is presented to an individual who or organization which has contributed to and supported CSUCI.
Kreisel and his wife of almost 50 years, Beryl, moved to Santa Barbara from New York 21 years ago, after Neil retired from a successful career on Wall Street and in real estate. Kreisel then taught finance at Santa Barbara City College and now hosts two radio shows on KZSB AM 1290 in Santa Barbara.
When presenting the award, President Erika D. Beck praised Kreisel's advocacy, which has ranged from financial support to traveling to the state capital with Beck to stress the importance of CSUCI to state legislators.
When accepting the award, Kreisel gave numerous reasons why he supports CSUCI including its outstanding faculty, affordability, interdepartmental collaboration, emphasis on environmental stewardship, small class size, and the peer mentorship program.
"Most of these students who are first generation may have no idea what the word 'matriculation' means. They can't easily read a course catalog, and don't know how or are afraid to ask for help," he said. "Each mentor is assigned 10 to 12 mentees. Last semester 40 mentors changed the lives of over 436 mentees. I call that great leverage."
President's Dinner Sponsors
| Title Sponsor | Diamond Sponsor | Gold Sponsor |
| --- | --- | --- |
| Mechanics Bank | Gene Haas Foundation | Sage Publishing |
Reception Sponsor
Silver Sponsors
Table Sponsors

Montecito Bank & Trust

Harrison Industries
Pacific Western Bank
Union Bank

Betsy Blanchard Chess
Esther & Tom Wachtell
JPMorgan Chase Bank
Linda Dullam
Bronze Sponsors
Copper Sponsors

Aera Energy
Canteen of Coastal California
Elise & Bill Kearney
Follett Higher Education Group
Leavens Ranches
Limoneira
Mill Creek Capital Advisors LLC
Ventura County Community Foundation
Ventura County Credit Union

Airborne Technologies
Arnold LaRochelle Mathews
VanConas & Zirbel LLP
California Resources Corporation
Ferguson Case Orr Paterson LLP
Gold Coast Health Plan
Mission Linen Supply Inc.
Parkstone Companies
Ventura Rental Party & Events
Return to the Table of Contents
© Fall 2019 / Volume 24 / Number 2 / Biannual