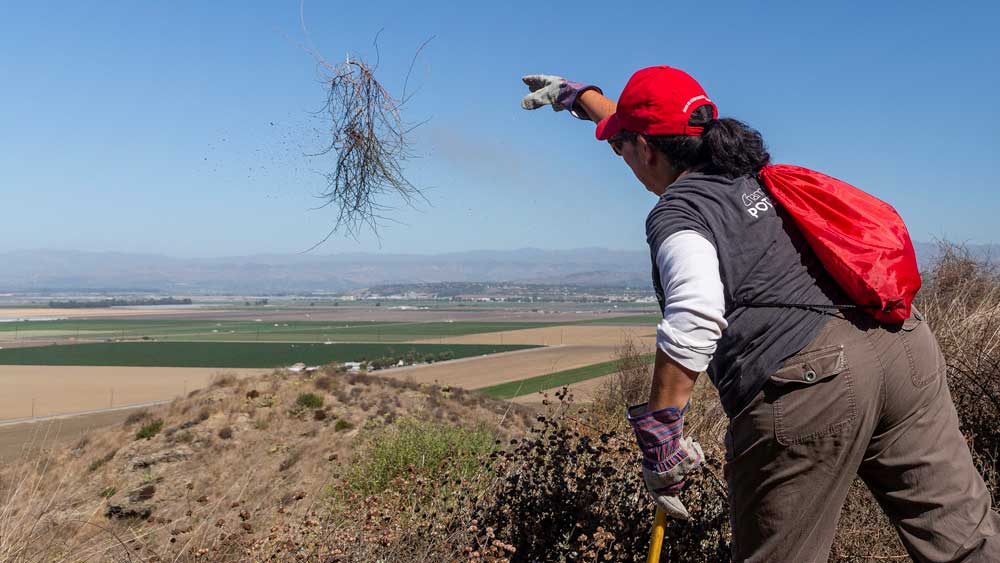 A day of service kicks off an ongoing partnership to reestablish a sacred Chumash site on campus.
By Marya Barlow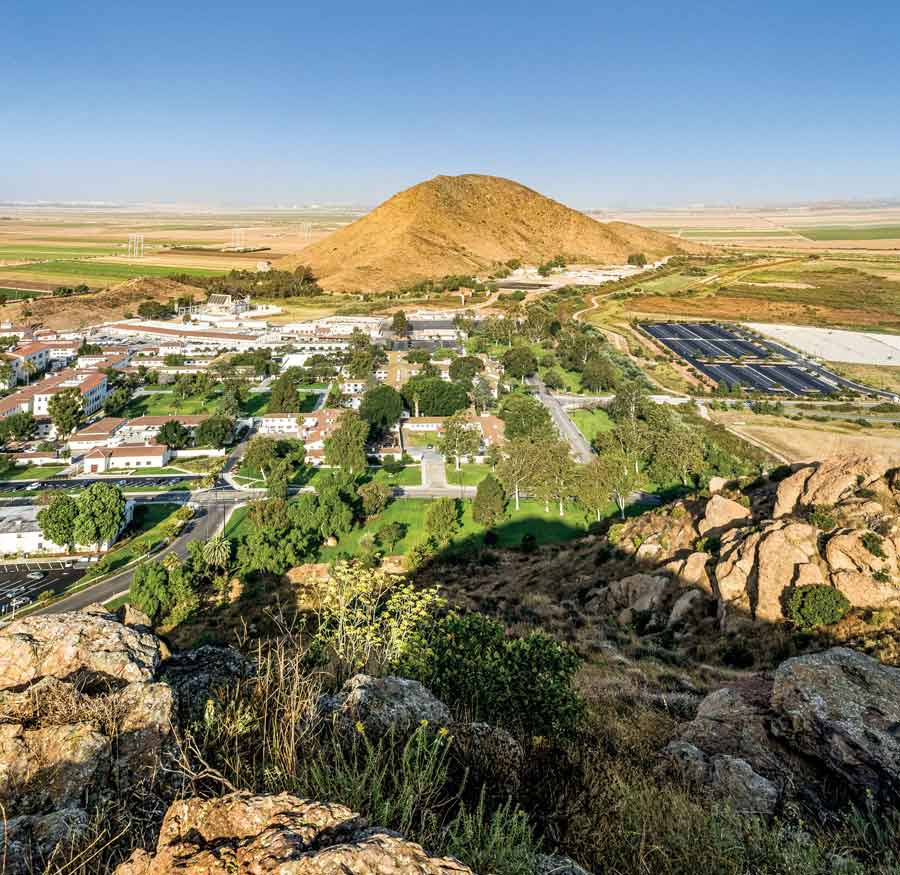 Rising above the west side of campus, Round Mountain stands as a striking feature in the CSU Channel Islands landscape. From the top, it offers panoramic views of the campus, Oxnard plains, Camarillo, Point Mugu, and surrounding mountains and agricultural fields.
The mountain also boasts a historic identity as "Sat'wiwa" (the bluffs), a sacred site where the native Chumash inhabitants gathered for the winter solstice and set up shrines to celebrate harmony, healing, forgiveness, and compassion. The centuries-old tradition died out nearly 200 years ago.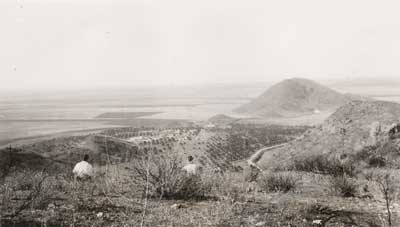 On a sunny Saturday in September, 126 volunteers gathered to take the first step in reviving it. CSUCI students, staff, faculty, and alumni joined with Chumash descendants and members of the Santa Monica Mountains Trails Council for the inaugural Round Mountain Day of Service. Armed with picks, rakes, and hand tools, the volunteers began clearing a path to the top of the mountain. They hope to restore Sat'wiwa as a sacred Chumash shrine and, later, open the trail and mountaintop to the public as a cultural and recreational site.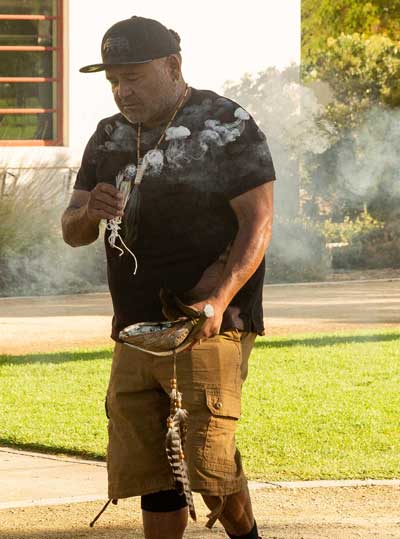 For CSUCI Director of Facilities Support Raudel Bañuelos, who is also a Chumash elder and vice tribal chair for the Barbareño/Ventureño Band of Mission Indians, leading the service day was a meaningful milestone. He helped kick off the event by offering a Chumash blessing, burning sage, and sharing Sat'wiwa's history.
"It's an honor to be able to contribute to the campus in this way and involve young minds who will carry on this tradition," Bañuelos said. "We want to bring back the shrine as a sacred site and celebrate winter solstice with all of the community as a yearly event. These celebrations are so needed in this time of disconnect and separation in our world."
After spending the morning clearing overgrown brush from the four-foot-wide trail, volunteers returned by bus to campus to enjoy lunch and share reflections and observations. Salvador Ambriz, a history major of Chumash descent from Tulare, California, found the experience deeply moving.
"The trail restoration event for me was a spiritual experience as well as hard work," he said. "I felt as if it was my duty to help restore a sacred site of my heritage. To set foot on a mountain that my ancestors found sacred was a great honor. To have such a site on my own university campus is an even greater privilege for all students to enjoy."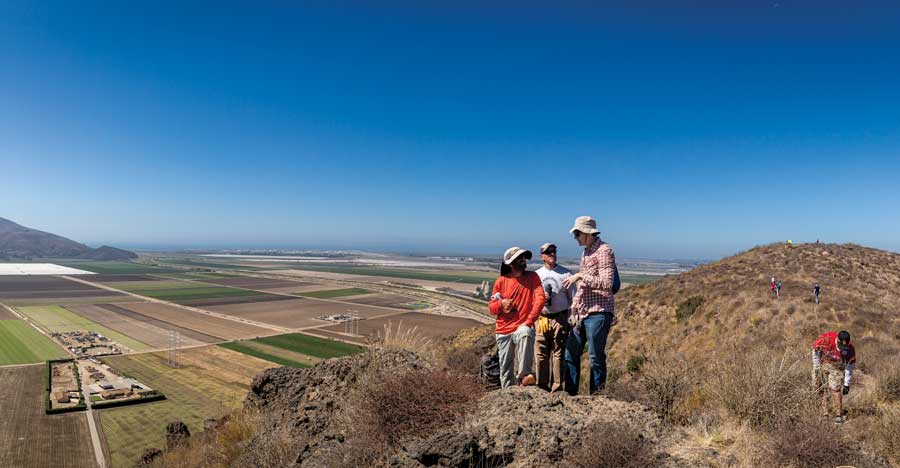 Zakiyyah Willis, a fourth-year health science major from Sacramento, added, "I wanted to kick my semester off with community service. This experience further validated for me that promoting unity and serving others should always be top priorities. I feel honored being able to say I was on Round Mountain and assisted in restoring it."
"The Round Mountain/Sat'wiwa Restoration Service Project is important for many reasons," said Pilar Pacheco, director of CSUCI's Center for Community Engagement, which recruited volunteers for the event. "It provides our campus an opportunity to honor Chumash traditions and deepen our cultural awareness as we learn about living history and protecting and restoring sacred spaces. Doing so, students may gain a sense of connection and belonging to this land's history and CSU Channel Islands— perhaps even seeing themselves as stewards of this place."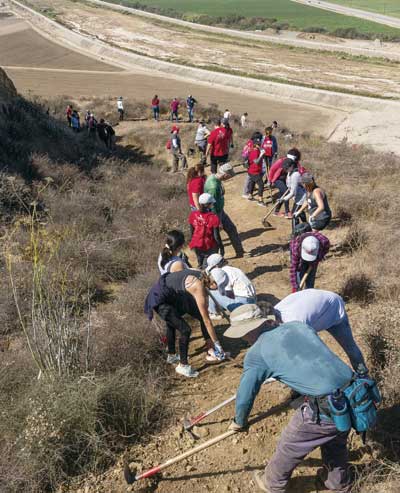 Working alongside the volunteers, President Erika Beck said the Day of Service is part of a collaborative effort between CSUCI and the Chumash to increase the visibility of their local heritage, restore places and practices of cultural significance, and promote opportunities for education and outreach. In the year ahead, she said, the University also plans to update building and road signs to include the Ventureño Chumash dialect of the region and construct a tomol - the Chumash plank canoe - for educational purposes.
"Round Mountain overlooks our campus as a powerful reminder that our University is built on sacred ground," she said. "We can never forget that we are all stewards of the land of this region and it is entrusted to all of us."
Return to the Table of Contents
© Fall 2019 / Volume 24 / Number 2 / Biannual