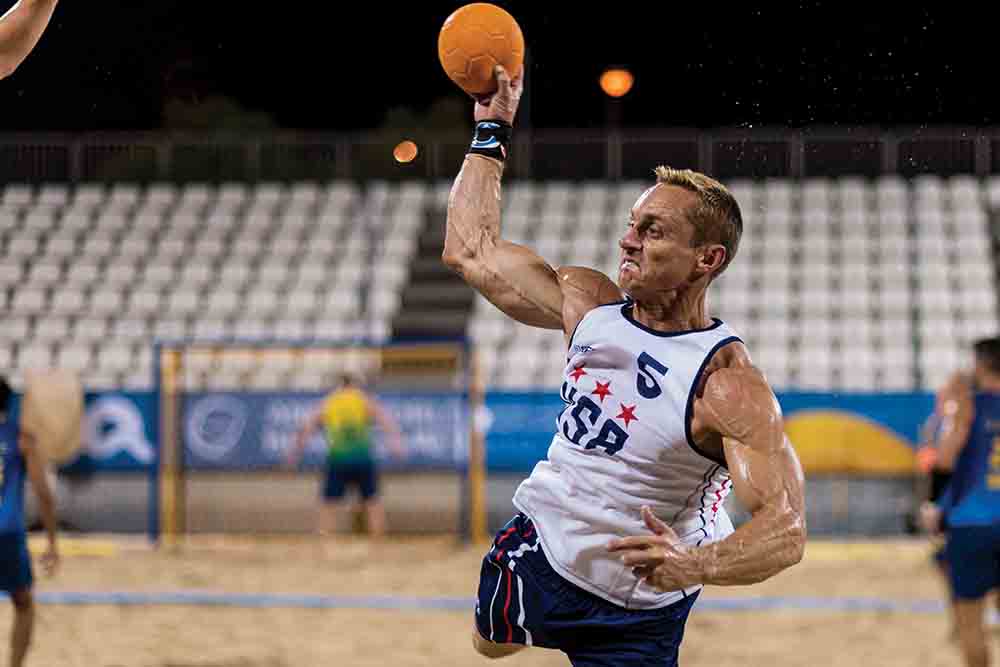 by Pamela Dean
CSUCI alumni Charlie White is a force to reckon with. A mix of brains and brawn. Both a successful professional in the hot field of video game design and a successful athlete who competes with the USA Men's Beach Handball team.
The San Francisco native graduated from CSUCI with a degree in Art/Studio Art in 2005. But that was his second bachelor's degree. His first was from Vanderbilt University where he majored in Sociology and played on the division one soccer team with his identical twin brother.
After graduating from Vanderbilt, White decided he wanted a career in the art and design field. He searched for a school with a strong art program that would provide him with the tools he needed to launch his creative endeavors. CSUCI fit the bill.
"CSUCI had just opened and I really appreciated the individual attention the Art program showed me when I came to visit," White said. "After seeing the Art computer lab, I was sold. I also saw they had a surf class with Jack Reilly, the Art program chair, and that sounded great too."
Since graduating, his career in video game design has thrived. He has worked as an interactive and user experience designer for a variety of companies both in Los Angeles and the Bay Area.
During a stint working for Disney, White started hearing about innovative companies in the Bay Area with unique and compelling work cultures.
"You could bring dogs to work and they were flying remote control helicopters around the office. It sounded like something new and a fun place to work."
White landed a job with Zynga in San Francisco and went on to help create and operate CityVille, the biggest video game ever made at the time with over 84 million monthly players on Facebook.
"It was a wild time, I remember NASDAQ setting up in the building to ring the bell to open the stock market the day we went public," White recalled.
Today, he is a principal UX designer for Scopely in Culver City where he helps develop the strategic vision for new games and features as well as the plans to meet the company's objectives. Currently he is part of a team working to make Scrabble GO a top game in the mobile market.
"Ultimately, I really enjoy the challenge of building games and systems used by millions of players all over the world," White said. "It's great to work in a creative field with so many smart people in their respective fields. The kombucha on tap and work perks are nice too."
But work is just one dimension of this highly-driven CSUCI grad. He is also an incredibly disciplined athlete who trains six to seven days a week as a member of the USA Men's Handball team.
"I was selected to the USA Team for the 2019 North American and Caribbean championships. It was a dream come true and I was the leading scorer in the final game for a historic win that qualified us for the 2019 World Beach Games and the 2020 International Handball Federation World Championships, which were unfortunately postponed due to the pandemic."
He has traveled the world to compete and has become one of the most prolific scorers on the USA team. His teammates have even nicknamed him "Beast Mode."
"I love how exciting and high-scoring beach handball can be," White explained. "For me, there is nothing better than training on the beach, jumping in the ocean and traveling the world to compete at an elite level. I played many sports growing up, but I feel like I was born to play beach handball."
If all of that wasn't enough, White competed on the game show Ultimate Tag, described as a "high-octane physical competition based on the classic playground game of chase."
"I feel like beach handball gave me a big edge," White said in an interview with the website Team USA about his participation on the show. "The sport is so diverse because you're jumping, running and leaping, and a lot of it is timing and finding that space and opportunity."
White has sage advice for students looking to enter the game design industry.
"Build an online portfolio showcasing your work and process. Apply to roles that interest you and be honest during your interview process. Demonstrate your value through your skillset and attitude. It's ok if you don't have experience shipping a real product yet. Keep moving forward through adversity. Your dreams can materialize if you work for them."
Return to the Table of Contents
© Fall 2020 / Volume 25 / Number 2 / Biannual