From left to right: Interns Zaira Miranda, Matthew Macrini, Brittney Demello, Edgar Rios-Valdez

by Pamela Dean

The pandemic may have put the traditional summer internship on hold for many college students across the country, but Ekin Pehlivan, Ph.D., Associate Professor of Marketing in the Martin V. Smith School of Business & Economics (MVS School), saw it as the perfect opportunity to jump start a unique learning opportunity she hadn't planned on rolling out until 2021.

Micro-internships—hands-on learning projects with pay—are tailor-made for this time of social distancing and are run through the MVS School's Entrepreneurship & Small Business Institute (ESBI) under the directorship of Cynthia Sherman, Ph.D., Assistant Professor of Management.

Instead of individual students heading to a company's office each day and reporting to a company supervisor, micro-internships allow students to work remotely on comprehensive projects as a team with Pehlivan serving as their supervisor.

Pehlivan was originally planning on using her upcoming sabbatical to develop and map out how the micro-internship concept would work on the CSUCI campus. But when she saw the impact the pandemic was having on many students, she proposed to accelerate the idea, and offered to run two pilot projects through the ESBI.

"We were planning to launch the program upon my return from leave as I would have prepared the structural and operational components," explained Pehlivan. "But then COVID-19 hit. I started hearing from students that they were losing their jobs as childcare providers, bartenders or retail workers. Some even told me they were taking out loans. This pushed me to propose a fast-tracked way."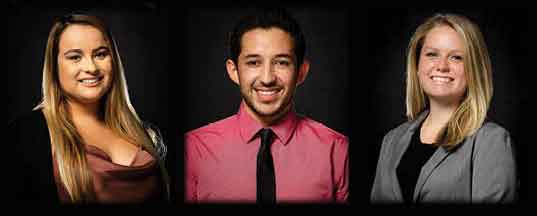 From left to right: Kristine Garcia, Federico (Fred) Quintero, Britnay Haddox
"It was a true team effort to speed up the process," Pehlivan continued. "Interim Dean of the MVS School of Business & Economics Susan Andrzejewski, Ph.D., ESBI Director Sherman, MVS School Program Analyst Michele Morris, and Program Coordinator Paulina Rodriguez worked tirelessly to make sure the legal and payment structures were in place as we started the projects."
Similar to freelancers, the students worked from their homes on marketing-related projects for two Ventura County-based companies.
"The students and I met virtually twice a week to check on their progress," said Pehlivan. "If they were stuck, we solved the problem together as a team, if they needed feedback we provided feedback as a team. We learned from each other's experiences this way."
Pehlivan explained she had offered these hands-on learning experiences as in-class projects for several years, but her students wanted and needed more real-world experience than a semester-long project could provide.
"One way to offer our students a path to professional careers and entrepreneurship is through the connections we build with our small business partners and industry mentors," Pehlivan noted. "Having a portfolio before they graduate puts them a step ahead of other graduates."
"Not only does the program offer a tremendous benefit for our students, but it also provides a significant benefit to businesses throughout our region who are seeking support during the pandemic," added Andrzejewski.

From left to right: Interim Dean Susan Andrzejewski, Associate Professor Ekin Pehlivan, Director of ESBI Cynthia Sherman
The six business students who participated in the micro-internships hope the experience will give them a leg up in landing a job after graduation.
Selena Chavez and Matthew Macrini worked on a rebranding project for PinnPack to better reflect the environmentally-friendly products the plastics manufacturer produces.
Zaira Miranda, Kristine Garcia, Pamela Gomez, and Fred Quintero helped launch a new product for Coastal Acupuncture Wellness Center. This multi-faceted project required the students to develop the new product's "brand," including conducting market research to create the look and feel of the logo, a new webpage on the company's website and a social media campaign.
Pehlivan is hoping other faculty will be inspired to serve as supervisors for further micro- internships.
"We are building an online platform to support the micro-internship community partners who need services, student interns, faculty who act as supervisors for projects in their area of expertise, and community mentors who can help guide interns by providing ideas, feedback, and guidance for client interactions," added Sherman.
Return to the Table of Contents
© Fall 2020 / Volume 25 / Number 2 / Biannual