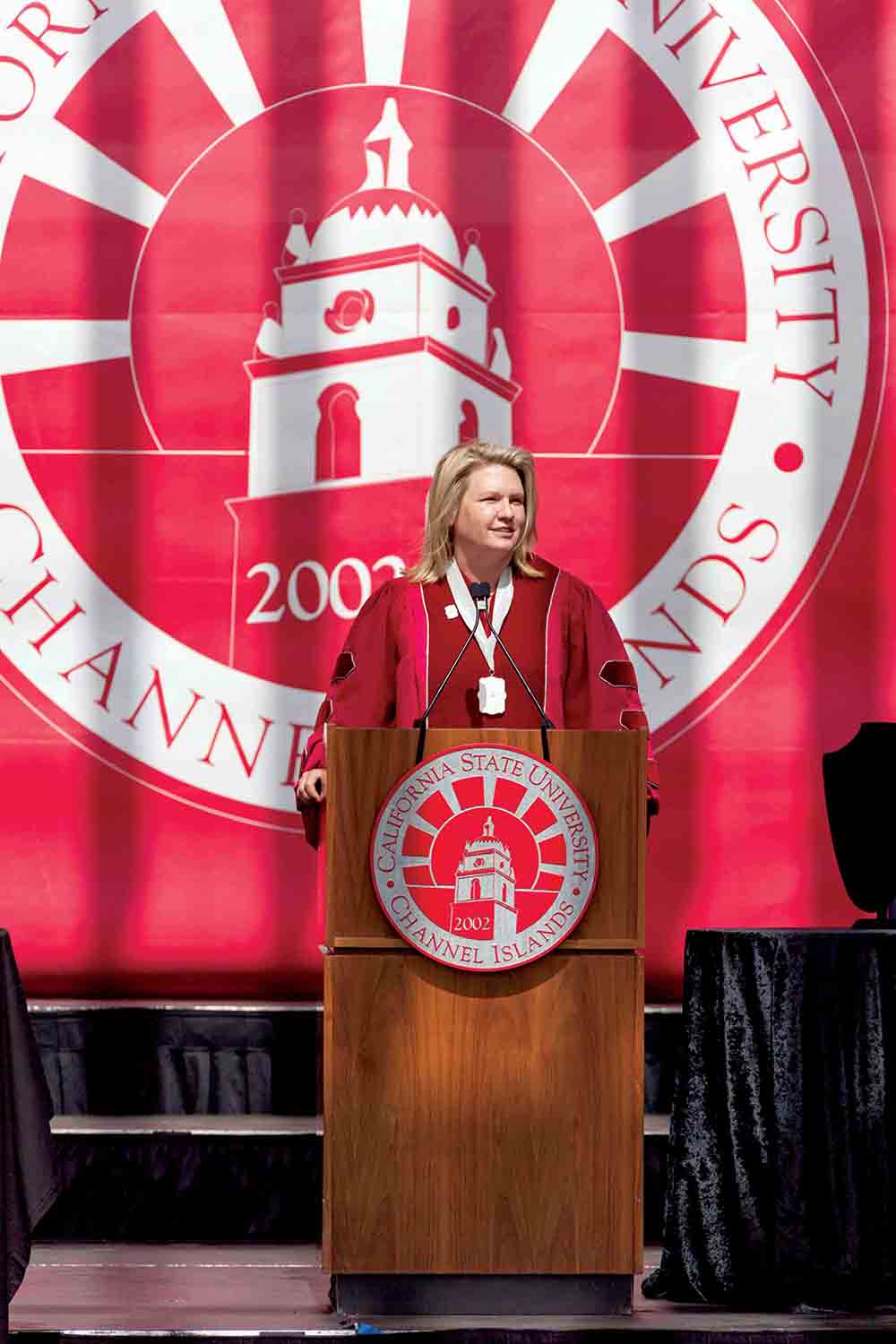 President Erika Beck's Tenure at CSUCI
by Kim Lamb Gregory
After more than four years at the helm of CSUCI, President Erika D. Beck, Ph.D., will become the next President of CSU Northridge (CSUN) beginning January 11, 2021.
Beck accepted the post after four and a half years of leadership at CSUCI, noting that leaving the campus was bittersweet.
In a message to the campus community Beck stated, "It is with mixed emotions that I leave this campus," Beck said. "I have cherished the opportunity to serve as your President. Your unwavering commitment to student success, your resiliency to challenges—and we've had our share!—and your support of one another has been most impressive. Your individual and collective work truly transforms individual lives, generations of families and entire communities."
The numerous campus accomplishments that distinguish Beck's tenure at CSUCI are rooted in her belief that everyone deserves an opportunity to earn a college degree, and enough support to thrive and graduate on time.
Achieving this level of equity on campus required a multi-tiered, multi-pronged effort involving students, faculty, staff and a strong connection with the community.
"As an institution, we have never been more involved or more engaged or had more conversations about diversity, inclusivity, equity and racial and social justice," said Associate Vice Provost for Student Success & Equity Initiatives Amanda Quintero, Ph.D.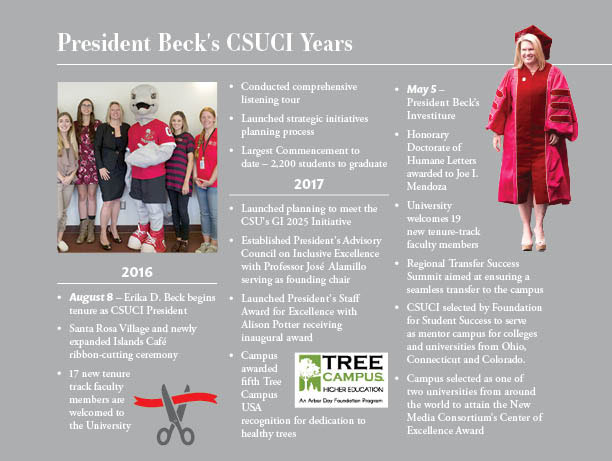 Listening, learning and laying a foundation
Beck began her tenure at CSUCI in August of 2016 and was formally recognized and celebrated as president at her investiture in May of 2017.
"The thing I most admired about her is she took almost a year doing a listening tour of the campus," said CSUCI Foundation Board Chair George Leis. "She felt it important enough to get the students, faculty, staff, alumni, and foundation board's perspectives before she implemented her strategy."
"She listened to community leaders, she listened to the faculty, she listened to students," said board member Lynn Pike. "With it being a public institution and the huge gap California was going to have in terms of college graduates, she was focused on that goal and mobilized everybody. She turned everything upside-down, shook everything out and reassembled it."
Beck looked to solid data when figuring out ways to support historically underserved students who were often the first in their family to attend college.
CSUCI's status as a federally-recognized Hispanic-Serving Institution (HSI) was something Beck and campus leaders took seriously. In 2019, CSUCI became one of only nine institutions in the nation and the only university in California to earn the inaugural Seal of Excelencia for facilitating the success of Latinx students.
"I think there are several things she has done to make our campus more than a Hispanic-enrolling organization, but a Hispanic-serving institution," said Program Chair and Professor of Chicana/o Studies José Alamillo, Ph.D.
"She empowered me and my colleagues to speak our minds." – José Alamillo
For example, in 2017, Beck established the President's Advisory Council on Inclusive Excellence with Alamillo serving as founding chair.
"She saw the need for more diverse leadership and she sought out faculty who were passionate about this," Alamillo said. "She empowered me and my colleagues to speak our minds. I think she really put equity front and center on our campus."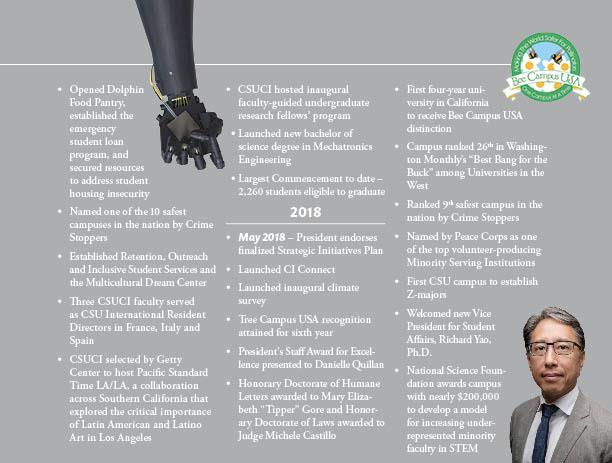 Inclusion at all levels
Beck also began creating spaces that reflect the campus commitment to equity and inclusion with the installation of an exhibit in University Hall to honor Chicana artist/poet and Oxnard native daughter, Michele Serros, as well as the trail restoration/rebirth of Sat'wiwa, a sacred site of the Chumash.
Beck named Associate Professor of Nursing LaSonya Davis, DNP, FNP, as the inaugural fellow for the President's Faculty Fellow program, which is designed to cultivate faculty leadership through the advancement of institutional mission fulfillment.
"I told her 'Thank you for seeing me,'" Davis said. "Thank you for seeing me as a Black woman, as one of the few black faculty on this campus. Thank you for providing me with opportunity and support."
Student Government Vice President Isaiah Ball and former Student Government President Atticus Reyes appreciated Beck including students in key decisions.
"President Beck really walked the walk," Reyes said. "Everybody says 'We really prioritize students,' but President Beck really did that. When I was president, we had the Borderline shootings and the fires, and she didn't hesitate to bring the students into the fold."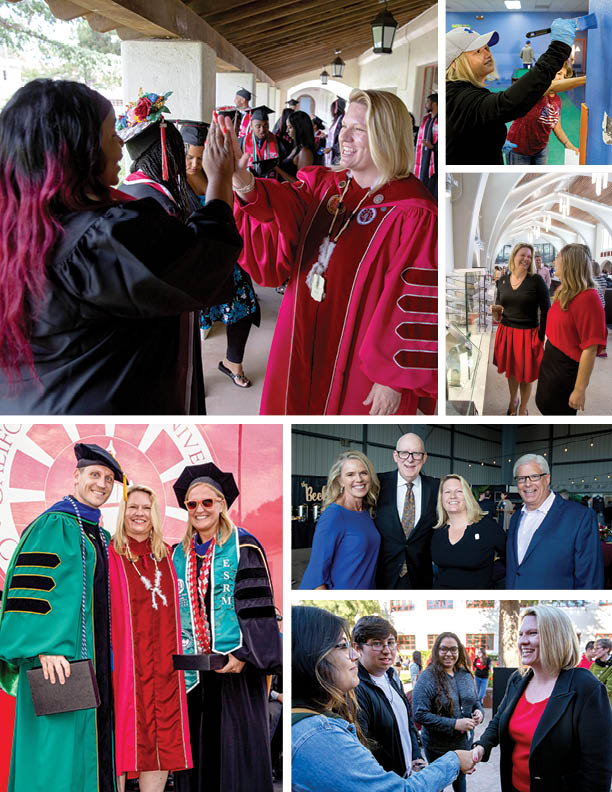 Leadership during a crisis
The COVID-19 pandemic and campus switch to virtual learning was another crisis through which Beck led the campus.
"She kept us in the loop and said that it's going to be hard at times and there are a lot of different challenges to virtual instruction," Ball said. "And that they were trying everything they could to offer a quality education for students."
Staff leaders like former Staff Council Chair Rosario Cuevas appreciated Beck including staff voices during the fast-moving crises that befell the University such as the 2018 fires and subsequent evacuations.
"She had a special meeting of the Staff Council to talk about concerns on behalf of the staff," Cuevas said. "She made sure the entire President's cabinet and Police Chief heard about our concerns."
When current Staff Council Chair Annie Block-Weiss took the post and met with Beck, COVID-19 had changed everyone's lives.
"With the fires and COVID-19 and everything, I told her staff morale was really low," Block-Weiss said. "She came up with virtual cupcakes that sent staff recognition through dancing cupcakes on email. I heard from a lot of the staff that the simple recognition made them feel so appreciated."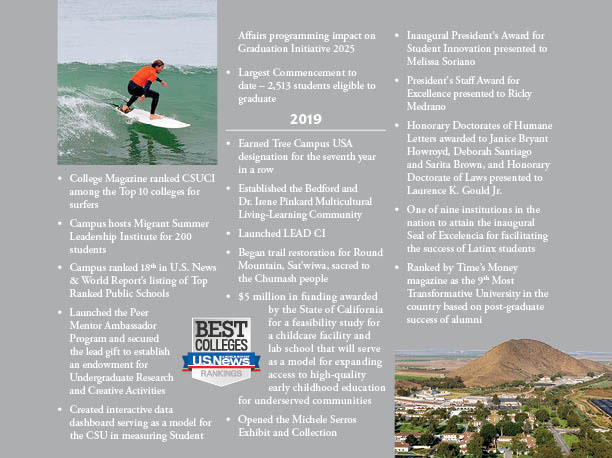 The campus-community connection
Throughout her presidency, Beck cultivated partnerships between the community and the campus.
The relationship between the county and the campus has strengthened during her tenure according to Ventura County Chief Executive Officer Mike Powers, who referenced the Data Analytics project as of one of the rewarding collaborations between CSUCI and the county.
"The project brought the County staff together with CSUCI students for a real-world use of machine learning and data science to analyze diabetes prevention, breastfeeding determinants and opioid prescription abuse," Powers said. "We have many CSUCI students who have participated in our internship program and have become County employees. We are grateful to have had the partnership with Dr. Beck and the University. I appreciate her enthusiasm, passion and commitment to education and our community."
Assemblymember Jacqui Irwin (D–Thousand Oaks) championed a new Mechatronics program on the floor of the state legislature and CSUCI welcomed its first Mechatronics students in fall of 2018.
"President Beck understood the need to develop a workforce that especially serves companies in the county," Irwin said. "The incredibly diverse student body at CSUCI will be exposed to an interesting and constantly evolving field that provides a good living. The profession benefits because it has historically lacked the perspective and talents of women and people of color."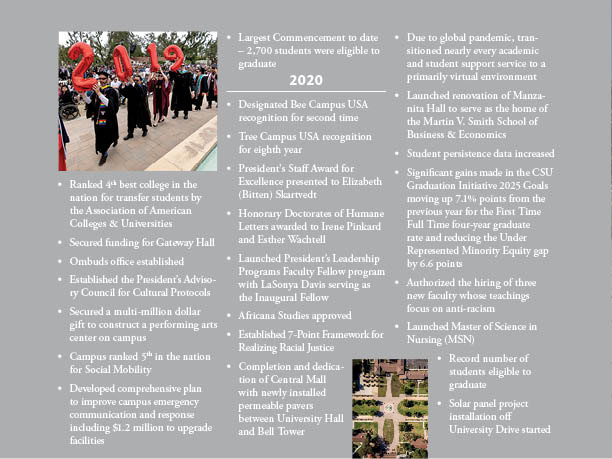 Framework for the future
Irwin recognized that CSUCI has the potential to be a model for providing an early childhood education center, which will offer childcare for students and area farmworkers. Irwin moved this idea forward to realize a successful $5 million ask to the legislature, which resulted in funding for a feasibility study for the early childhood education center.
"Even though I will no longer be serving as your President, know that I will be supporting your work and cheering you on!"–Erika D. Beck
Under Beck's leadership, the campus launched the largest planned capital improvement project to date — Gateway Hall at the entrance to the campus. Other projects also include the renovation of Manzanita Hall for the Martin V. Smith School of Business & Economics; a campus-wide facilities and emergency communication upgrade to strengthen campus safety and security; completion of the third phase and most recent renovation of Central Mall; a feasibility study for a mixed-use capital program; and the realization of a $2 million bequest for a new performing arts theater.
A sustainable campus was a priority during Beck's tenure, so a solar array project is being installed at the front of the University to provide 68% of the campus power load.
Beck stressed that she leaves the CSUCI campus filled with Dolphin pride.
"I am grateful to be continuing my work alongside you in the CSU, and furthering its mission for access, equity and excellence. Even though I will no longer be serving as your President, know that I will be supporting your work and cheering you on!"
Return to the Table of Contents
© Fall 2020 / Volume 25 / Number 2 / Biannual