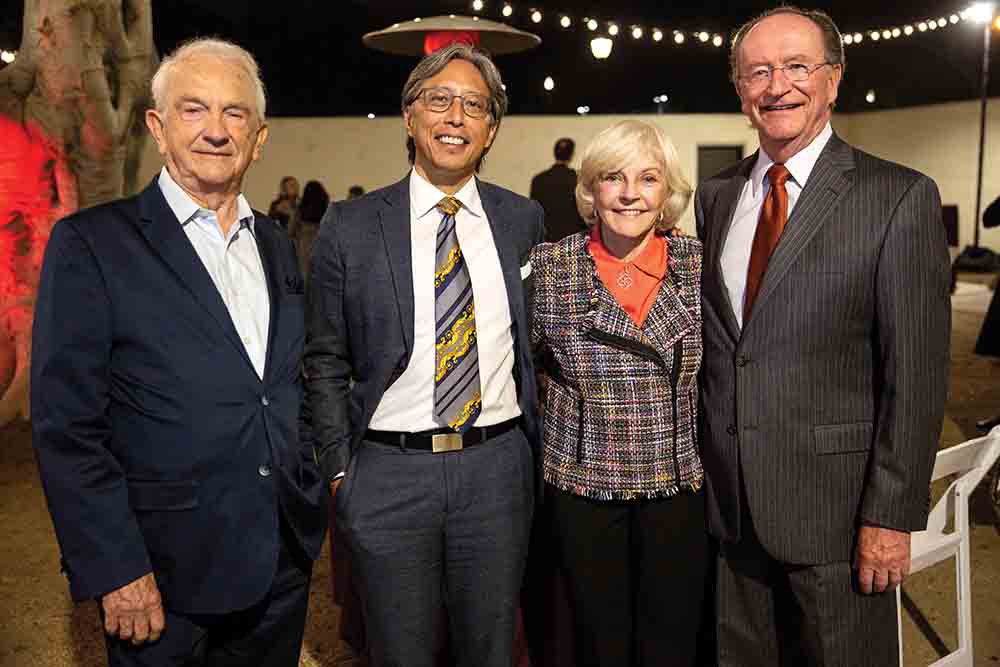 From left to right CSUCI President Emeritus J. Handel Evans, Interim
President Richard Yao, Linda Dullam, President Emeritus Richard R. Rush.
Courtyard is named for longtime CSUCI friend Linda Dullam, who made the "Collaboratory" a reality
By Kim Lamb Gregory

There have only been two times that CSUCI Liberal Studies major Leonel Cleto removed the gold necklace that reads "Leonel" from around his neck.

The first time was when it was blessed by a priest and the second was when Cleto created a digital photo of the necklace using the Mobile Archive Collaboratory, a new addition to the John Spoor Broome Library.

"The Collaboratory opens up our University archives and special collections, making them more accessible for research, explained Digital Curation and Scholarship Librarian Elizabeth Blackwood. "Additionally, with it being more mobile, we're going to be able to do outreach to the communities to build more interest in the history of our area."

The Collaboratory was made possible by a $100,000 gift from a longtime friend to the University, Linda Dullam, her latest contribution in a legacy that dates back more than 20 years. 

On November 5, a library courtyard was officially christened the Dullam Courtyard during a reception attended by about 40 guests.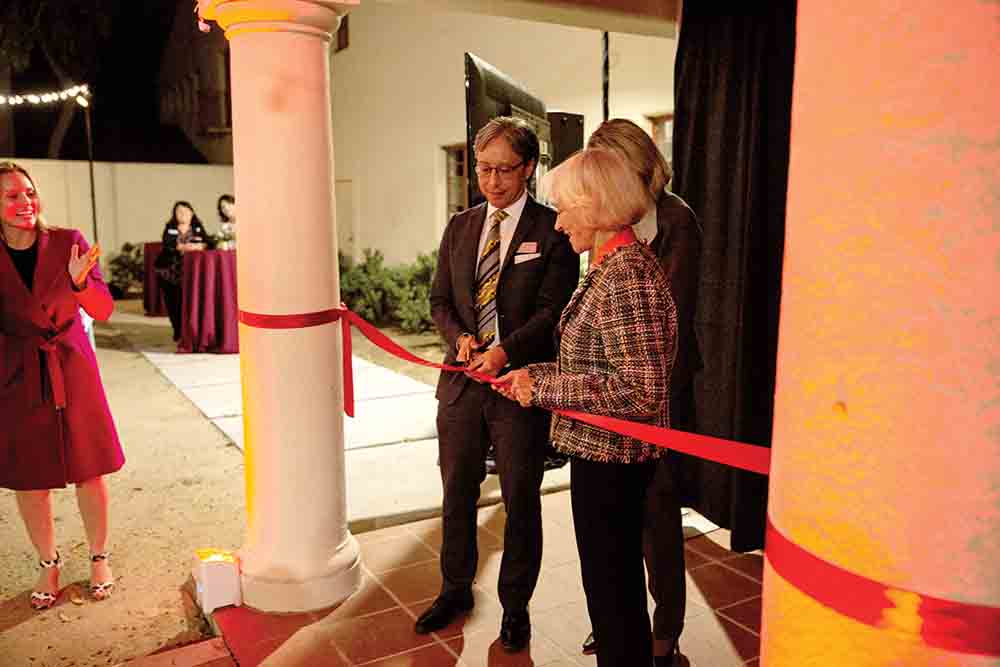 "Linda Dullam is a friend to this campus that we are incredibly fortunate to have," Interim President Richard Yao said during the ceremony. "When I first arrived to campus and attended my first event with the community, Linda was the first person I interacted with. She introduced herself and asked me all kinds of questions about myself, and told me what a good decision I made to come here in service of our campus and students. That moment meant a lot to me, and it's an honor to recognize her generosity to our campus and dedicate this courtyard in her name."
Dullam and her late husband, John, helped lead the charge to establish a public university for Ventura County. As former owners of Mandalay Berry Farm in Oxnard, the Dullams' roots in the county ran deep.
As one of the original CSUCI Foundation board members, Dullam helped launch CSUCI's most significant fundraising event, the President's Dinner, and created the University's first scholarship awards. She also served on committees that renovated and beautified many campus courtyards in the early 2000s.
In 2006, Dullam received the Robert J. Lagomarsino Award, one of the University's highest honors, for her support of CSUCI and higher education.
"Our library is growing as part of a state-of-the-art 21st century University," Dullam said during the Dullam courtyard dedication. "We provide access to the tools of learning that students need. To be part of this growth at CSUCI is both an honor and a challenge. I always think how lucky I am to be part of this institution. To quote Ghandi, I welcome the chance to 'be the change I wish to see in the world.'" 
A new partnership created by Blackwood and Assistant Professor of History Hanni Jalil, Ph.D., enabled Cleto and other students in a class called "Historian's Craft" to learn to archive letters, birth certificates and family artifacts. During the Dullam reception, Blackwood said plans are to continue integrating the Collaboratory into other majors.
Before the ribbon cutting ceremony for the courtyard, Dullam expressed what a joy it was for her to help establish the Collaboratory, and to support the University throughout the years.
"It's changing people's lives," she said to the guests, who later gave her a standing ovation. "And that's what happens out here—lives change."
Return to the Table of Contents
© Fall 2021 / Volume 26 / Number 2 / Biannual