Teaching from Experience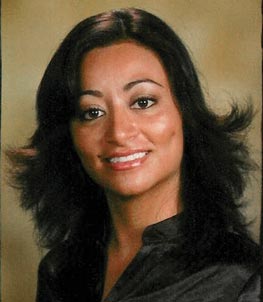 By Lori Putnam
"I have reached most of my goals," said Monica Y. Zepeda, who graduated magna cum laude from CI in 2006 with a double major in English and Spanish. "I wanted to be a teacher, specifically at Hueneme High School, and I am. I wanted to buy a house and I did." These achievements would be impressive for anyone of her age, but they are even more so given Zepeda's background. The daughter of a migrant worker, Zepeda came to the United States as a teenager from Michoacan, a coastal state in central Mexico. Not yet 16, she couldn't speak English but enrolled as a sophomore at the high school where she now teaches English, English as a Second Language (ESL), and Spanish.
Zepeda always wanted to be a teacher,  she said, because she enjoys helping other people and often found that people naturally came to her for assistance. The desire was reinforced when she met Maurice Shimabuku, then an English teacher at her Oxnard high school. She credits him for providing her with a strong base in grammar. Years later, Zepeda would return to the classrooms where she once studied as an ESL student to teach other migrant students. "I'm using the same teaching style that Mr. Shimabuku used with me," said Zepeda. "I also pull from my own experience when I teach. I serve as a role model for my students, as they know I came to this country the same age they are now."
According to National Center for Education Statistics, five percent of students in the Oxnard Union High School District are migrant students. These are students whose parent or parents have moved within the last three years to the area to find seasonal work. Zepeda was also one of the first to teach at the Migrant Saturday Academy, a weekend program where students can make up school credit or prepare for the high school exit exams.
"I want to continue to teach in the classroom, that way I can reach more students, have more interaction with them, and make a difference," added Zepeda, who attributes her success to completing her own education. "It's important to stay focused and not lose sight of what you want to do. Most people start working and say 'I can live with this,' but it's better to have an education." Zepeda emphasizes that family support is critical, and she was fortunate to find support from her father who allowed her to focus on her college education. "He didn't want his children to be field workers. He wanted us to get an education. I didn't let him down."