Ahead of the Class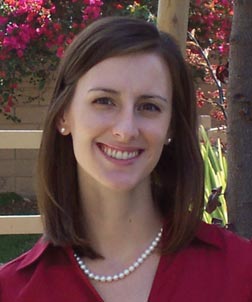 By Lori Putnam
Rebecca Glazier has achieved a number of firsts in her life. She was the first in her family to attend college, was the first elected president to the newly organized CI student government, and was among the first graduates of the young university. While a CI student, she helped launch the first student-organized awards to recognize faculty and staff—the Maximus Awards—and was the catalyst behind the University's first Multicultural and Women's & Gender Student Center (MWGSC).
Today she continues to break new ground, having recently completed her first year as a professor of Political Science at the University of Arkansas at Little Rock.
"International relations and political science always interested me," said Glazier. "But I hadn't considered graduate school until my professors brought it up." According to Glazier, it was her CI professors who helped her get her start in teaching. "When I realized that I could study what interested me, and then teach it to others, it just sounded like the perfect job." Glazier graduated from CI with a Liberal Studies degree in 2004, and enrolled directly into a doctoral program at the University of California at Santa Barbara where she earned a Ph.D. in Political Science.
Looking back at her early days on campus, Glazier recalled, "I arrived on campus in Fall 2002 and the halls were almost empty. It was a little bit like: 'Where's everyone?' It was really brand new."
She also remembers how welcoming faculty and staff were to her, and the excitement they all shared in helping to build the new University. She points to the MWGSC as a particular source of pride, something permanent that she helped to establish. Today, the Center includes a library and group study area where monthly forums provide students the opportunity to discuss issues related to cultural identities.
"It's amazing," Glazier said now of CI's growth. "From the physical infrastructure to the faculty to the level of student activity—it's changed so much. It's really exciting to see the sheer growth and energy on campus. Yet I think the same welcoming spirit that I first encountered as a student is still there, and that's what makes the University special and why alumni have a strong connection."