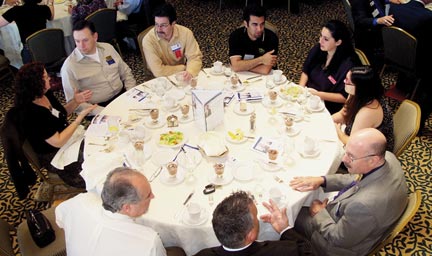 CI and Chamber Partner to Help Graduates in Job Hunt
The University and the Camarillo Chamber of Commerce have collaborated to create a one-of-a-kind opportunity for students and alumni.  The CI/Chamber Career Partnership will assist in linking local businesses and government agencies and their employment needs with students and alumni in need of experiential learning and employment.  One component of the Partnership includes matching young graduates to the local job market.
Chamber President and CEO Tom Kelley stated, "This program will enable companies to find young talent without much marketing and will make it easier for our young alumni and graduates to start their careers and stay local."
A taskforce of University officials and Chamber volunteers designed the partnership including Chamber President/CEO Tom Kelley; Chamber Board Chair and CI alumnus, Gary Cushing; Chamber member and CI ASI Community Representative, Richard Wagner; and former Chamber COO, Sandra Walker.  University representatives included Provost Dawn Neuman; Vice President for Student Affairs, Greg Sawyer; Community & Government Relations Director, Celina Zacarias; Career Development Services Counselor, Jay Derrico; and Associate Director of Alumni Relations, Tania Garcia.  The Partnership will be implemented in phases beginning with a summer student internship program.
Alumni & Friends Help Recent Grads Find Career
Each year the CI Alumni & Friends Association hosts a mentorship and networking night in partnership with the CI Business & Technology Partnership.  This event allows recent graduates and students to be paired with a professional mentor within their fields of study.  This one-on-one mentorship allows graduates and students to get real-world advice from someone seasoned in the industry.  They also get to hear from speakers including this year's keynote Jey Wagner, CEO and President of Dale Carnegie Training.  Following a robust program, alumni and students were able to network with over 100 other local professionals.  Many alumni were hired on by their mentor or by a connection made that evening.  We congratulate all those who have started their new careers!

Ildiko Hazak '09 Business
Mentor:  Paige Jones Hibbits, Owner, Jones Hibbits Accounting and Tax Services
Ildiko, an aspiring accountant, attended the 2010 Alumni & Friends Mentorship and Networking event meeting local businesswoman Paige Jones Hibbits.  Ildiko was soon after hired on as a staff accountant for Jones Hibbits Accounting Services located in downtown Camarillo. Among her responsibilities, she handles the office bookkeeping and prepares and analyzes client financial statements.
Christine Huntley '10, Environmental Science and Resource Management
"Participating in the Alumni & Friends Mentorship and Networking Night was an important turning point in my school career.  Guided through the night's events by a seasoned professional, whom I was paired with based on my chosen field, I was enabled to confidently practice networking with professionals in the environmental sector as well as make prominent career contacts for the future.  I would highly recommend this night for any student who is serious about starting their own network of future career contacts and opportunities."
Austin Walker '09 Business
Business Development Manager
Recently Hired on with Dale Carnegie Training for the Greater Los Angeles and Ventura Counties
Austin Walker is the Business Development Manager with Dale Carnegie Training of Greater Los Angeles and Ventura County.  Austin helps individuals and teams identify areas of need and provide specific performance improving solutions in the areas of leadership, sales, communication, and presentation effectiveness.  He remains in contact with clients throughout their experience and follows up to ensure desired results are achieved. During his time as a student, Austin's profession was Head Coach of Newbury Park High School Boy's Frosh/Soph Basketball Team.  Through this experience, Austin was able to develop and enhance a wide-ranging skill set comprised of leadership techniques, people skills, competitive spirit, and team building ability.
Michael Williams '09 Communication (far left in photo)
Mentor:  Pedro Chavez, Director of Business Development and Campaign Operations, United Way of Ventura County
After meeting his Alumni & Friends mentor in 2008, Michael selected the United Way Young Leaders Society (YLS) Youth Empowerment Summit as his Capstone project and led the coordination of activities that included communication development, volunteer engagement, workshop planning to marketing and promotions.
"This project was an amazing experience to be a part of. I have so much respect for those individuals in the non-profit sector, because they truly are able to build something significant for the community with little or no resources," Williams said. "It was also great to see the next generation of college students and be able to help them understand the road ahead."
YLS Staff Liaison Pedro Chavez said: "Michael Williams played a major role in our ability to build a successful event. He has set the bar extremely high for the next student who works with us, because of his level of professionalism and communication skills. On behalf of the YLS Executive Board, we wish him the very best as he heads to graduate school at the University of Southern California."  After this connection, Michael also received a scholarship from the YLS to help him continue his education.  Michael is now completing his USC program and has already been offered a teaching position with Synergy Charter School in Los Angeles.