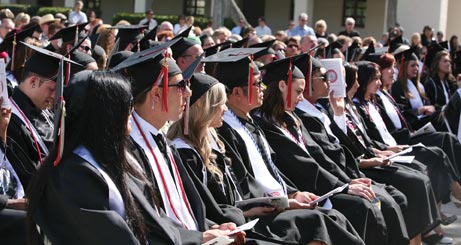 Inaugural Nursing Grads Receive Pins
In support of the 58 Nursing students who became CI's inaugural Nursing graduates, families and friends attending the program's Nursing Pinning Ceremony sat on blankets or chairs brought from home or stood after all of the seats were filled.
Students were pinned by family members who joined them onstage as written notes from each student were read aloud. Nursing faculty and students reminisced about the challenges and successes of completing the three-year program. Classmates David Linzey, Lauren Nevins, and Jenael Rose spoke highly of their peers, mixing in stories of lighter moments that garnered laughter from their fellow classmates.
Twenty-seven of the students achieved a 3.5 GPA or higher. The ceremony also included speeches, awards, the pinning ceremony, and the recital of the International Pledge, finished off with applause and cheers from proud families and friends.
CI Receives Bequest for Nursing Program
A $403,000 bequest from the estate of long-time Oxnard resident Margaret Garlock has established the Margaret Garlock Nursing Scholarship to benefit students in the CI Nursing Program.
Margaret Garlock was the executive secretary for real estate developer and philanthropist Martin V. "Bud" Smith.  Bud Smith was a major benefactor of the University and the Smith family's support was instrumental in the creation of many of its programs.  Their gifts were used to create the Martin V. Smith School of Business & Economics, as well as the Martin V. Smith Center for Integrative Decision-Making.
Margaret Garlock, a widow, lived to be 90 and in the last years of her life had experienced a variety of health issues.  Garlock's estate attorney, Robert "Bob" England of Ferguson Case Orr Paterson LLP in Ventura, is a member of the University's Foundation board of directors and co-chair of the Planned Giving Advisory Council.  Bob England was also Bud Smith's attorney.
England stated, "Margaret was very grateful for the excellent healthcare that she received in Ventura County and wanted her estate to support medical care in the Oxnard Plains area."  When England was helping to finalize her estate disposition, he told her about CI's Nursing Program and she chose to make her generous bequest to the program.  It will be applied to nursing scholarships for students living in the areas of Ventura, Oxnard and Camarillo.
Karen Jensen, Chair of CI's Nursing Program, mentioned, "This donation is very much appreciated by the nursing students. Our nursing program is rigorous and has a high unit load per semester. In this economic climate, scholarships enable students to work fewer hours and devote more time to their studies.
"The gift also provides added income for nursing students to purchase their textbooks. The University and nursing students are most grateful for this generous donation," said Jensen.