Culture 101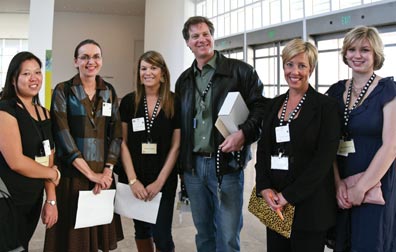 By Lori Putnam
What happens when 1,400 college students show up at your door? If you're the staff at the J. Paul Getty Museum, you welcome your visitors with open arms. After all, they represent months of preparation for College Night at the Getty, an annual event launched four years ago to boost museum attendance among young adults.
"Planning an event for a different generation always proves a little challenging," said John Giurini, assistant director of public affairs at the Getty Museum. This year the Getty Center entered into a unique partnership with CSU Channel Islands and made College Night part of a real-world class project for students enrolled in Art/Bus/Educ 434 The Museum: Culture, Business, and Education. The result was not only record-breaking attendance at the April 7 event—more than double that of the previous year—but a unique opportunity for CI students to experience a world-class museum in new ways.
"Learning doesn't happen in just one place," said  Irina D. Costache, who co-taught the course with colleague Andrew Morris. "I like this course because it takes students outside the classroom and engages them in the learning process." Costache specializes in 20th century art whereas Morris has a background in organizational behavior. Together they brought a truly interdisciplinary approach to their teaching, exploring such topics as the development of an art collection, the business practices of and ethical issues in running a museum, and the role a museum plays in providing educational services.
The course began as partnership in 2003 between Costache and Clare Kunny, manager of public education and teaching programs at the Getty Museum, and has continued under the guidance of Peter Tokofsky, education specialist. As part of the course, the class had regular visits to the Getty Center in Los Angeles. Students were also divided into teams tasked with key responsibilities related to the College Night event. Those activities included programming inside the galleries, programming for the outside public spaces, publicity, evaluation, and documentation. The documentation group will tell the story of the class experience and, according to Morris, may produce a case study on group dynamics.
The Getty's Giurini was paired with the team charged with planning for programming outside of the galleries. At first he was surprised not to encounter one art history student among the group. "I thought it was interesting how they embraced the subject and got excited about the project," he said, despite their lack of background in the arts. "I told them while we may not do everything you suggest, you shouldn't let that inhibit your thinking. One idea may give rise to another good idea." In fact, he acknowledges the team's insights in helping to create a fun and inviting environment through music, food, and other activities.
Some students came from as far as Irvine and Riverside to participate in activities that included curator talks and a tour of the museum's gardens. Students mingled against a backdrop of works by van Gogh, Monet, and Renoir, and in some cases, letters from these artists were read aloud in the galleries. Exhibits from contemporary artists were also on display such as L.A.-based photographer Soo Kim. Standing in front of her panoramic collages of the city of Reykjavik, Kim was on hand to share stories behind her work and her visit to the capital of Iceland.
And at the end of the day, it wasn't just the students who learned something. "What I learned most of all is there's no way to do this event effectively without involvement from the students," said Giurini.
The Getty will host its next College Night at the Villa in Malibu on Wednesday, October 20, 2010.