A Blueprint for Success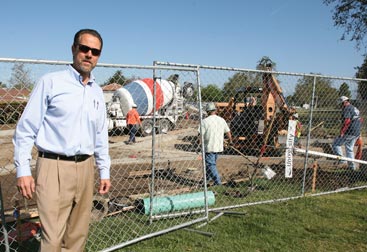 By Lori Putnam
Jim Walsh can see the results of his work as manager of construction services all around him. From Santa Cruz Village and the John Spoor Broome Library to the Martin V. Smith Center and the new Student Union, Walsh and his team in Operations, Planning, and Construction have left their mark on campus.
He credits the department's successful track record to planning and collaboration. "There are many things that need to be ironed out before you bid a job," said Walsh. "If you've done your homework, things seem to go much smoother. The other thing we're doing more of is design-build projects, which involve the contractor from the beginning. The entire team is on board working on the same goal." The Broome Library and the MVS Center were design-build projects.
Walsh was involved with campus projects even before CI officially opened, working with a private contractor.. His first project was the science building, Aliso Hall, at the west end of campus, a fast-track project that opened on time in the Fall of 2003. After completing work on Aliso Hall, he was asked to interview for a position with the new University. When asked why he chose to join a newly opened university, Walsh replied, "The campus has a really good feeling about it. It seemed like a good fit for me and for the University. Seven years later, here I am."
Walsh has another relationship with the University—that of a CI parent. His son, Jacob, is a business major and will begin his third year at CI in September. "It's easy to keep an eye out for him and track his progress," said Walsh. "He had other choices in universities, but we all agreed this was a good place to start." The Walsh family also includes sons Blake, 15, and Adam, 9. Walsh met his wife in New Zealand and the family returns often to visit her family. Travel has been a key part of Walsh's adult life; he has visited all 50 states and worked in many of them in various carpentry and construction jobs.
Outside of work, Walsh coaches baseball and basketball and has been head coach of his sons' basketball teams for the last six years. This should come as no surprise for those who work with Walsh and know his affinity for teamwork. "It takes a team to pull off projects," said Walsh, "I couldn't do it myself."