A Year in the Life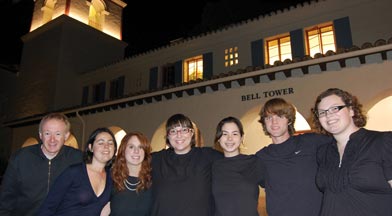 By Lori Putnam
When you're a fast-growing university like CSU Channel Islands, a lot can take place in the course of an academic year. For Elysse Farnell, a CI sophomore and editor-in-chief of The Nautical, it's her job to make sure she captures many of these milestones in the pages of the University yearbook.
Farnell and her staff of seven attend a variety of University events, from block parties and student club mixers to the opening of the new Student Union on campus, in order to fill more than 150 pages of memories for the CI community. The yearbook is typically available a month after graduation.
"At CI we have a lot of school spirit, and students and alumni want to remember their experience here," observed Farnell. "I think the point of the yearbook is to see yourself and your classmates. People can lose pictures, but with The Nautical you have it all in one book." The Nautical was founded in 2005 and in its first year won the CSU Channel Islands Outstanding Organization Service Project of the Year Award. An advisory board, made up of faculty and staff and at least one student representative, provides additional support and guidance to the yearbook staff.
At one point, shared Farnell, there was discussion about putting the yearbook online. "I think it would be a mistake," she said. "People like having something in hand. Facebook is so immediate; having a handmade book with photos and articles is more special."
This year's edition of The Nautical will include more photographs in an attempt to cover more people and stories. Farnell also encourages students to consider joining the yearbook staff: "I think it's a great way to get involved. You go to events and take pictures and make relationships with faculty, staff, and students. It's a great creative outlet for people who are writers, photographers, and designers," she added.
In the end, Farnell hopes that readers will feel a sense of pride when they view the yearbook. "I hope they'll see themselves and their friends and smile," she said. "I know when I see it, I'm happy and proud of myself, my staff, and my school. I know I made the right choice in my University."