Andrea Grove Offers Lessons in Leadership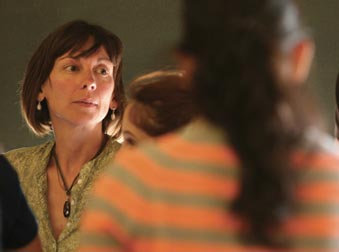 By Lori Putnam
Pakistan. Zimbabwe. Northern Ireland. These are some of the more conflict-prone areas of the world and, for that very reason, of interest to Andrea Grove in her work on leadership. Her research has led her to conduct fieldwork from Northern Ireland to South Africa.
"What I study is leadership and how leaders compete to frame different situations," said Grove, an Associate Professor of Political Science at CI. She earned her Ph.D. in Political Science from The Ohio State University and an M.A. in International Relations and Strategic Studies from Lancaster University in the United Kingdom. A Rotary Foundation Ambassadorial Scholar to the United Kingdom, Grove was awarded the Mahindra Naraine Prize for the most outstanding M.A. student of the year while at Lancaster.
 
In 2007 Grove published a book, Political Leadership in Foreign Policy, which examined how leaders frame international issues to appeal to their domestic audience while using their domestic situation to gain support from the international community. She hopes to follow this up with an exploration on the current leadership in Iran.
As early as high school, Grove expressed interest in international relations and had dreams of becoming a diplomat. It was only after her experience teaching as a graduate student that Grove discovered how much she enjoyed being in the classroom.
"I like engaging with other people about what they think," said Grove. "Teaching is a way to do this. I get to hear other people's views, and also teach people who haven't yet thought about the outside world. I hope to get them excited to learn more." Grove also hopes to impart to her students the ability to think critically, particularly about issues facing the global community. "You can always look up things, but learning to think about what you're reading is what is needed. It's ok to ask questions," she added.
Grove joined CI in the fall of 2006, attracted in part by the University's focus on multiculturalism and impressed by a faculty committed to the University's role in the community, both local and global. In addition to teaching international relations and political science courses, including the Model UN class and a senior research class for political science majors, Grove serves as faculty director for the Center for Community Engagement. Her husband, Chris Scholl, also teaches at CI and is involved with the Model UN club. They are the proud parents of Ethan, 3 and a 1/2 years old, and Ryan, 16 months.