Building on the Success of our Past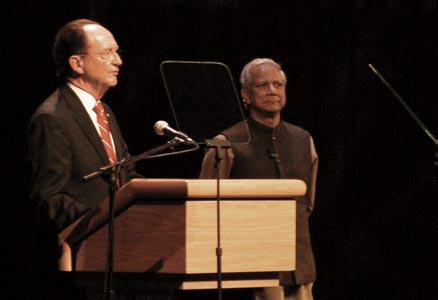 As you will read in the pages that follow, your University continues to build on the success of our past to assure continued excellence in learning.  While we work through economic challenges that continue to affect our budget and our decision-making process, one priority remains at the center of all that we do – providing our students the outstanding, quality education they need to succeed.
We must continue to move forward with bold, innovative plans to grow and improve our programs and our environment – for students' sake. Each one of our students came to us with his or her hopes and dreams, and it's important that we create the opportunities that will help them attain their goals. Last month we held our eighth commencement ceremony in which we celebrated our first graduating class of nursing students and the academic achievements of nearly 1,300 students as they embarked upon their success.
Among our many achievements this past academic year was the completion of a new Student Union, which joins all members of our campus community in a place where they can think and share their life and educational experiences.  The University continued to receive financial support from the National Science Foundation for our science programs as well as national recognition for our faculty, students, and academic programs.  Earlier this year we launched the California Institute for Social Business (CISB) in collaboration with Professor Muhammad Yunus, Nobel Peace Prize Laureate and Presidential Medal of Freedom recipient, and a group of interdisciplinary faculty members at CI. The CISB is the first program of its kind in the United States and will be part of a global initiative to bring academia into social transformation efforts.
In addition, I am pleased to say that the University has received two notable national distinctions.  CI was recently named to the President's Higher Education Community Service Honor Roll which is the highest federal recognition a college or university can receive for its commitment to volunteering, service-learning, and civic engagement.  Moreover, the University has achieved the status of an Hispanic-Serving Institution which allows the campus to compete for U.S. Department of Education funds and other financial support. These funds will increase CI's institutional capacity to serve a growing Hispanic and economically diverse student body and increase our ability to offer enhanced student services, academic preparation, and University outreach programs that will benefit all CI students, not just Hispanic students, and our surrounding communities.
I want to recognize and extend our sincere appreciation to the individuals and businesses listed in the enclosed Donor Honor Roll who have continued to provide us with the support needed to provide the highest level of academic excellence for every CI student.  I invite all members of this region to join in these efforts as we look towards the future with hope, resolve, and optimism.

Sincerely yours,
Richard R. Rush
President