Sociology Students Compare Educational Institutions in Germany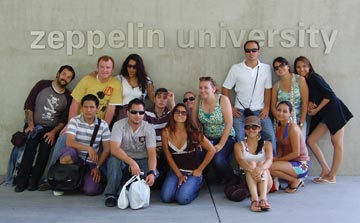 By Daniel B. Lee, Associate Professor of Sociology
There is a personal story behind my taking 15 students with me to Germany and Switzerland last summer to visit different types of educational institutions.  When I was a CSU student I had the chance to spend my senior year studying in Germany, supported by a generous fellowship from the German Academic Exchange Service (DAAD). A few years ago the DAAD invited me back to Germany to serve as a guest professor at the University of Munich. Spending time in Germany has given me a strong sense for how culture can shape the way academic institutions function and how people experience education. Last summer, thanks to fresh support from the DAAD and a grant from the campus' IRA fund, I was able to share this border-crossing perspective with my students.
Our visit took the form of a University 392 course, part of a popular and competitive program organized by Extended University to provide an international component to established undergraduate courses. The students who went to Europe with me had already completed an upper division seminar in the sociology of education. The international supplement gave us the chance to develop a comparative institutional approach to understanding the formal goals, administrative structures, academic procedures, and cultural characteristics of different types of schools.
Germany is a "natural" laboratory to study the sociology of education from a comparative vantage point. Its population is publicly educated, but children are tracked according to standardized tests taken in the fourth grade. Two state-related churches supervise religious instruction as a standard part of the public school curriculum. The universities are undergoing significant structural changes that are highly controversial, including an "Americanization" process. Employed adults in Germany are far more likely to voluntarily attend continued education courses at night, where they learn languages, music, art, and professional skills. High school graduates who do not attend college participate in highly respected vocational certification programs with traditions that extend back to the era of guilds. I wanted to directly expose my students to these kinds of cultural differences.
Our twelve day schedule was intense! We visited the University of Munich, a music school, a teacher training college, a Waldorf school, a police academy, and CSU Channel Island's new international partner, Zeppelin University. In addition, we visited the Concentration Camp Memorial Site at Dachau, concentrating on how the memorial serves as an educational site. We also visited a famous medieval festival known as the "Landshuter Hochzeit," a monastery in Andechs, a religious pilgrimage site known as Maria of the Oak, and other culturally significant sites. Students attended the largest student summer carnival in Germany, music concerts, and a theater production. As a formal requirement, participants in the one-credit course were divided into five project teams, each one assigned to develop a multi-media documentary featuring a selected site.
It was very satisfying to see that my students were positively impacted by their University 392 experience. As Maria De Lourdes Williams reported, "I am grateful to CI for offering this international program. As a full time student with a part time job, I might have only dreamed of an opportunity like this; an opportunity filled with so many possibilities! I cannot relate the many positive ways this visit changed me as a student and ultimately as a person. It would be my wish for other students to have the same opportunity."