Chris Jetton  '07 - To Serve and Protect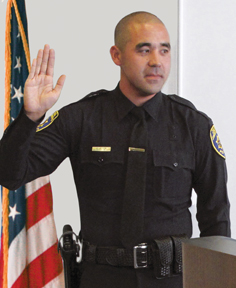 By Lori Putnam
As Officer Chris Jetton makes his rounds on campus, he appreciates the stressful situations in which college students can sometimes find themselves. After all, he was a CI student once, and is currently the first CI graduate to serve as a University police officer.
"I see the Police Department as a resource to help students," said Jetton. "We're not here to hinder, we're here to help everyone remain safe."
Jetton graduated in 2007 with a bachelor's degree in Psychology. He credits his education at CI in helping him to better relate to, and communicate with, people in the field. "Not everyone has a good day," observed Jetton, but he can use his knowledge of human nature to help navigate difficult situations. One area of his training is verbal judo, which Jetton describes as the art of gentle persuasion. Just like the martial arts sport that uses the principle of leverage and balance, verbal judo is designed to have people comply with an officer's instruction without undo force.
The Oxnard native got an early start in building his mediation skills as a referee for the American Youth Soccer Organization (AYSO). He began as a player and has continued to volunteer over the last 15 years. He currently serves as a safety director. "AYSO is such a good program," observed Jetton. "It tries to develop in youth morals while having fun. You learn to compete in a sport without being rude or getting upset."
Prior to graduating from the Ventura County Criminal Justice Training Center and being sworn in as a police officer by President Richard R. Rush, Jetton worked as a Community Service Officer (CSO) and a Parking Officer on campus. During this time, he assisted with the development and coordination of the CSO program which provides safety escorts and assists with campus-wide events such as commencement. He's also served as a Visitor Services Park Aide with the California Department of Parks and Recreation.
Jetton is one of CI's 13 full-time California State University police officers who have full law enforcement authority and serve the CI campus. They are responsible for the safety of faculty, staff, and students on campus, including University Glen residents. When called upon to do so, the officers will assist other county law enforcement agencies and are trained in emergency management.
"What I love about this campus is that we're growing," said Jetton. "And I see an opportunity for me to impact how we grow. I am doing things that can help shape how the University turns out. At the moment, I'm enjoying learning everything there is to know about being an officer."