Lance Nolde '06 - World Traveler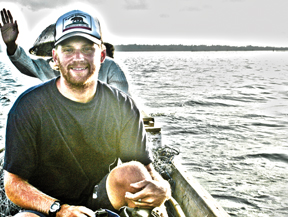 By Lori Putnam
As a Ph.D. candidate in History at the University of Hawaii at Manoa, CI alumnus Lance Nolde is exploring the Sama people of Eastern Indonesia. They are one of the most marginalized communities in modern Indonesia, according to Nolde, but through his doctoral research he hopes to bring their story to light. In particular, he wants to demonstrate the important role they played in Indonesia between the 17th and 20th centuries.
Nolde first became interested in Indonesia not through a textbook, but during his travels as a surfer. "My first trip was in 2000. I went purely for surfing, but once there, I was captivated by the warmth and generosity of the people, and the immense variety of cultures in the archipelago," said Nolde. "I made it my mission to return as often as I could." His passion for the region, combined with his love of surfing and past experience as a fisherman, led Nolde to study the Sama. "As a semi-nomadic group whose lives are centered on the ocean — as fishers, sailors, navigators — the Sama instantly captured my interest," he added.
His research is funded in part by the prestigious Fulbright-Hays Doctoral Dissertation Research Abroad Grant. Last year, only 142 grants were awarded. "The Fulbright-Hays grant has been an incredible blessing," said Nolde. "It has provided funding for my wife, Kyla, and me to live in Indonesia and The Netherlands for the year." Nolde, who earned his M.A. in History at the University of Hawaii, is also the recipient of the John F. Kennedy Memorial Fellowship for Dissertation Research.
Nolde is currently studying the oral traditions of the Sama. He hopes to demonstrate how their once privileged position was diminished due to changes and fluctuations in international trade. He credits his undergraduate experience at CI in igniting in him a passion for history, particularly combining the methodologies of history and anthropology to arrive at a fuller understanding of the past.
"My experience at CI opened my eyes to the importance of in-depth research to increase our understanding of the world," said Nolde. "The many great examples at CI of quality educators who balanced their research with a drive to educate their students also influenced my decision to pursue a career in higher education." After completing his doctoral degree, Nolde hopes to teach history at a university.
Wherever Nolde ultimately chooses to teach, travelling will most likely remain part of his work. "Traveling abroad, whether Indonesia or elsewhere, helps one to think more broadly," he said. "Indonesia had this effect on me, and my travels continue to remind me of the larger world beyond the U.S."