Crossing Disciplines to Expand Learning
The Center for Integrative Studies promotes interdisciplinary research and learning.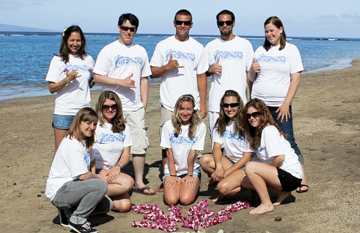 By Lori Putnam
Some topics are too complex to study from a single discipline, so the Center for Integrative Studies is helping to place them into a larger context by encouraging interdisciplinary study among faculty and students. According to faculty director Dr. Brad Monsma, the Center gives students early experience with research and encourages viewing research from other perspectives. The Keck Foundation recently awarded Monsma and faculty director Dr. Kathryn Leonard with a $250,000 grant to help support the Center's efforts.
In particular, the Keck award will support interdisciplinary curriculum such as a three-unit course taught by Dr. Rachel Cartwright and Dr. Blake Gillespie on whale behavior and habitat. "The course will have students conducting whale research in the Santa Barbara Channel, and will also have them reading about the history of whale and human interaction," said Monsma. "They learn to see their research from multiple perspectives, and begin the process of integrating those points of view."
The Center recently helped fund a photography exhibit on campus of the course's field work in Hawaii. Cartwright, a biologist, and Gillespie, a chemist, led a small group of students in examining habitat preference in humpback whales. They partnered with a local nonprofit organization, The Keiki Kohola Project, founded by Cartwright, to observe the behavior and development of calves. Just 30 years ago, the humpback whale was an endangered species. Today their numbers are resurging, and many of the young will get their start in the warm nursery waters of Hawaii.
Jessica Turner, a CI Communication major who participated in the field study last spring, called it an experience of a lifetime. "I was a little nervous that I would struggle with the science aspects, but I did not. I enjoyed what I was learning, so it was easy to understand."
Along with delivering practical research skills, Gillespie hopes the experience also ignites in students a lifelong love for learning and discovery. "It's important for students to realize the learning process is never over," said Gillespie. You spend four years becoming a scientist, but you have another 40 years to grow as one."
Ultimately Cartwright and Gillespie hope to share the team's findings in a published research paper, which advances another Center goal of providing research experience for undergraduates as early in their student career as possible to help them present and even publish their findings. "One of the challenges with scientists today is that we tend to communicate primarily between ourselves," said Cartwright. "Going forward, the question we need to ask is how do we communicate our findings to the larger community? Our work in Hawaii is directly applicable to management of this critical habitat, so now the challenge is to make our findings accessible to managers, ocean users, and the public at large."