New Institute Brings the World to CI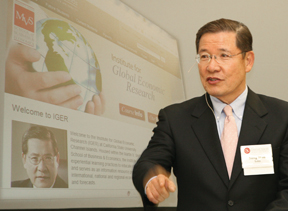 By Lori Putnam
While the concept of a global economy may have seemed unrealistic 50 years ago, today it is clear that what happens on the coast of Japan or in the desert of Libya has implications for all national markets. In order to address this economic connectivity and better prepare students to succeed in an international marketplace, CI recently launched the Institute for Global Economic Research headed by noted economist and Martin V. Smith School of Business & Economics Endowed Professor Dr. Sung Won Sohn.
At a lunch reception attended by the daughters of Martin "Bud" V. Smith and the greater Ventura County community, President Richard R. Rush observed that while CI has already been operating on a global stage, the Institute sets a new standard in economic education. "This is indeed a significant occasion," observed Rush. "The Institute will bring the global economy to our students while providing valuable economic information and contacts to local business seeking global expansion."
As way of example, Sohn delivered a keynote address providing an economic overview of China, Japan, and the U.S. "In the last three to four years, Asia has represented one-third of all economic growth," said Sohn. "That is predicted to grow to 40 percent in the future. We want to be on that bandwagon." In particular, Sohn describes China as the locomotive pulling the global economy with a growing middle class that now outnumbers the entire U.S. population. The implications can be felt already in the automotive industry. The largest market for GM and Mercedes Benz is no longer the U.S. — it's China.
Dr. William P. Cordeiro, director of the MVS School of Business & Economics, anticipates the Institute also will give students more real-world business experience. "We hope to provide students with a practical orientation to the marketplace beyond economic theory." Sohn agrees. "We want students to hit the ground running when they graduate," he said. "My personal example is that after I earned my Ph.D. and went into banking, I was lost. I didn't understand how business operated. I thought I could run the world with my economic models, but none of them were used. Frankly my education, and what business actually required, were different."
Sohn hopes to expand the Institute's research activities with additional funding. In keeping with the Institute's mission, topics would have a practical focus such as the current financial crisis, what should be done about the Euro, and what impact disruptions in the supply chain in Japan have had on the global economy. Initial funding for the Institute includes a $50,000 gift from the Martin V. and Martha K. Smith Foundation as well as additional sponsorship from Wells Fargo Bank, Limoneira, Santa Barbara Bank & Trust, and the Pacific Coast Business Times.