New Lacayo Institute supports Workforce Development
By Lori Putnam
In many ways, Ventura County serves as a microcosm of the larger economic and social issues facing the nation. The region's mixture of urban and agricultural landscapes, combined with strong presences by the military, the service sector, and a growing collection of start-up companies, makes it a living laboratory through which to examine such challenges as better fostering a sustainable workforce and encouraging small business development.
Located at its heart is the University's new Henry L. "Hank" Lacayo Institute for Workforce & Community Studies (HLI). Launched last November, the non-profit and non-partisan Institute is named for Hank Lacayo, an early booster of CI. With nearly half a century of service in workforce and community development, Lacayo has advised elected state and federal leaders alike.
"I've been working any way I can to help the University," said Lacayo. "The important part is not necessarily the name the Institute carries," he added, "but what it's going to do for students, the community, and even the state through its innovative curriculum." A resident of Newbury Park, Lacayo remains an active community volunteer. He currently serves as President of the Congress of California Seniors and is also the founder and National President Emeritus for the Labor Council for Latin American Advancement as well as founder and past chairman of the U.S. Hispanic Leadership Institute.
"We hope the Institute will serve as a forum to connect local, regional, and statewide business development and community programs," said Dawn Neuman, Provost and Vice President for Academic Affairs. "The vision behind the Institute is to be able to give back to the community in terms of workforce development. Mr. Lacayo has a strong commitment in this area, and will bring his community partnerships to the University."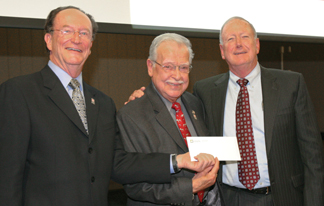 The HLI was launched initially with a $300,000 grant from Southern California Edison. The Institute focuses on four interacting sectors: applied policy research, community outreach, policy education, and leadership development. The Small Business Institute (SBI), housed under the HLI, will provide students with valuable business experience through its Energy Conservation and Telecommunications Labs. The HLI will also support paid student internships among local businesses. Ultimately, the Institute will support internship opportunities to include on-campus positions as well.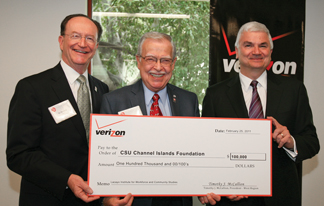 An additional $100,000 grant from Verizon will establish the Verizon Telecommunications & Conservation Lab to help small businesses in implementing environmentally-friendly practices such as conservation, recycling, and pursuing green technologies. Grants have also been received in the amount of $25,000 from AT&T, $60,000 from the Southern California Gas Company, and $10,000 from Carl Wesley, President/CEO of Wesley-Thomas Enterprises Inc.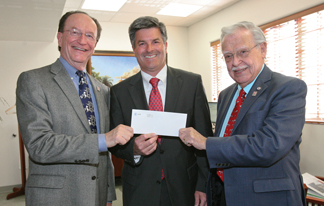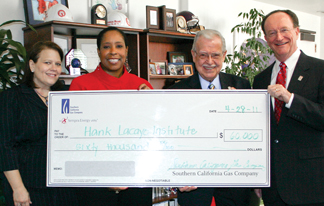 "We'll be focusing on helping people take the next step in terms of employment," Neuman added. "Workforce development is key to the CI mission."