Perspectives on a Global Economy
By Lori Putnam
There was a distinctly global perspective to the Martin V. Smith School of Business & Economics lecture series this spring as speakers focused on the opportunities and pitfalls of working in an international marketplace. Addressing the CI community were Limoneira President and CEO Harold Edwards, author Kelsey Timmerman, and noted economist and director of CI's new Institute for Global Economic Research Sung Won Sohn. 
 
Not Your Grandfather's Lemon Stand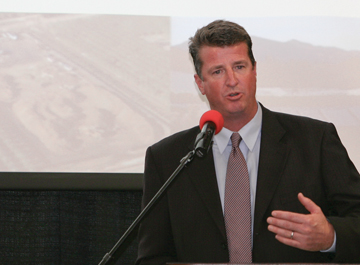 Santa Paula-based Limoneira was founded 118 years ago, and today is one of the leading U.S. growers of lemons and avocados. According to Edwards, whose grandfather Samuel Edwards was among Limoneira's co-founders, their future isn't limited to the domestic market. "The U.S. lemon market represents a $500 million opportunity," said Edwards, "but globally it is almost $2 billion." Currently Limoneira represents four percent of the U.S. lemon market, but 12 percent of the U.S. lemon export market.
In addition to pursuing international markets, Limoneira is also pursuing sustainable business practices, including using solar energy on its ranch properties.

Tracking Your T-Shirt Around the World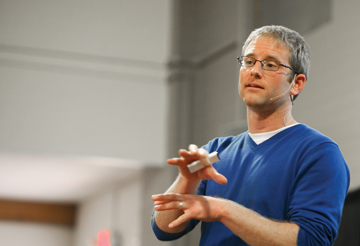 "Our stuff says a lot about us," said Timmerman, author of "Where Am I Wearing." He should know, since he travelled the world to find out where — and more importantly who — made his clothes. The answers were not surprising: his favorite t-shirt was made in Honduras while his pair of jeans came from Cambodia. What is surprising is the amount of labor it takes to create the clothes we wear.
According to Timmerman, it takes 85 workers to make a pair of jeans. And what does a typical worker earn? About $50 a month, which may have to support up to seven family members. Timmerman is cautious not to issue judgments, but he encouraged his audience to think about how the demand for lower priced goods impacts the rest of the world.

Asia to Drive Global Economy
In his annual economic outlook, Sohn took his audience around the world in 45 minutes. Key destinations, and economies, included China, Japan, and the U.S. As Asia continues to drive growth, Sohn describes the economic center of gravity shifting from the U.S. to China. Now the number one trading partner with Japan, Australia, Russia, and India, China has also become the world's banker with some three trillion dollars in cash. Sohn predicts a concerted effort by the Chinese to make the Yuan a global currency.
Closer to home, Sohn sees Ventura County foreclosures going down but home sales moving sideways. Of greater concern is the pending cuts to the state's institutions of higher education. "When you cut back on education, you're hurting your long-term future," said Sohn.
For more information regarding MVS events, visit MVS events.