Firing on All Cylinders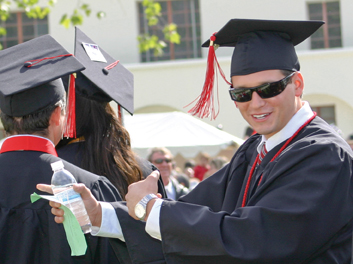 By Lori Putnam
Every August the Panetta Institute for Public Policy welcomes a select group of college interns nominated by their respective university presidents to serve in Washington D.C. CI senior Steven Moreno was among that group last year. Yet as Moreno tells it, he almost took a pass at applying to the nonpartisan center founded by Leon and Sylvia Panetta, which works to expand students' knowledge of the policy process and develop their skills as future leaders.
"I'm a professional automotive technician who has worked my way through college," said Moreno, who has been employed at Rock Long's Chevron station in Oakview since high school. "I'm always working, and I really didn't think there was a possibility for me to take a chance to go to Washington."
Although the Communication major currently holds a 4.0 grade point average, Moreno thought the Institute wouldn't select a working student like himself. His economics professor, Dr. Claudio Paiva, convinced him otherwise and the leap of faith paid off. "It was an inspiring experience that changed my outlook on opportunities after I graduate, including a possible career in politics."
Sylvia Panetta, director of the Institute based at CSU Monterey Bay, described Moreno as among the best in his class. "He was a top notch student who received fantastic ratings from the congressional office he served in and from all his professors," said Panetta. "We value the work he did." According to Panetta, one of the Institute's goals is to inspire men and women to lives of public service. As part of their learning experience, the Panetta interns have the opportunity to hear from national policy experts such as former U.S. Secretary of State Madeline Albright and former U.S. Secretary of Transportation Norman Mineta.
Moreno interned for U.S. Representative John Campbell (R-48) who represents communities in Orange County. It was during his experience in D.C. that Moreno experienced first-hand the importance of civil discourse. "I'm firm in my beliefs, but [during my time in Washington] I befriended someone with opposing views," said Moreno. "Now I have a whole new respect for people at the other end of the political spectrum."
A Midwestern transplant, Moreno moved to California from the Chicago area when he was 15. After graduation, he plans to stay in the Golden State. By his own account, Moreno has been firing on all cylinders for the last six years juggling work and school. He never took a college loan, and has paid for all his school expenses. After graduation, he hopes to spend a bit more time restoring his '67 Mustang before embarking on a new career.